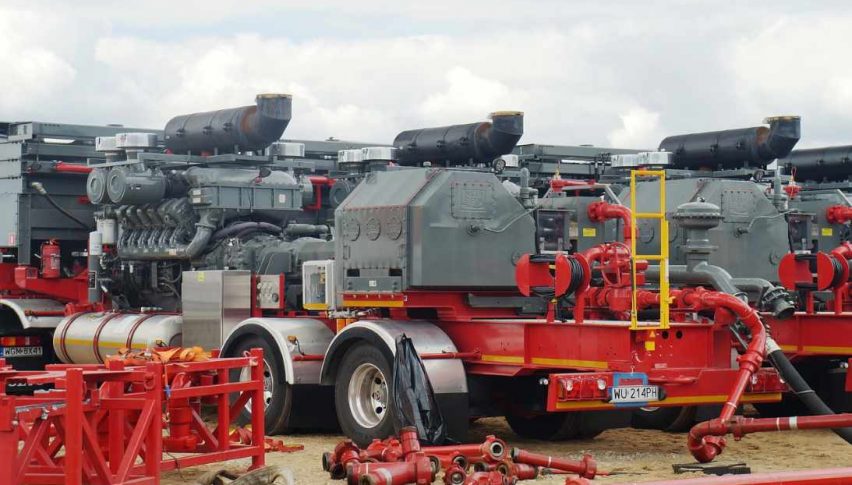 U.S. Fracking Operations Online, WTI Falls Beneath $65.00
July WTI crude oil futures continue their slide south, falling beneath the $65.00 level. Sellers have piled into the market anticipating a build on supplies for coming weeks. News surrounding the late June Russia/OPEC meeting have production cuts still in the foreseeable future, but perhaps not as extensive as the stated 1 million barrels per day benchmark.
For now, the energy bulls are being patient and non-committal around the $65.00 handle.
The Baker-Hughes Rig Count
Every Friday afternoon (excluding holidays), the Baker-Hughes rig count is released to the public. It is a secondary metric and creates nowhere near the buzz of the EIA or API inventories reports. Nonetheless, it does give us an idea of where North American production is headed.
Last Friday, Baker Hughes reported the following data:
Region                Rig Count        Gain      Gain Year-Over-Year
U.S.                             1060                  +1                  +144
Canada                         99                   +18                     0
Basically, U.S. fracking operations are kicking into high gear and Canadian firms are resuming production. OPEC cuts and the potential of $75.00 crude has brought many oil players back to the market. But for how long?
The June 22 OPEC meeting is likely the determining factor facing production levels in the U.S. and abroad at least until the end of Summer 2018. Of course, there is always the Trump factor…
WTI Crude Oil Technicals
Today's action has extended the losses of the last two weeks. The next big, round number up for a test as downside support appears to be $64.00.
Overview: For now, there is a lack of valid technical levels on the daily time frame. However, the heavy traded volumes are conducive to intraday scalping or breakout trading. If we see a late-day run to the bear, look for a short-term bullish bounce near the $64.25 area.
Day traders are likely to dig their heels in to the long ahead of every round number as this downtrend continues. A moderate battle may ensue as bulls attempt to pick a daily or weekly bottom in front of the $64.00 handle.