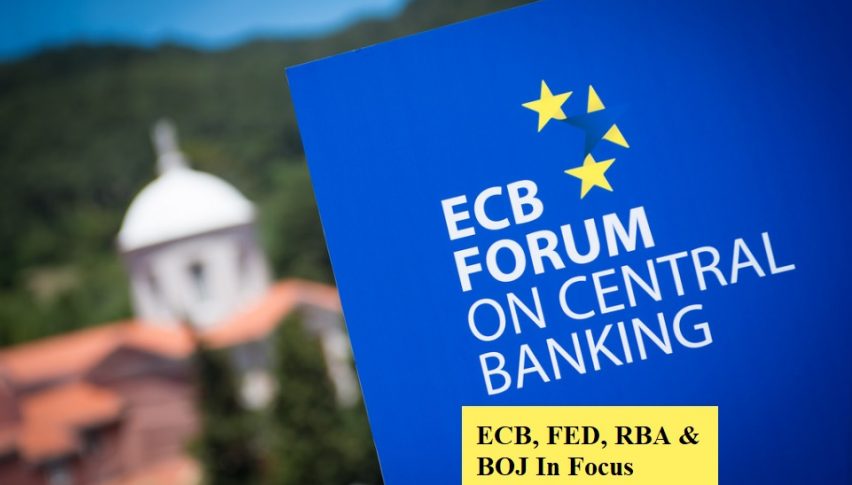 June 20 – Economic Events Outlook – World's Central Banks in Focus
Posted Wednesday, June 20, 2018 by
Arslan Butt
• 2 min read
It's a busy day from the fundamentals point of view, with the major focus on ECB commentary to provide direction. Fed Chair Jerome Powell, ECB President Mario Draghi, Bank of Japan Governor Haruhiko Kuroda, and RBA Governor Phillip Lowe will all participate in a panel discussion in Portugal, at the ECB's conference.
Watchlist – Top Economic Events to Watch Today
Four Central Bankers to Participate in Panel Discussion – 13:30 (GMT)
AUD – RBA Gov Lowe Speaks
EUR – ECB President Draghi Speaks
JPY – BOJ Gov Kuroda Speaks
USD– Fed Chair Powell Speaks
It will be interesting to see if any of them, particularly Fed's Powell, speak about the deteriorating trade relations in the world. The reality of a trade war between the U.S. and China is hitting the markets hard. The market is trading the risk-off sentiment as the safe-haven action kicked into high gear after President Trump threatened to impose further tariffs on $200 billion worth of Chinese goods.
As we know, the European Union is likely to be next on Trump's list of targets. Which is why the Euro is under immense pressure and may feel more bearish pressure should the U.S administration start threatening the Eurozone.
U.S. Dollar – USD
Existing Home Sales – At 14:00 (GMT), the National Association of Realtors will be releasing the existing home sales data. It's an annualized number of residential buildings that were sold during the previous month, excluding new construction. It's forecasted to be 5.52M vs. 5.46M. The positive forecast can place bullish pressure on the U.S. dollar today.
EIA Crude Oil Inventories – Today at 14:30 (GMT), the Energy Information Administration is due to release the stockpile report. For your information, it shows a change in the number of barrels of crude oil held in inventory by commercial firms during the past week. Economists are expecting a draw of -2.1M in crude oil inventories which is sort of bullish, but less bullish than -4.1M draw during the previous week.
Fellas, buckle up for the volatility and stay tuned to FX Leaders for more interesting updates and forex trading signals. Good luck!