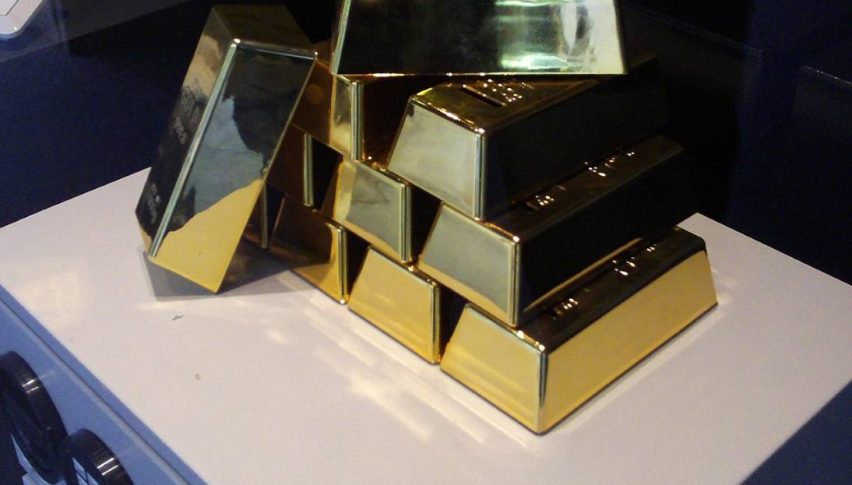 Bullion Creeps Lower: A Last Look At August Gold Futures
The session following a policy statement from the U.S. Federal Reserve is always interesting. Short-term noise has subsided, leaving the markets to digest the impact of the central bank rhetoric. Today has illustrated this process clearly — traders are bullish the USD and bearish gold.
In addition to FED-fallout, several U.S. economic metrics were released today. Both Continuing Jobless Claims (July 20) and Initial Jobless Claims (July 27) beat consensus expectations. The ISM NY Business Conditions Index (July) came in extraordinarily high, smashing the previous release. All in all, another strong round of metrics has boosted morale facing the USD and hurt safe-haven valuations.
August Gold Technicals (Back Month Contract)
Even though the U.S. indices are near flat on the session, gold futures have continued to grind south. A hawkish FED commentary has boosted interest in the Greenback and the big loser is bullion. Prices are off for the second consecutive session, with the 1210.0 handle rapidly approaching for the back-month August gold futures contract.
This will be the last day for looking at the August gold futures chart, as the new front-month as of last Friday is the December contract. August gold is due to come off of the board soon, but the chart remains a viable reference for where we are headed.
Overview: At press time, December gold is trading near the 1220.0 handle. December gold is always a big deal due to its value to hedgers, time on the board, and proximity to the end of the year. It will be fascinating to watch the price action unfold as we roll toward more FED tightening and potential fresh all-time highs in the U.S. indices.
It is going to take a major geopolitical event or shift in the prevailing market fundamentals for the bear market in gold to change. As of now, it is difficult to see a silver lining to the beating bullion has taken throughout 2018. Look for the weakness shown by August gold to carry over to the December contract in coming weeks.