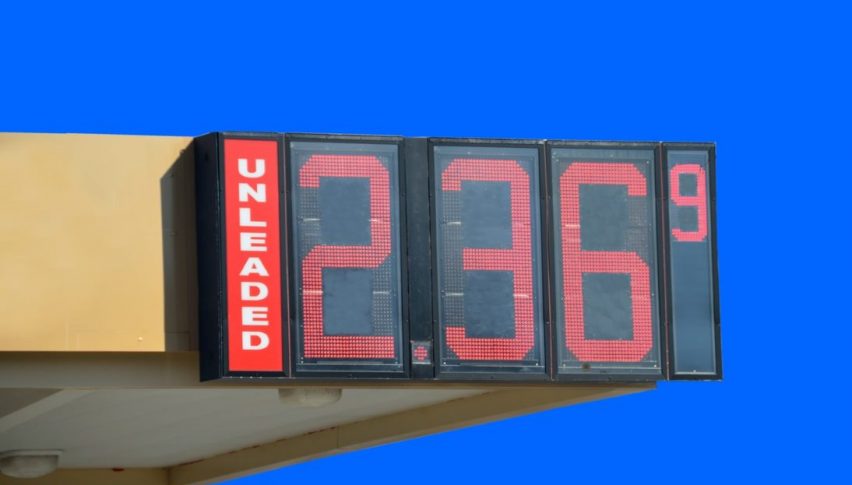 WTI Crude Oil Above $75.00 Ahead Of Inventories
$75.00 is the hot number in WTI crude for the second consecutive session. Buyers and sellers are both digging in at this level anticipating a directional move. At the moment, it is a challenge to determine if the market is headed higher toward $100.00 or poised for reversal back to $50.00.
When looking at the big picture for WTI, that is the 6-month billion-dollar question ― $50 or $100?
Oil Inventories On Deck…
It is Tuesday and that means a preview of the coming crude oil inventories cycle. Here is a quick look at previous values and projections:
Event                                Previous      Projections
API Crude Oil Stocks          2.903M              NA
EIA Crude Oil Stocks          1.852M           1.132M
Analysts are projecting a build for tomorrow's EIA Crude Oil Stocks report, which would be the second in as many weeks. No estimates are available for the API, but last week showed a nice build on supply. It will be interesting to see if seasonal lag in demand begins to show up in the stocks numbers.
On a side note, the national average for one gallon of U.S. regular unleaded gasoline is $2.88. This is up 32 cents from this time last year and 4 cents from August. As of now, gas prices are not too big of factor facing American industry. Obviously, lower is better, but a sub-three dollar average in a booming economy will largely go unnoticed by policymakers.
However, prolonged $75+ WTI crude oil is going to produce $3.00+ gasoline. In the event that this happens, expect the Trump administration to throw down the gauntlet to OPEC. Stay tuned.
WTI Crude Oil Technicals
Today's action in November WTI crude oil futures has been slightly bearish. Price is rotating near the $75.00 handle, coming as no big surprise to energies traders.
Overview: After posting a proximity test of $76.00, price has fallen back to the $75.00 area. For the time being, this market seems content in the $74.75-$75.25 range.
This week's inventory cycle is going to drive heavier participation than usual to WTI as there is an abundance of eyes on the global oil markets. Be on the lookout for extra volatility and a directional move following tomorrow's EIA release. If prices rally above $76.00, we may see $80.00 in short order.