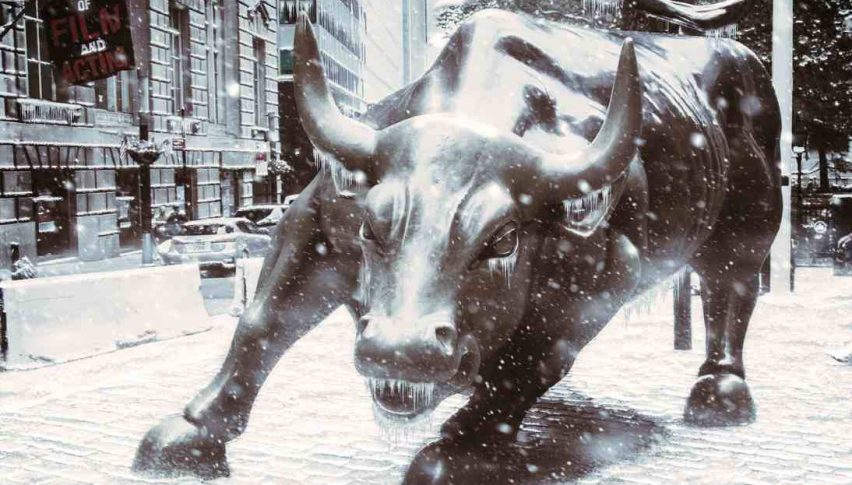 A Strong Wall Street Open For U.S. Stocks
U.S. stocks are on the bull as bargain hunters are flexing their collective muscle. After a dismal October, the DJIA and S&P 500 are decisively in the green, attempting to regain some lost swagger. For the first 120 minutes of trade since the Wall Street open, the DJIA is up 390 points and the S&P 500 has rallied 46.
U.S. Stocks Benefit From Positive Metrics
Good news from the employment, manufacturing, and even real estate sectors has given sentiment a positive nudge. Here is a look at this morning's numbers:
Event                                                                  Projected     Actual
Continuing Jobless Claims (Oct. 12)                1.653M          1.636M
Initial Jobless Claims (Oct. 19)                            214K              215K
Durable Goods (Sept.)                                           -0.9%            0.8%
Pending Home Sales (MoM, Sept.)                     -0.1%             0.5%
Continuing Jobless Claims continue to fall, while a slight uptick in Initial Jobless Claims for the week of October 19 was reported. Durable Goods beat expectations significantly, coming in almost two percent above projections. And, finally, there is some good news out of the real estate sector. Pending Home Sales (MoM, Sept.) came in well above estimates, posting a positive figure for the first time in four months.
Overview
As of this morning, the U.S. is 10 days out from the Congressional Midterm Elections. Volatility in the equities markets is growing, as illustrated by the action in the U.S. indices. For the DJIA, 300 point intraday fluctuations have become routine. Market participants are betting heavily on the election's final tally from a variety of vantage points.
Polling data shows extremely tight races in many states. Ultimately, the election's implications will largely depend on Senatorial outcomes in Missouri, Montana, Indiana, Florida, and Nevada. Simply put, a Republican victory will be viewed as pro-business while a Democratic win will inject significant uncertainty into the marketplace.
We are already beginning to see this concept impact stock values on a daily basis. In the coming weeks, we will break down the election in detail and provide some ideas on how to trade the action.