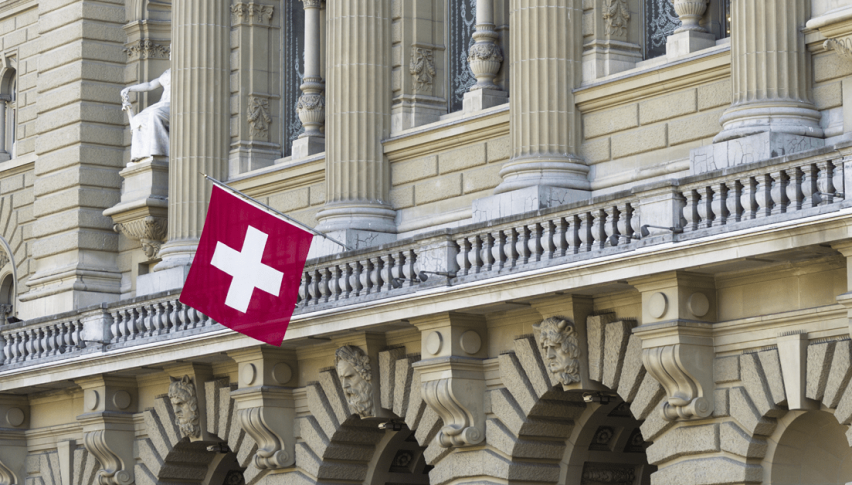 Morning Brief, Dec 13 – ECB Will Say Goodbye to QE, While SNB is Under the Spotlight Today
Posted Thursday, December 13, 2018 by
Arslan Butt
• 2 min read
The Euro surged against the dollar while following a revised Italian budget proposal to the EU that is easier on debt.




The dollar index slipped 0.34% at 97.054 amid worries of a federal government shutdown.




Monetary policy decisions from the ECB and SNB remain under the spotlight today.




Check out quick trade ideas on EUR/USD and EUR/CHF today.
EUR/USD – ECB Will Say Goodbye to QE, but Economy Still Needs Support
ECB Press Conference – Traders, the movement in Euro is solely dependent on the ECB monetary policy meeting which is due today by the end of London session at 12:45 (GMT). The consensus is for policymakers to keep interest rates steady and halt the quantitative easing program as assured.

Besides that, the ECB will also update on economic growth and inflation projections. Nevertheless, the economic indicators aren't showing signs of recovery and political risks are still on the cards.

Main Refinancing Rate – The ECB is expected to hold its pledge to keep rates at present levels at least by the summer of 2019. For your info, presently the ECB's key lending rate (refinancing rate) holds at 0%.

On the technical side, the single currency Euro is trading sideways in a tight trading range of $1.1360 – $1.1380. A day before, the EUR/USD pair completed ABCD pattern at $1.1315 which signifies the bearish bias of traders.

The ECB is likely to conclude the quantitative easing which is sort of hawkish in nature. This is something everybody knew will happen in December 2018. So we may not see aggressive buying in the Euro.

However, ECB President Mario Draghi's positive remarks on European macroeconomic events can trigger massive buying in the Euro. Fellas, considering the current technical outlook, the bullish breakout of $1.1380 can lead the direct currency pair up to $1.1440.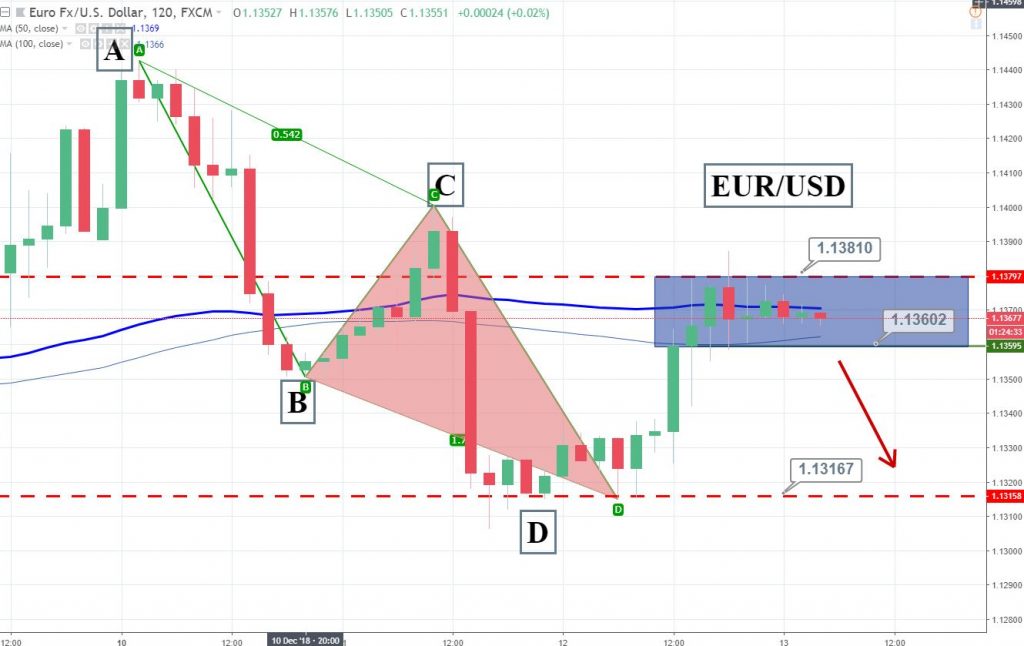 Conversely, dovish remarks are likely to trigger bearish breakout at 1.3560 to push the EUR/USD towards $1.1315

EUR/USD – Technical Levels
Support     Resistance
1.1326    1.1399
1.1284    1.143
1.1212    1.1502
Key Trading Level:    1.1357

EUR/USD – Trade Plan
I will be looking for a breakout opportunity depending upon the news release. The idea is to place a buy stop at $1.1385 to target $1.1420. While sell stop is preferred below $1.1350 with a take profit of $1.1320.
EUR/CHF – Swiss National Bank Ready to Reveal Policy
In contrast to almost all other major policymaker banks, the Swiss National Bank has avoided providing any clues on their next policy decision. They did something like this back in back in January 2015, when the SNB suddenly declared that it would no longer respect the Swiss Franc at a fixed exchange rate with the Euro, causing an extreme sell-off in the EUR/CHF.

Today at 8:30 (GMT), the Swiss National Bank (SNB) is widely expected to keep its policy rates unchanged at record lows.

So what's there for us today?
Well, we need to see signs on whether an interest rate hike in 2019 is on the papers or not. Considering the Swiss economic figures, the SNB isn't expected to say something hawkish about their policy as the safe haven currency Swiss Franc is already getting stronger due to the escalation of global risks.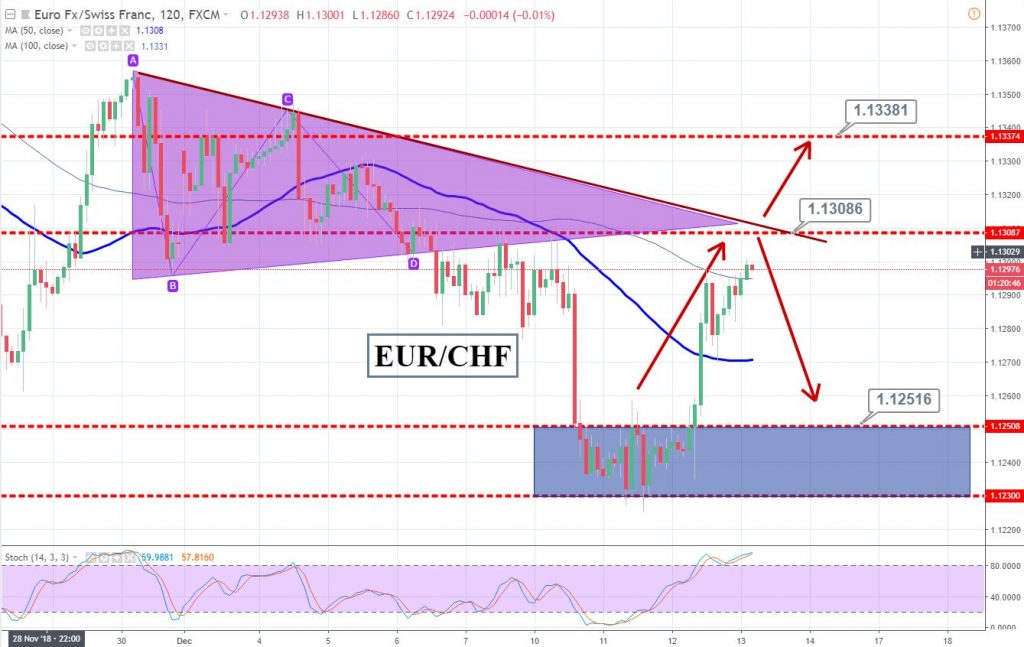 On the 4 hour chart, the GBP/CHF has entered the overbought zone below 1.1300. At the same level, the pair is likely to face significant resistance, extended by a triple top pattern and bearish trendline.

EUR/CHF – Technical Levels
Support     Resistance
1.1251        1.1316
1.1211        1.134
1.1146        1.1405
Key Trading Level:    1.1276

EUR/CHF – Trade Plan
The EUR/CHF can stay bearish below 1.1308 with a target of $1.1250. While the bullish breakout of 1.1308 can lead it towards 1.1340.
Good luck and stay tuned for more updates!

The USD is looking softer today after the unemployment claims showed a jump to the highest since October 2021 last week
22 hours ago