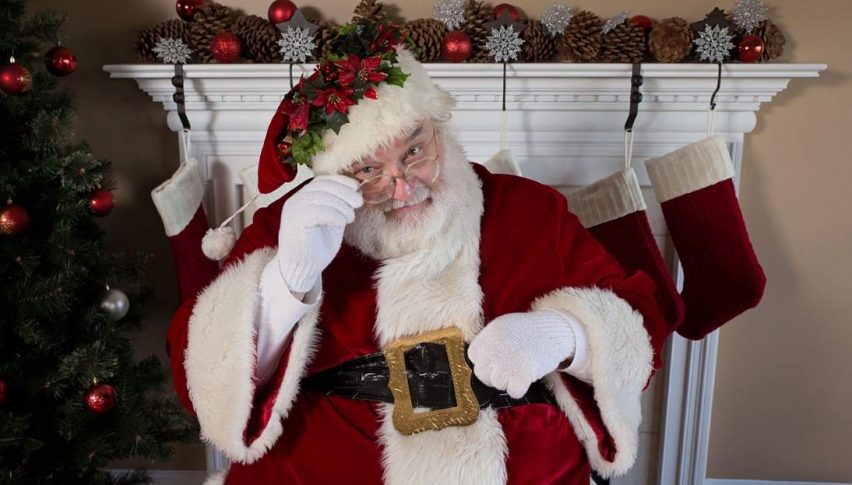 So Much For The "Santa Claus Rally" In U.S. Equities
The pain for equities bulls may be subsiding as trade is leaning positive since the Wall Street opening bell. Major U.S. indices are seeing a bullish bounce following a negative start. Stocks are on pace for one of the worst Decembers in recent memory, but perhaps the U.S. indices will close the week on a positive note. With the NASDAQ, DJIA, S&P 500 SPX flirting with corrective territory, the much-anticipated "Santa Claus Rally" appears to be dead in the water.
It is still early, but this morning's optimism may prove fleeting. Investors do not appear to be interested in being long stocks, and why should they? With the holiday break looming, tariffs set to go into effect January 1, and a new U.S. Congress being seated in a matter of weeks, there is little incentive to take on any new risk. For now, the sidelines are awfully attractive to a majority of equities players.
Santa Claus Rally? Not This Year…
The March E-mini S&P 500 is trading in the neighborhood of 2500.00 and threatening to trend lower. The early session has featured a tight opening trading range.
Overview: The March E-mini S&Ps are in desperate need of a rally and positive close. The daily losing streak stands at six and buyers have shown little interest. A close above the 2500.00 will foster optimism and increase the odds of a rally for the last trading week of the year.
For now, it is anybody's ballgame. Expect heavy action and volatility before today's closing bell. It will be fascinating to observe whether or not institutional capital chooses to go home for the holidays net long, flat, or short equities.
Stock markets are looking very bearish today, with bank shares leading the way down as the fears resurface again
1 month ago
Safe havens such as Gold and the JPY have been taking advantage of the financial troubles with the ban king system and lower FED rate odds
3 months ago