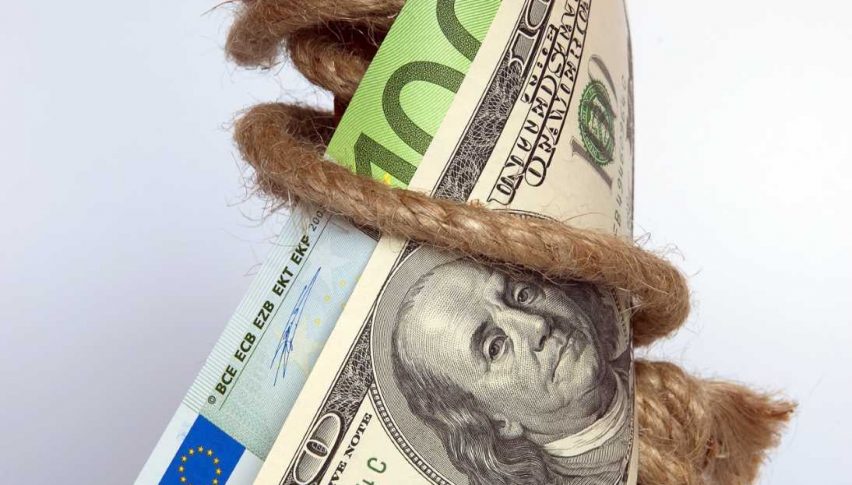 EUR/USD Tests 38% Fibonacci Resistance
Traders are continuing to short the Greenback, driving price to key support and resistance levels across the majors. One of the biggest is the daily 38% Fibonacci retracement in the EUR/USD. Rates have rallied to this area of resistance and are threatening to drive higher.
A quick scan of the newswires is not producing any universal reason for the concerted unloading of the Greenback. As mentioned earlier, tomorrow's FOMC Minutes release is one culprit for the weakness. However, additional fundamental value drivers currently remain a mystery. Sometimes that is the way of forex trading ― markets have a mind of their own, regardless of rationale!
On a side note, the U.S. equities indices remain near flat. Bitcoin is approaching $4000 and WTI crude oil has put in an ultra-tight 96 tick daily range. All in all, it has been a peculiar U.S. session.
Fibonacci Resistance In Play For The EUR/USD
One of the attractive aspects of the current EUR/USD market is the presence of a defined bearish wave on the daily chart. Price is currently challenging the 38% Fibonacci retracement (1.1341) of this wave as well as the Daily SMA (1.1343).
Here are the key levels to watch in this market until Wednesday's FOMC Minutes release:
Resistance(1): 38% Retracement, 1.1341

Resistance(2): Daily SMA, 1.1343

Resistance(3): Bollinger MP, 1.1367
Overview: The current bullish pressure being put on the topside resistance levels is formidable. In the event that it subsides and we see a daily settlement below 1.1341, then my bearish bias toward this market will be preserved. If not, all bets are off and the EUR/USD is likely headed significantly higher before tomorrow's close.