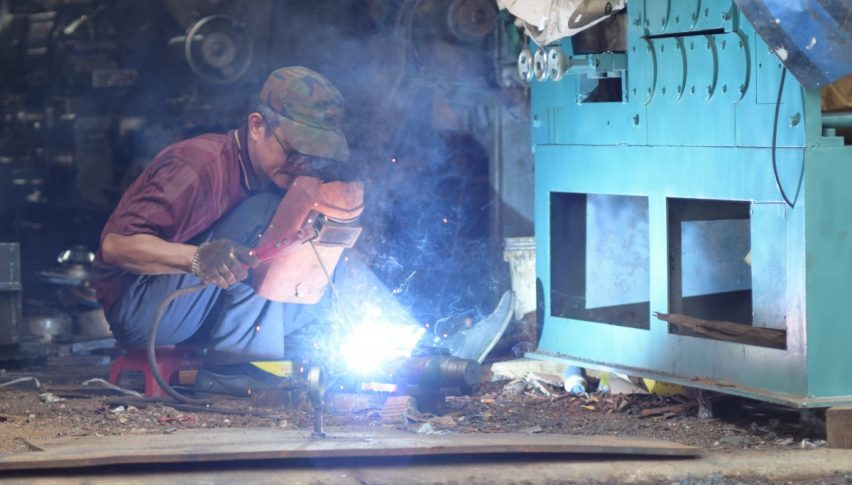 Industrial Production Falls, U.S. Stocks Rally
It has been a strong open to the U.S. session for stocks, featuring rallies in the big three indices. For the first half-hour of trade, the DJIA (+65), S&P 500 SPX (+8) and NASDAQ (+35) are all in the green. The bullish action has run contrary to conventional wisdom, as a particularly weak Industrial Production report was released prior to the opening bell.
Industrial Production (March) Disappointed Expectations
During the U.S. pre-market hours, several American manufacturing metrics came across the newswires. The numbers disappointed consensus expectations, yet traders appear to be ignoring the data. Here are the hard figures:
Event                                                          Actual      Projected         Previous
Capacity Utilization (March)                     78.8%          79.1%               79.0%
Industrial Production (MoM, March)      -0.1%            0.2%                  0.1%
Today's price action in the U.S. indices doesn't reflect the negative tone of this set of production figures. Market sentiment is positive and the DJIA is in the process of establishing a foothold near 26500.
The DJIA Pushes Above 26,500
Psychological levels are a big deal and oftentimes act as strong support and resistance. This is what we are seeing in the DJIA and June E-mini DOW futures at the 26500 level.
Overview: The June E-mini DOW is in a technical no man's land, at least on the daily timeframe. This market remains in bullish territory, but price action is choppy around the 26500 handle. If this market retreats for the remainder of the session, a Double Top formation in the neighborhood of 26510-26550 will be in play for the midweek.
Until proven otherwise, it is long-or-nothing in the DJIA and June E-mini DOW. Be on the lookout for fresh all-time highs to be posted in the DJIA by Friday's closing bell.