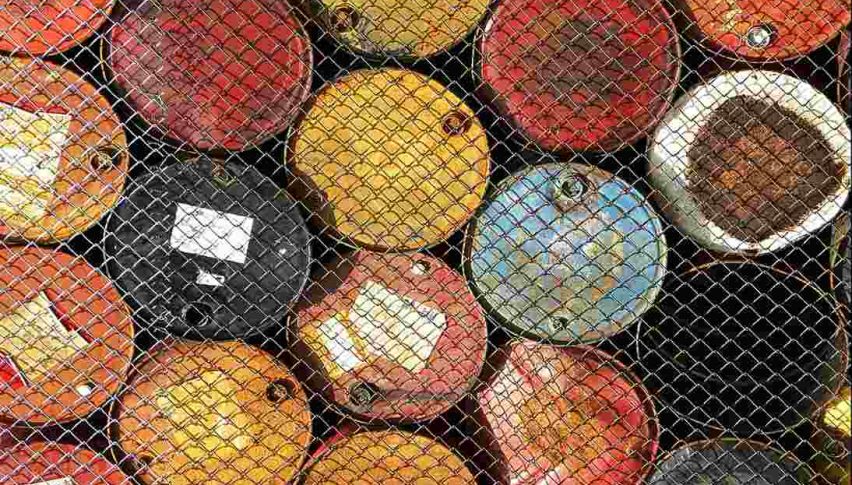 EIA Reports Surprise Draw On Oil Stocks
Earlier today, the EIA Crude Oil Stocks report was released to the public, capping the weekly inventory cycle. The EIA stats showed a moderate draw on supply, breaking from seasonal trends. Regardless of the stocks numbers, energy traders aren't respecting the idea of scarcity and WTI crude is down slightly.
Tuesday marked the first day of trade for the new front-month WTI crude oil futures contract. Volumes are now firmly on the June issue, with prices hovering around the $64.25-$64.50 area.
The EIA Reports A Draw On Supply
This week's crude oil inventory cycle has brought a few surprises but no major moves to WTI. Here is a look at the hard data:
Event                                          Actual       Projected      Previous
API Crude Oil Stocks               -3.096M          NA                4.091M
EIA Crude Oil Stocks               -1.396M       7.329M            7.029M
Both inventories have come in decisively negative, featuring major swings over last week. Today's EIA report dramatically underperformed expectations, to the tune of more than eight million barrels. If this pattern holds true in the coming weeks, then we can safely assume that the high demand of summer has shown up early.
$65.00 Is Still The Key To WTI Crude Oil
Rollover from the May to June WTI contract hasn't done much to influence price. WTI is still rotating between $65.00 and $64.00, in bullish territory.
Overview: The daily uptrend in WTI crude remains valid, with the key level in this market being $65.00. Today's one-tick failed auction in June WTI above last week's high ($64.71) is a strong signal that there are institutional traders protecting the $65.00 level. This is a big deal― when $65.00 is finally violated, huge volumes of orders will hit the market.
Be ready for $65.00 to be taken out by Friday's closing bell. While buying in from the 38% Current Wave Retracement ($62.31) is the best way to get in on the action, it is unlikely we will get the chance. At this point, it appears that a hard break to $67.50 is setting up in June WTI crude oil futures.