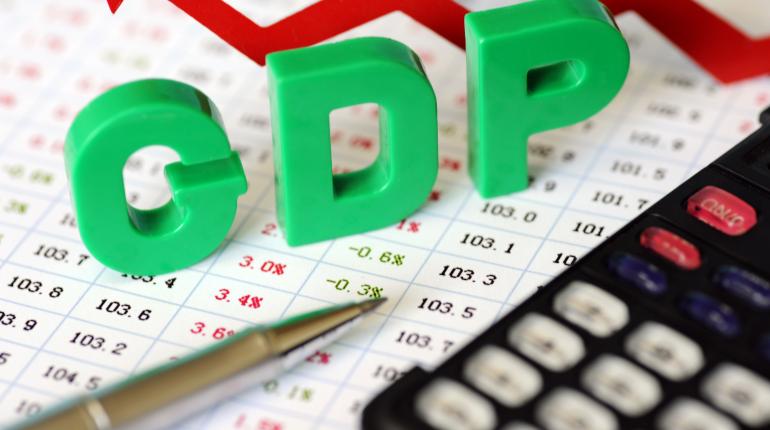 Morning Brief, April 26 – Trading Gold on US Advance GDP Figures
Posted Friday, April 26, 2019 by
Arslan Butt
• 2 min read
Happy Friday, traders.
Today the market focus stays on the US dollar and direct currency pairs as the US economy is due to release advance GDP later today. As you know, the gross domestic product is one of the high impact economic events and typically drives massive fluctuations not only in the forex but also in the commodity and stock markets. Therefore, we are going to discuss the expectations and the potential impact of US GDP on the market.
Watchlist – Key Economic Events Today
USD – Advance GDP q/q
The gross domestic product is the broadest measure of economic activity and the primary gauge of the economy's health. It shows an annualized change in the inflation-adjusted value of all goods and services produced by the economy.
The Bureau of Economic Analysis is due to release the US GDP data at 12:30 GMT. The advanced GDP plunged from 3.4% to 2.2%. The first quarter of 2019 is likely to exhibit slower growth partly due to the government shutdown. A growth rate of 2.2% is on the cards.
Impact on different Trading Instruments
US Dollar – The advance GDP figures of more than 3% can drive bullish movement in the dollar. However, the Greenback can face a sharp dip upon the release of a less than 2% GDP as it's already below the 2.6% growth rate of the previous quarter.
Gold – Likewise, a negative GDP can drive bullish waves in gold due to the negative correlation between gold and dollar.
Stock Indices – As you know, better than expected GDP is considered suitable for the economy. However, at the same time, it hikes the chances of interest rate hikes. Therefore, on the release of optimistic GDP, we can expect a bullish momentum in the US stock market for the first hours only. The odds of bearish reversal will stay there as stock market investors don't like higher interest rates.
Gold – XAU/USD – Bullish Crossover & Triple Bottom Rest
On Friday, the yellow metal GOLD is trading moderately after falling sharply to a four-month low of 1,266. Recalling our article, Gold Testing 50 Periods EMA, the market traded precisely in line with the forecast. Despite a strong bullish trend in the US dollar, gold continued to keep its bullish bias.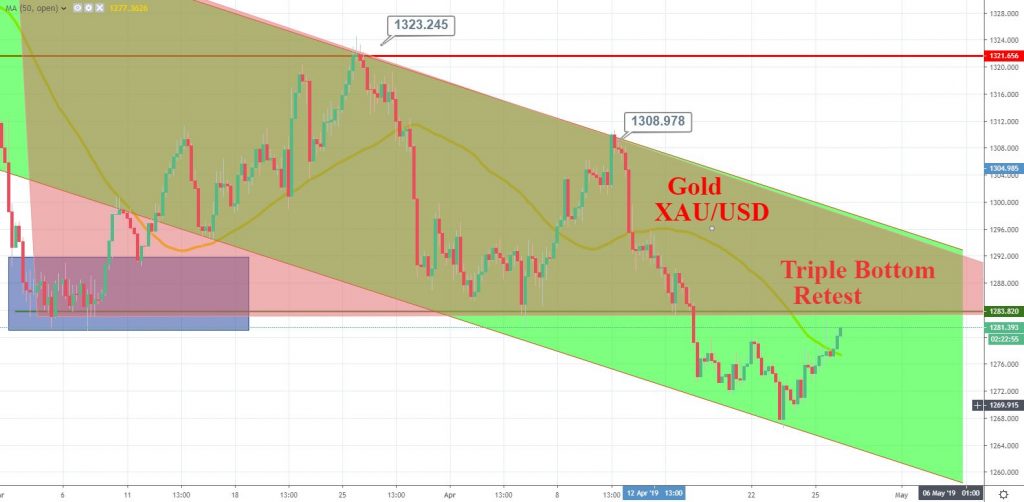 Right now, gold is trading bullish at 1,281 after crossing above 50 periods EMA on the hourly timeframe. It demonstrates the bullish bias of traders.
Support Resistance
1270.51 1279.8
1265.26 1283.84
1255.97 1293.13
Key Trading Level: 1274.55
What's Next?
The US Advance GDP figures can drive sharp movements in the market today. However, gold is likely to continue its bullish momentum until 1,284 and 1,288. Here 1,284 is a triple bottom resistance level and can give a hard time to bulls.
Good luck!