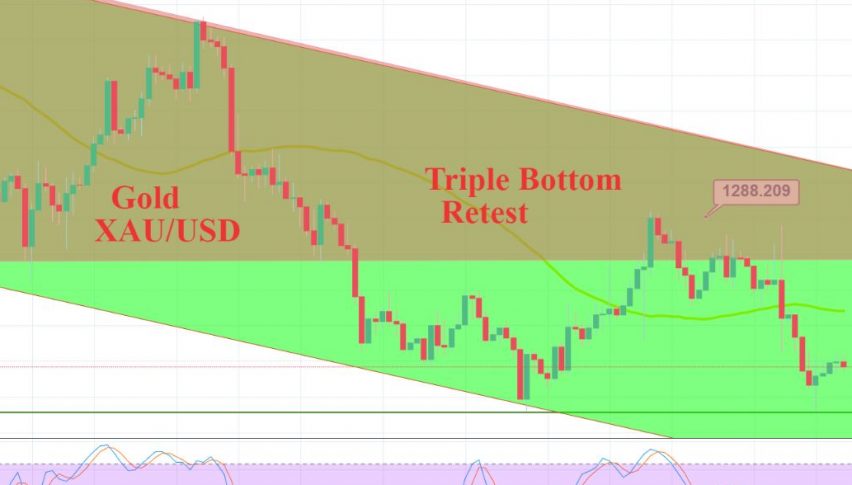 Daily Briefing, May 3 – Trading Gold on Nonfarm Payroll Today
Happy Friday, traders.
Global stock indices plunged across the globe yesterday as a result of the FOMC meeting continued to weigh over the trading day. Trade agreement anxieties added to the descending move in stocks as expectation of an agreement between China and the US was pushed further out. In response, the major US indices all ended in the red again with the Dow guiding the way, slipping 0.46% and the S&P 500 closed 0.21% in the negative.
Looking forward to today's trading day, most market participants will be expecting range bound conditions ahead of tonight's Nonfarm Payroll data release. Thus, we are also going to plan to trade the yellow metal gold on NFP release today.
Top Events To Watch Today
US Dollar – USD
The US NFP (Nonfarm Employment Change) and Unemployment Rate will remain under the spotlight. Both these economic data sets will be monitored at 12:30 GMT. NFP is expected to be negative at 181K vs. 196K in the last month.
On Wednesday, the ADP figure came out better than the forecast. The ADP's report showed that the private-sector hiring hit an eye-popping 275,000 in April, just about 100,000 more than expected and due to its positive correlation with the NFP, the investors seem to price in better than expected Nonfarm data.
Average Hourly Earnings m/m – In April, the earnings dipped from 0.4% to 0.1%, missing economists forecast of 0.3%. The report signaled a slow down in the labor market. But today, the Average Hourly Earnings are expected to rise by 0.3% vs. 0.1%. Whereas the unemployment rate is likely to stay unchanged at 3.8%.
GOLD – XAU/USD- Double Bottom Pattern In Play
On Thursday, gold remains pressured and is sitting just above recent yearly lows. Looks like the investors are still digesting Wednesday afternoon's Federal Open Market Committee (FOMC) statement and press conference from Fed Chairman Jerome Powell.
Gold prices sold off in the aftermath of the news and continue to trade lower to place a low of around 1,266. Well, this shouldn't be surprising for those who followed our previous update on gold, as the precious metal traded precisely in line with it.
For the moment, gold is holding above a double bottom support area of 1,266 as the technical indicators are lining up for a bullish retracement. The market is likely to trade in the same range of 1,276 – 1,266 until the release of labor market figures.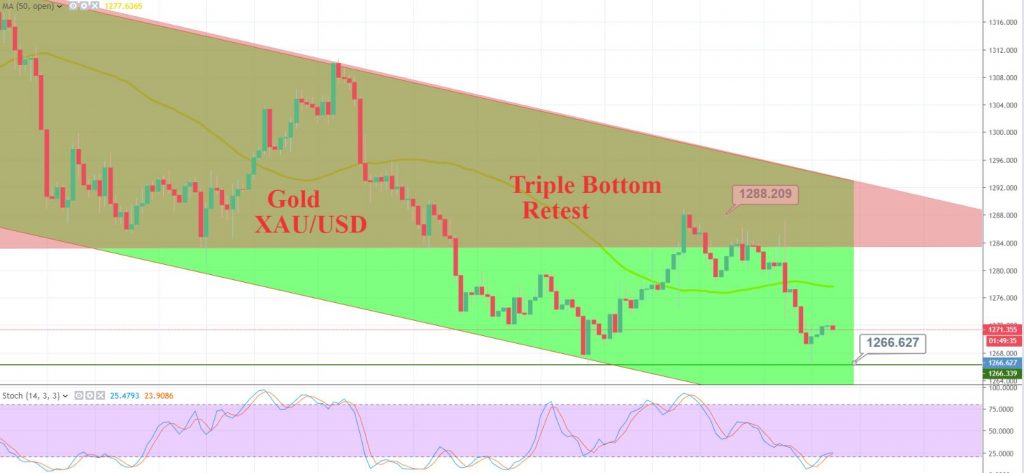 Gold – XAU/USD – Technical Outlook
Support Resistance
1266.28 1274.76
1262.07 1279.03
1253.59 1287.51
Key Trading Level: 1270.55
Gold// XAUUSD – Trading Idea
Consider staying bullish above 1,266 to target 1,276. While selling should be preferred below 1,276 today.
All the best for today and have an awesome weekend!