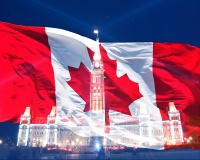 Canada Asks US Help for Diffusing Trade Crisis with China
Even as the US-China trade talks heat up, there's another situation brewing in the North American continent with regards to China. Canada has asked the US to intervene and help settle a trade dispute with China.
Ever since Canada detained an executive from Huawei, China has been blocking imports of essential Canadian commodities in retaliation. Canada is stepping up pressure on the US, with latest reports suggesting that Canada could withhold cooperation until the US resolves this issue.
The issue dates back to December 2018 when Canada arrested the CFO of Huawei, Meng Wangzhou, on a US warrant. It escalated a few weeks ago when China stopped importing canola from Canada and suspended permits of two leading Canadian pork producers. China has also detained two Canadian citizens following Wangzhou's arrest.
Canada expects the US to step in and sort this issue out since it was a US warrant-based arrest that triggered this issue in the first place. US negotiators working on the trade discussions with China have refused to include this issue in their discussions so far.