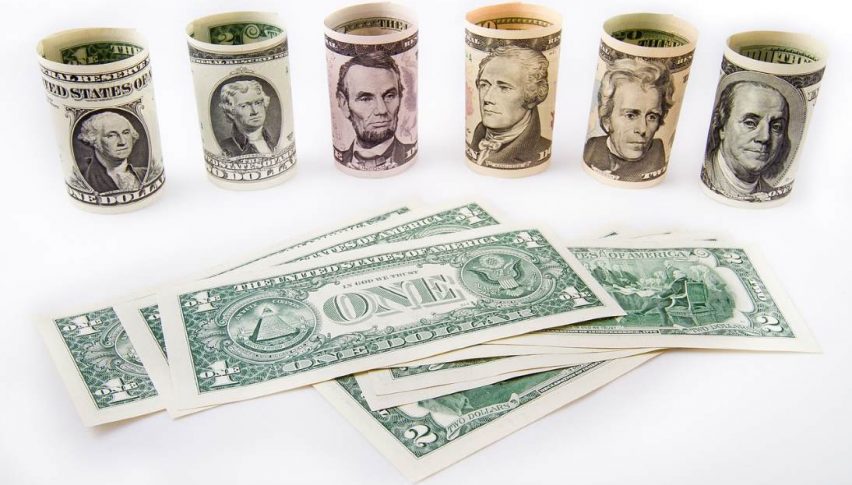 USD Index Falters, Tests 97.000
Today's market volatility has been extreme in U.S. equities, with values trending lower as the trading session progresses. Not to be left out of the carnage, June USD Index futures are off considerably. The U.S./China trade war escalation has investors heading for the door, taking the risk off of American assets.
During the pre-Wall Street hours, FED Chairman Jerome Powell delivered the opening comments at the 2019 Federal Reserve Community Development Conference. Remarks did not address current FED monetary policy or any economic projections. In addition to Powell's speech, there were a few other peripheral economic stats out during the U.S. pre-market hours:
Event                                                              Actual       Projected        Previous
Continuing Jobless Claims (April 26)         1.684M        1.670M             1.671M
Initial Jobless Claims (May 3)                        228K             220K               230K
PPI (YoY, April)                                                 2.2%             2.3%                2.2%
Trade Balance (March)                                   $-50.0B        $-50.2B        $-49.3M
To sum these numbers up, U.S. employment and inflation remain relatively stable. The trade balance has grown since February, which doesn't come as much of a surprise. In short, this group of reports has had little impact on today's markets.
June USD Index Futures Plunge To 97.000
At this hour (11:40 AM EST), the U.S./China negotiations continue to dominate the capital markets. June USD Index futures have certainly not been ignored, with rates falling to a test of 97.000.
On the daily chart, the June USD Index is trading within a noncommittal technical area. Until the end of the session, here are two key levels to watch:
Resistance(1): Bollinger MP, 97.130

Support(1): Daily SMA, 97.060
Overview: For now, it is all about trade and the U.S./China negotiations. Inflation, employment, and growth rates of the U.S. economy are all positive; the only real negative factor is the pending trade war uncertainty. Until we see some sort of resolution in this area, or at least until the media buzz dies down, the USD Index is likely to suffer.