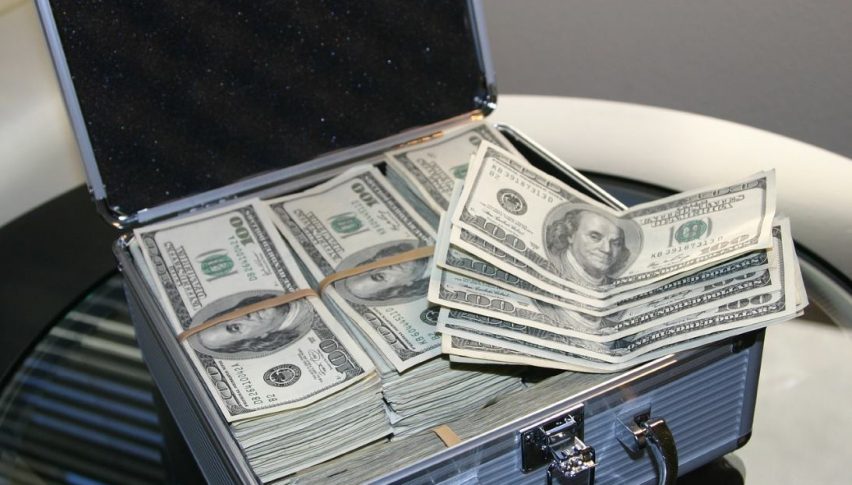 U.S. T-Bill Yields Fall, USD Index Holds Firm
The Greenback has been relatively quiet since Sunday's forex electronic open. Currency players are anxiously awaiting to hear what FED Chairman Jerome Powell and the rest of the FOMC have to say about the current state of the U.S. economy. The U.S./China trade war, GDP growth, and stagnant inflation are going to be topics front-and-center during Wednesday's FOMC Minutes. What can we expect out of the majors until then?
That is the billion dollar question, with the answer being anyone's guess. But, we do know these three things: U.S. economic growth is positive, trade war tensions are at near all-time highs, and yet safe-havens continue to struggle. In addition to the lagging gold market (more on that later), U.S. Treasuries have taken another hit. Here is a quick look at the T-bill auctions held earlier:
Event                                                        Actual       Previous
3-Month Bill Auction                               2.335%      2.360%
6-Month Bill Auction                               2.340%      2.355%
June USD Index Futures Hold Firm As T-bills Retreat
Despite the falling yields in short-term government debt, June USD Index futures are hanging tough near last week's highs. It appears that currency players are happy to hold-the-line in the hopes of a moderately-hawkish week of news from the FED.
Here are the levels to watch for June USD Index futures ahead of the Wednesday session:
Resistance(1): Psyche Level, 98.000

Support(1): Psyche Level, 97.500

Support(2): Daily SMA, 97.435
Overview: For now, the USD Index and majority of the majors are in relative holding patterns. Aside from the GAP up in the AUD/USD, there isn't a whole lot going on at the moment.
Regardless of the muted action, don't get too comfortable. The FED and FOMC are getting ready to shake up the currency trade in the coming 72 hours.