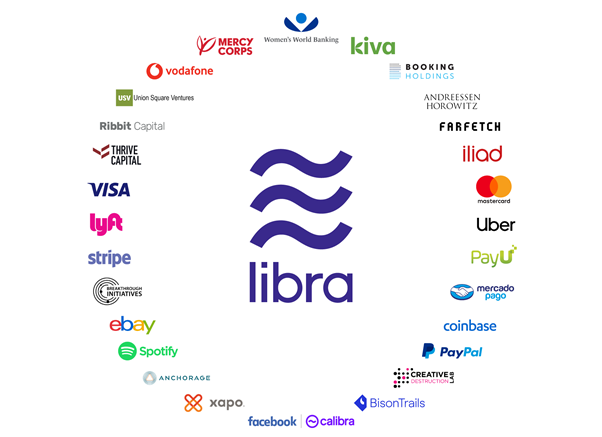 Libra – Facebook Launches its Own Digital Currency
Facebook announced that it will launch its own cryptocurrency in the first half of 2020, Libra, which will let people buy things or send money with close to zero fees. First things first, Libra is not a stable coin; instead, it will be backed by a basket of assets denominated across four fiat currencies: USD, GBP, EUR, and JPY. However, the basket consists of low-volatility assets with the goal to keep the Libra's value relatively stable. You can get involved in Libra by buying or cashing out your Libra online or at local exchange spots like grocery stores, and spend it using Facebook's own Calibra wallet that will be built into WhatsApp, Messenger and its own app, or by other interoperable third-party wallet apps.
Is Libra Decentralized?
No, but Facebook won't fully control Libra. Instead, Facebook gets just a single vote in its governance like other founding members of the Libra Association, which include Paypal, Visa, eBay, Uber, and 24 other soon-to-be-founding members. The blockchain is operated and constantly verified by the founding members of the Libra Association, each of which will invest $10 million or more to get voting rights in Libra's governance and the ability to operate a validator node. Mark Zuckerberg noted in a post: "(…) it's run by many different organizations instead of just one, making the system fairer overall. It's available to anyone with an internet connection and has low fees and costs. And it's secured by cryptography which helps keep your money safe. This is an important part of our vision for a privacy-focused social platform — where you can interact in all the ways you'd want privately, from messaging to secure payments."
The Libra Association
The Libra Association is based in Geneva, Switzerland due to the country's neutral status and strong support for Fintech including blockchain technology. Facebook aims to reach 100 founding members before the official launch of Libra in 2020. The members range from payment services, marketplaces, telecommunications, blockchains, venture capitalists to nonprofit organizations.
But Facebook certainly does not look for just anyone. In order to join the association, members must meet several requirements such as a half rack of server space, at least a 100Mbps internet connection, a full-time site reliability engineer and enterprise-grade security. Enterprises must have more than $1 billion USD in market value or greater than $500 million USD customer balances, reach greater than 20 million people a year globally and/or be recognized as a top 100 industry leader by a third-party sector-specific association or media company like Interbrand Global or the S&P.
Crypto-focused investors must have more than $1 billion in assets under management, while blockchain companies must have been in business for more than 12 months, employ enterprise-grade security, privacy, and infrastructure operations backed by modern policies and processes — publicly disclosed by security audits and/or penetration testing reports and custody or staking greater than $100 million in assets. What's more, only up to one-third of the founding members can be crypto-related businesses or individually invited exceptions.
Interestingly enough, Facebook also accepts research organizations like universities, and nonprofit organizations meeting three of four requirements, including working on financial inclusion for more than five years, having a huge global user network, and/or a top 100 designation by Charity Navigator or something similar, and/or $50 million in funds.
Libra Investment Token
The tokens will be sold to the founder members of Facebook's new consortium — the Libra Association — with a $10 million minimum investment required to run a validator node and participate in the governance of the platform. The value of the token derives from the value of participating in this governance, or potentially any revenues or rewards (dividends) paid to network maintainers and is decoupled from the day-to-day value of the payments token. Instead, the value of the governance token depends on the actual and future utility of the payments token offered by the consortium.
Mission Statement
1.7 billion adults globally (31 percent) remain outside of the financial system with no access to a traditional bank, even though one billion users have a mobile phone and nearly half of the global population have internet access. Also, cross border payments are slow and inefficient, taking three to five working days until they arrive. Additionally, the costs are very high, as it costs seven percent on average to send money internationally. What's more, the unbanked population even pays 4$ more on fees for cash access, on a monthly average.

Libra aims to solve these issues, with its own blockchain, the Libra blockchain.
The Libra Blockchain
Libra aims to handle 1,000 transactions per second if nodes use at least 40Mbps connections and 16TB SSD hard drives. In comparison, Bitcoin is able to process seven transactions per second and Ethereum 15. The Libra blockchain is using
the Byzantine Fault Tolerance system, which means that only 66 percent of the nodes must come to a consensus for the transaction to be legitimate, verified and executed. Due to Merkle Tree structures in the code, changes to the Libra blockchain are easily recognized.

Is Libra Anonymous?
The Libra blockchain is not anonymous, but pseudonymous. In regards to concerns about the private data of Facebook's users, Markus, the head of Calibra, replied: "The reality is we'll have plenty of wallets that will compete with us and many of them will not be in social, and if we want to successfully win people's trust, we have to make sure the data will be separated."
Calibra Wallet
The Calibra wallet is a good step in the right direction, as it has the potential to drastically increase mainstream adoption. In contrast to commonly used wallets, Calibra does many things differently:
In the event of your getting hacked or scammed, or losing access to your account, Calibra will refund your lost coins when possible through 24/7 chat support. What's more, you also won't need to remember any long, complex crypto passwords which you could forget and get locked out from your money, as Calibra manages all your keys for you. Given these facts, Calibra will likely become the default wallet for many Libra users.
Calibra's head of product Kevin Weil commented that Facebook could launch other financial tools through Calibra that it could monetize, such as investing or lending. "In time, we hope to offer additional services for people and businesses, such as paying bills with the push of a button, buying a cup of coffee with the scan of code or riding your local public transit without needing to carry cash or a metro pass," the Calibra team states.
Future Prospects
Facebook has extremely detailed data on more than two billion users. Its far-reaching identity verification and data mining capabilities shelter the potential to build by far the largest platform by user number of any financial institution.
In contrary to existing payment methods such as Visa or Paypal, Libra doesn't need to go through people's banks to verify their identity, which is highly expensive, manual and unscalable. Facebook already has all the data about you and therefore they don't need a bank, which results in much faster scaling.
Another major benefit of Libra is that users can transact peer-to-peer through only one institution, and that's for 28 percent of the world's population, the number of Facebook users.
Libra, being backed by assets which are backed by national currencies, can ultimately be backed by the US Dollar since all other national currencies at this point are backed by USD and managed by central banks (which are under the control of the US Federal Reserve).
Nevertheless, concerns regarding the future from a regulatory aspect remain valid, as the Bank for International Settlements (BIS), the world's oldest global financial institution, has recently published a reported where it warned that Libra could pose a threat to the dominance of the global banking sector, according to financemagnates.
In the report, BIS clarified that major tech companies–like Google, Apple and Facebook–could "rapidly establish a dominant position" due to their giant number of users. 
But not only that, the report also called for regulatory action:
"Public policy needs to build on a more comprehensive approach that draws on financial regulation, competition policy, and data privacy regulation,". "The aim should be to respond to big techs' entry into financial services so as to benefit from the gains while limiting the risks."

How Libra will be handled from a regulatory point remains unclear. According to Reuters, the government of France will create a G7 force "to study how central banks ensure cryptocurrencies like Facebook's Libra are governed by regulations ranging from money-laundering laws to consumer-protection rules."

Thus, we can certainly expect regulations towards cryptocurrencies like Libra.
Comparison to Bitcoin
Bitcoin is sound money. It is apolitical, neutral, censorship-free, and it can't spy on you, even if it wanted to. All these points are different from Libra, which can never be a better alternative to bitcoin, but definitely a more scalable and mainstream adoptable cryptocurrency.  
Conclusion
Libra marks the first attempt at creating a world currency, using the blockchain, which can be used every day by billions of individuals and institutions across the globe.
Nevertheless, the magnitude of its success will vary greatly on how Libra convinces financial institutions to collaborate with the consortium in building a working framework that serves the need for decentralized governance while still being compliant with existing international and domestic laws.
Regardless of the possibility that Libra could become the largest success in the crypto industry, Libra will certainly contribute towards mainstream adoption of blockchain technology by granting digitally-connected and still unbanked individuals around the globe the right to access basic financial services.
Cryptocurrencies were showing strong bullish pressure in the first two months of 2023, but the bullish momentum has faded
3 months ago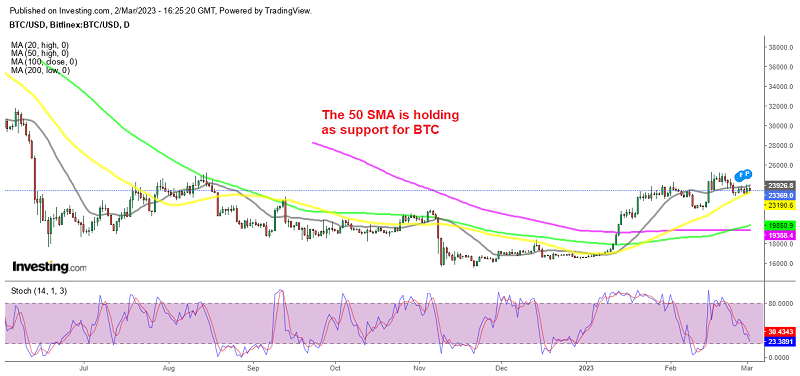 3 months ago