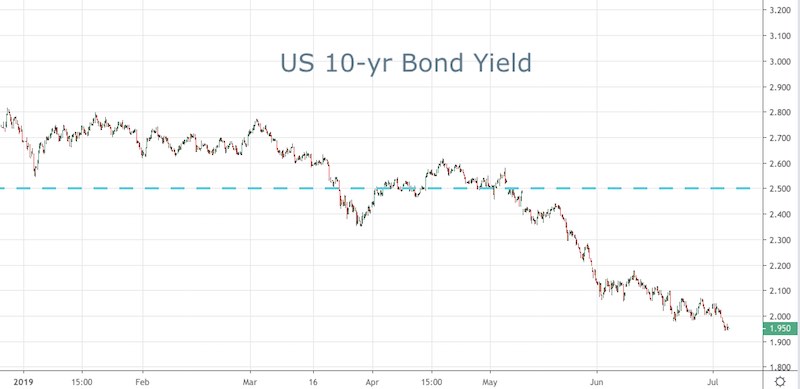 Markets Are Quiet Ahead of Jobs
US markets were away for the July 4 holiday and as a result volatility across the board was low.
The major theme yesterday, was the fall of bond yields across the board in what is really a change in expectation for investors going forward. Recently we've seent the RBA cut rates and there are a host of others, including the FOMC who stand ready to do the same.
What this means for forex markets is that there is a real race to the bottom. This makes it tricky when trading the majors as it is hard to tell which side will go lower for longer.
BTC was open yesterday, and it looks like it wasn't able to crack through the $12,000 barrier with any real conviction and has settled below that point.
While GOLD and WTI are both off the highs. Although I expect there to remain a bid under gold, while oil will likely continue to fall away after failing at $60.
Today the big event will be US jobs where it is expected that 160K new jobs will be added. The ADP number missed earlier during the week and showed only 100K, so that might be a bit of a leading indicator here.
Asian Market Outlook
All the big news seems to be out of the way for the AUD/USD after a week that saw a rate cut and a miss on retail sales. All that did was get the Aussie to rally and at the moment price is still above the 0.7000 level.
The USD/JPY has a tiny bit of news out today with household spending data, but overall this is not going to tip the scale one way or another in the Yen.
For the time being, the Yen is still holding steady under the 108.00 level and likely won't see much action until US traders wake up in the morning. And I expect many to be getting out of bed rather slowly today.
Core PCE inflation ticked higher to 4.7% this month, which should keep the FED hawkish and the USD bullish
2 days ago
Gold broke below the support zone of $1.950 yesterday and now it is headed for the 100 SMA on the daily chart
3 days ago