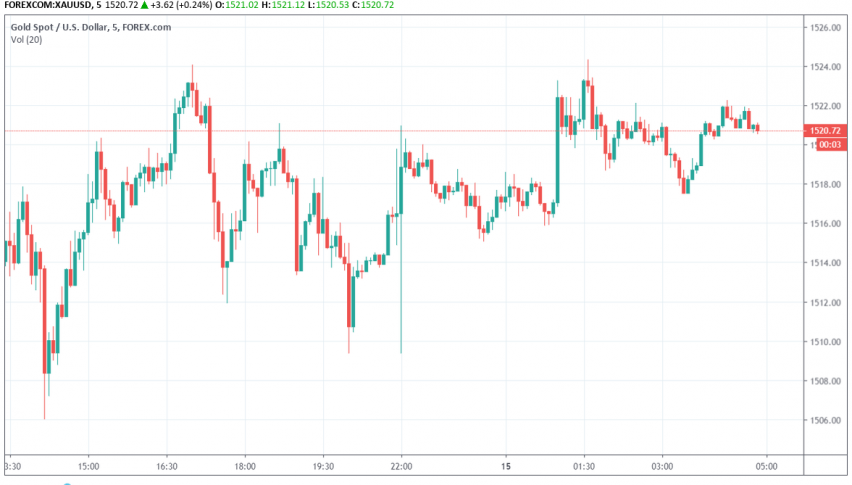 Gold's Safe Haven Appeal Dominates Markets
Posted Thursday, August 15, 2019 by
Arslan Butt
• 1 min read
Gold prices climbed higher on Thursday over the rising possibility of a recession in the US economy following an inversion of the US bond yield curve. The ongoing US-China trade war is weighing heavily on the marker sentiment and investors are worried that it is causing weakness in global economy.
After a brief dip below $1,500, GOLD is trading at a little above $1,520 at the time of writing after the US Treasury yield curve inverted for some time on Wednesday. In addition, weaker than expected industrial production and retail sales figures from China and weaker GDP in Germany and the Eurozone have heightened the possibility of a slowdown in the global economy.
On Tuesday, US President Trump had announced his decision to delay some of the tariffs being imposed on Chinese imports from September 1 to December 15, causing a slight improvement in the market sentiment. Although a trade deal still remains nowhere in sight, this was taken as a positive sign that the US could potentially compromise on its side of negotiations. However, China has not shown any reaction to this development or reciprocated with a similar gesture so far.
The heightened risk of a recession adds more pressure on the Fed to consider another rate cut soon. For now, markets are expecting a 74% likelihood of Fed cutting interest rates by 0.25% in September. If the Fed sounds dovish or cuts interest rates, it further increases the safe haven appeal of gold, which shares a negative correlation with the US dollar.
Gold broke below the support zone of $1.950 yesterday and now it is headed for the 100 SMA on the daily chart
4 days ago