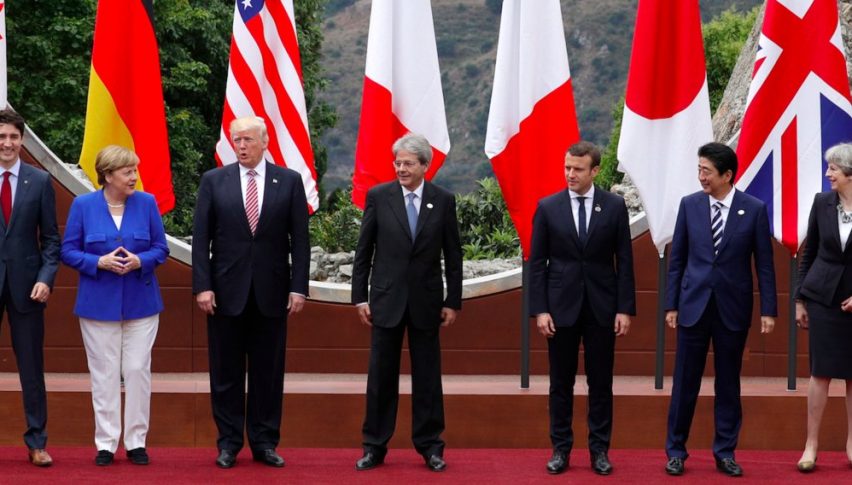 Weekly Economic Outlook, Aug 26-30: Top 5 Things to Trade This Week
Posted Sunday, August 25, 2019 by
Arslan Butt
• 3 min read
Happy Weekend, Folks.
Last week, the US dollar concluded the session in a bearish tone, as President Donald Trump directed US companies to begin looking for an alternative to China after Beijing imposed more tariffs on American goods, further escalating tension between the world's two largest economies in a prolonged trade dispute.
Investors are still considering the all-important speech by Fed Chair Jerome Powell that rolled the dollar. What's next? US durable goods orders and an update on GDP are in the spotlight as August draws to an end. Here the highlights for the next week.
1) G7 Meetings – Day 3
Fellas, the G7 meetings are attended by finance ministers and central bankers from 7 industrialized nations – Canada, Italy, France, Germany, Japan, the UK, and the US. The meetings are closed to the press but officials usually talk with reporters throughout the day, and a formal statement covering policy shifts and meeting objectives is usually released after the meetings have concluded. Both the comments and the statement can create significant market volatility.
Why do traders care about it?
While it's not an institution, the G7 is an influential global policy-making body operating at the highest level, and their initiatives and policies can have a substantial impact on currency markets.
G7 members are due to meet about a range of global economic issues, including cryptocurrencies and trade policies, in France.
As per recent developments, the US President Donald Trump said on Sunday that talks were going well with Western associates at a G7 summit in France, rejecting reports of disagreements between leaders and stating that they "respect" the trade war between Washington and Beijing.
Trump wrote on Twitter ahead of meeting the new British Prime Minister Boris Johnson:
"Before I arrived in France, the Fake and Disgusting News was saying that relations with the 6 others countries in the G-7 are very tense and that the two days of meetings will be a disaster."
For now, the continuation of positive outcomes from G7 members are going to keep the market sentiment "Risk-on", elsewhere, we may see safe haven entering the market.
It's an economic indicator that measures the change in the total value of new purchase orders placed with manufacturers for durable goods, excluding transportation items. It's released by Census Bureau. Orders are expected to gain by 0.2% which is higher than the 0.1% gain in July 2019.
Over the past seven months, the core durable goods orders figure has been crappy, always staying below 0.2% growth. However, economists are finally expecting a crossover today. Moderate drops cannot be ruled out in July, the first month of the third quarter.
The Conference Board Inc. is due to release this data at 14:00 GMT. Financial confidence is a leading indicator of consumer spending, which accounts for a majority of overall economic activity. It's a survey of about 5,000 households which asks respondents to rate the relative level of current and future economic conditions including labor availability, business conditions, and overall economic situation.
June's consumer confidence soared to 135 and this month the upbeat figure may be followed by a weaker one in July. Economists are expecting a reading of 130.
4) USD – Prelim GDP q/q – 12:30 GMT
The Bureau of Economic Analysis will be releasing US Prelim GDP figures. According to the initial release, the US economy has outperformed its rivals in the second quarter by expanding at a yearly rate of 2.1%.
As you see in the chart, the US economy grew by an annualized rate of 2.1% in the second quarter of 2019, surpassing economists' forecasts of 1.8% and following a 3.1% growth in the previous three-month period, as the advance estimate showed.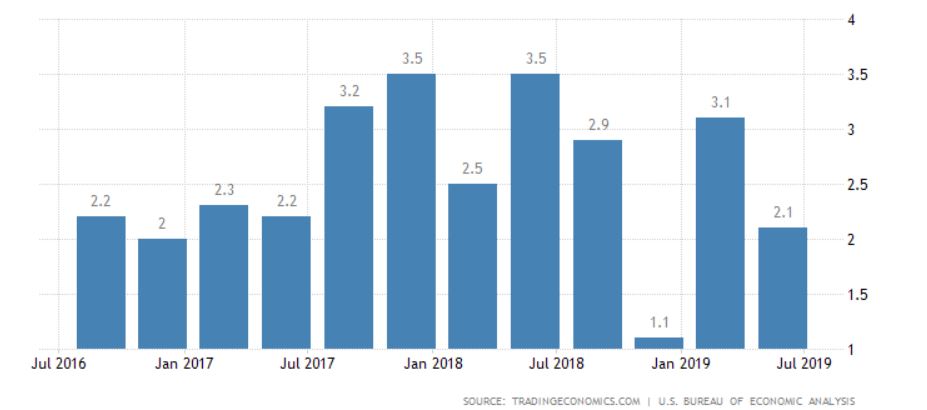 Household consumption and government spending grew at faster rates, while a drop in exports and a poorer inventory build had a negative impact on growth. In the United States, the GDP Growth Rate averaged 3.21% from 1947 until 2019, touching an all-time high of 16.70% in the first quarter of 1950 and a record low of -10% in the first quarter of 1958.
5) CAD – GDP m/m – Friday – 12:30
As per the report shared by Statistics Canada, the Canadian economy grew at 0.1% in the first quarter of 2019, the identical extension rate as the fourth quarter of 2018. By the way, it was the lowest since Q2 2016.
GDP growth rate in Canada averaged 0.78% from 1961 until 2019, touching an all-time high of 3.10% in the fourth quarter of 1963 and a record low of -2.30% in the first quarter of 2009.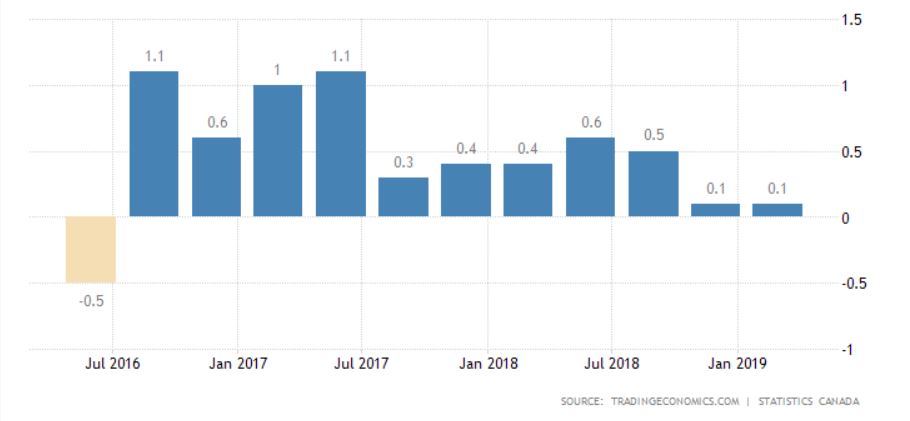 The Canadian economy has beaten some of its rivals lately. Can this continue? After undergoing a 0.2% growth in June, a more moderate growth rate may be seen in July, however economists' forecast is negative at 0.1%.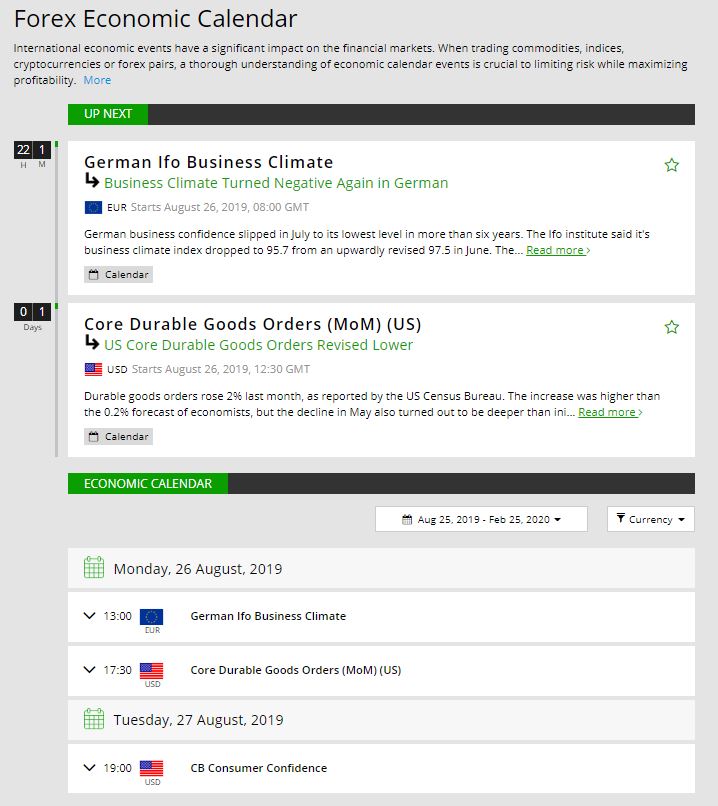 Good luck, traders and stay tuned to FX Leaders Economic Calendar for live market updates.