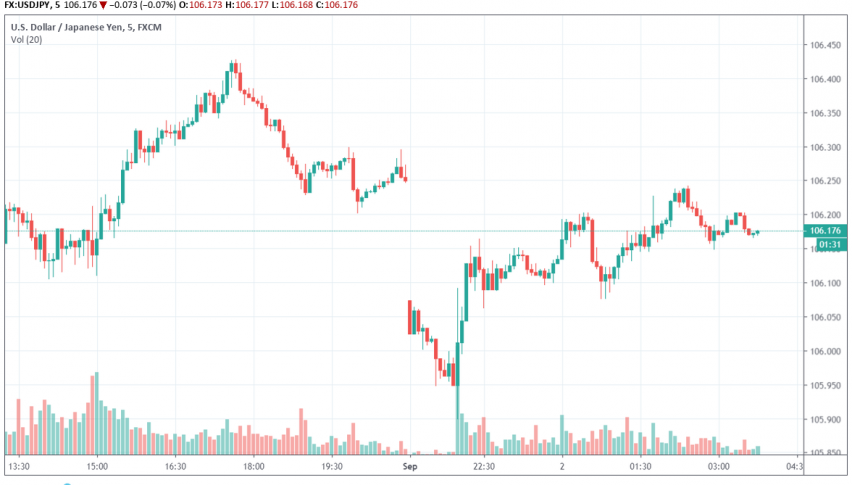 Japan's Manufacturing Sector Weakens Further, Trade War Weigh
Posted Monday, September 2, 2019 by
Arslan Butt
• 1 min read
Amid the escalating US-China trade war, Japanese manufacturing continued to decline for a fourth consecutive month, touching a seasonally-adjusted 49.3 in August from 49.4 in July. The Jibun Bank Japan Manufacturing PMI reading stayed below the 50 threshold for August as well, indicating that the manufacturing sector is in contraction.
Production cuts in the face of weakening demand over prolonged trade tensions between US and China weighed heavily on this sector. Even though new export orders touched the highest level seen since March, they still remained in contraction for the ninth consecutive month. In addition, the construction spike ahead of the upcoming 2020 Tokyo Olympics has further slowed down the sector.
The proposed sales tax hike from 8% to 10% comes into effect in October, which could additionally exert downward pressure on an already strained manufacturing sector in the coming months. For the third month in a row, companies were forced to reduce the prices of their goods as markets remained weak.
The Japanese yen continues to trade mostly unaffected by the release of this news, as the trade war sentiment dominates in markets, pushing it higher over increased safe haven appeal. At the time of writing, USD/JPY is trading at 106.17.