WTI Holding Gains Above $60.00
Uncertainty has flooded the global oil markets as the future of Middle East stability appears to be cloudy at best. Sunday's drone attacks on Aramco oil production facilities in Saudi Arabia have been the catalyst, sending WTI crude higher by more than 9%. A wave of algorithmic buying hit the markets on yesterday's electronic open, driving October WTI above $63.00. At press time (11:15 AM EST), values are holding north of $61.00. 
The drone attacks have come on the heels of escalating tensions between Houthi rebels and Saudi Arabian nationals. In public statements shortly after the attack, Houthi leadership claimed responsibility. U.S. officials aren't buying the story and are pointing the finger at Iran. At this point, it is unclear if or when a military response will come from Saudi Arabia or allied nations.
Drone Strike Generates $5 GAP In WTI Crude Oil
Sometimes, technical analysis isn't worth a whole lot. Given the events of the past 36 hours, October WTI crude is in a position to challenge yearly highs above $65.00.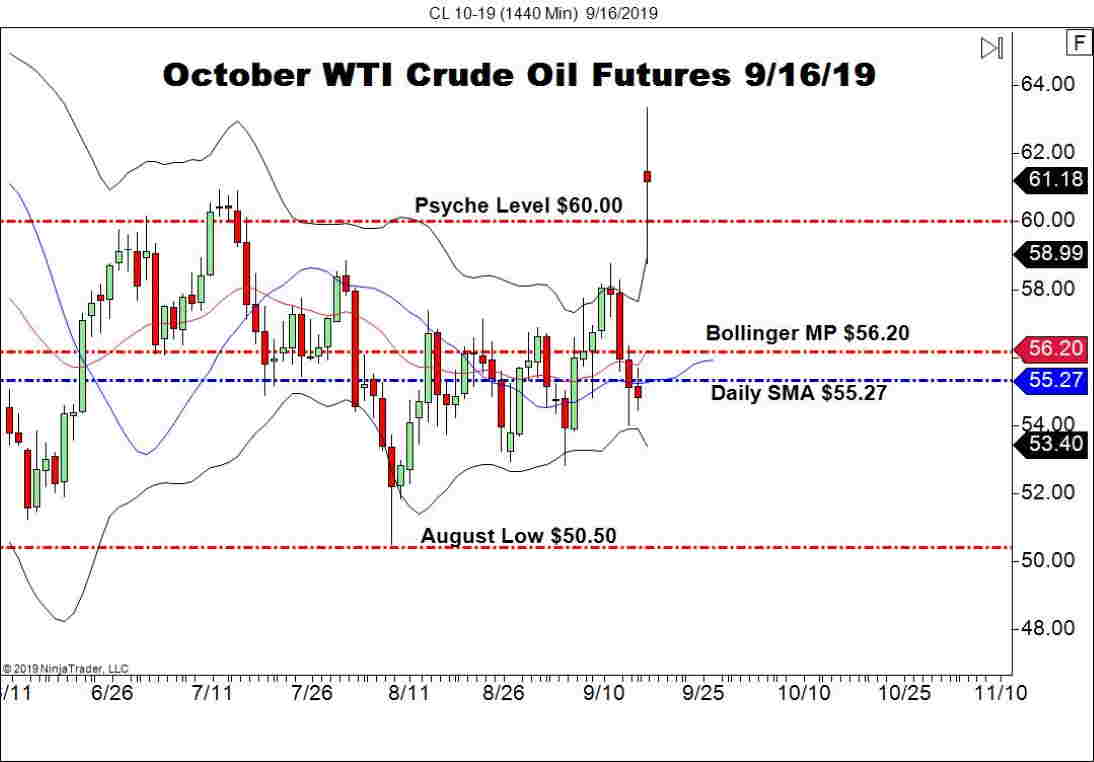 It is customary for WTI to experience huge volumes following any sort of armed conflict or terror attack. Today has been no different, with more than 675,000 contracts of October WTI already changing hands. These heavy intraday volumes are likely to continue as the market actively prices-in the latest developments. 
Here are a few numbers to watch as the chaos unfolds:
Key Number: Psyche Level, $60.00

Yearly Highs: $65.57
Overview: For the time being, trading October WTI is a risky proposition. Volatility is high, featuring large periodic ranges. As an example, the 30-minute price bar from 10:30 to 11:00 AM EST is a whopping 64 ticks. This is a significant range, similar to post-EIA inventories report action.
The coming days will provide several trading opportunities for WTI. The GAP area is almost certain to be filled in and the key psyche level of $60.00 tested. Although it is tempting to dive in with both feet, the better play is to wait until the dust clears before committing to the long or short side of this market.