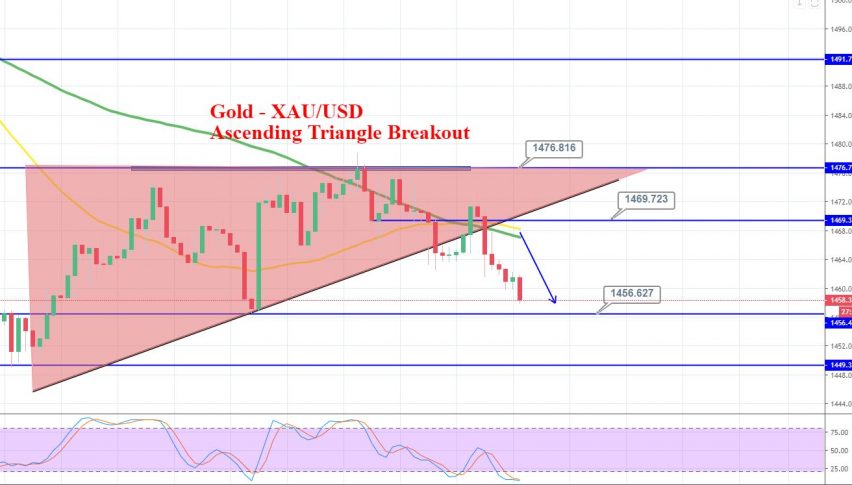 Daily Brief, Nov 25: Everything You Should Know About Gold Today
Posted Monday, November 25, 2019 by
Arslan Butt
• 2 min read
GOLD prices closed at $1461.81 after placing a high of $1473.24 and low of $1461.28. Overall the trend for Gold prices remains bearish. Earlier this week, the US Senate passed a legislation named the Hong Kong Human Rights & Democracy Act against China and in favor of Hong Kong protesters, and passed that bill to Donald Trump for signing it and making it a law. China has warned that if Trump signs the bill supporting the Hong Kong protests, then it will retaliate against the US, and consequences would be on the US only.
In Beijing, the Chinese President met a group of US & other foreign officials and told them that China never wanted to start a trade war, but they were also not afraid of it. He said that if necessary, then they will fight back, but they have been trying actively not to have a trade war.
Chinese Foreign Minister Wang Yi denounced the Hong Kong Human Rights & Democracy Act as naked interference in China's internal affairs and swore retaliatory measures against passing it as a law.
Gold prices rose in need of safe havens early on Friday due to increased tensions between US & China relating to trade deal uncertainty.
On Friday, US President Donald Trump said that he would not commit to signing the cross-party legislation supporting pro-democracy activists in Hong Kong as he was trying to work out a trade deal with China. Trump's words were, "we have to stand with Hong Kong, but I'm also standing with President Xi. He's a friend of mine." Trump added that he had saved Hong Kong from the Chinese army by persuading Chinese President Xi Jinping to hold off on sending in troops to crush its pro-democracy movement.
He said that he would like to see them work it out for themselves. He also added that US & Chinese trade representatives were potentially very close to a deal. This had a positive impact on the market about the completion of the Phase-one trade deal between US & China and decreased the need for safe-haven and caused a dip in yellow metal prices.
On the data front, at 19:45 GMT, the Flash Manufacturing PMI of the United States showed growth to 52.2 from the expectations of 51.5 for November. The Flash Services PMI also increased to 51.6 for November from October's 50.6. More than expected PMI gave strength to the US dollar on Friday.
At 20:00 GMT, the revised UoM consumer confidence sentiment also rose to 96.8 from the expectations of 95.8. And the revised UoM inflation expectations remained flat at 2.5%. The rise in the University of Michigan's consumer confidence to a 3 month-high on Friday gave strength to the US dollar and in return, put heavy pressure on Gold prices. The drop in gold prices was also supported by higher than expected PMI for services & manufacturing at the ending day of the week.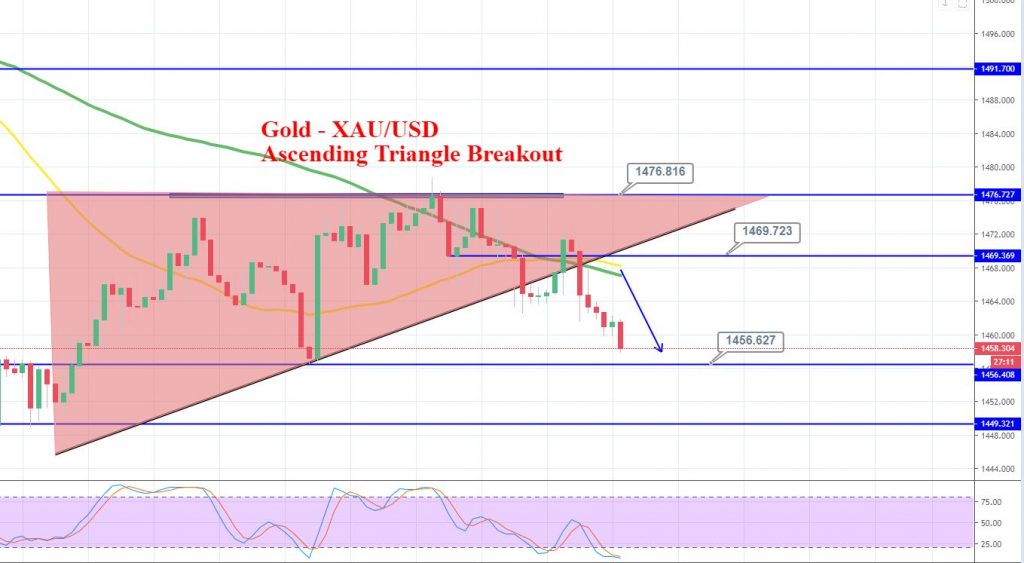 Gold – XAU/USD – Technical Levels
Support Resistance
1457.77 1469.89
1453.41 1477.65
1441.29 1489.77
Key Trading Level: 1465.53
Gold has violated the previously suggested support level of 1,466 to trade at 1,461 today. Overall, gold's trend seems bearish today, but the market is likely to exhibit choppy trading in between 1,467 to 1,456 today due to a lack of fundamentals.
Good luck!