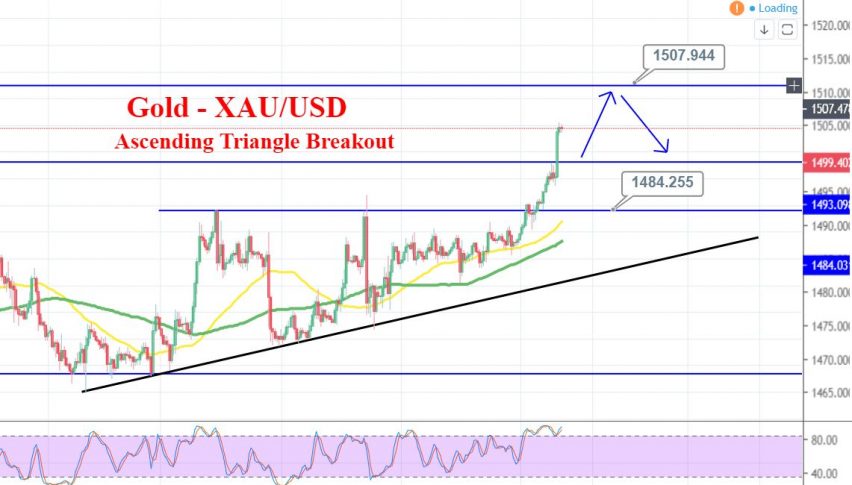 Daily Brief, Dec 26: Things You Need to Know About Trading Gold After Christmas
Posted Thursday, December 26, 2019 by
Arslan Butt
• 2 min read
Good Morning, traders.
I hope you had a fantastic Christmas; the market is open for trading now. On Thursday, GOLD prices opened higher to trade near $1,503, and it's likely to continue trading higher if it breaks above $1,505 resistance level. Gold prices rose to $1,500 level an ounce on Christmas eve as the demand of investors was driven higher by the remaining fears of recession and equity markets' highs. Gold rose above $1,500 to the highest level since 5th November and was up on Tuesday by nearly 1.1%.
Gold trades higher despite bullish stock market indices. The US indexes continued to mark record highs. The Dow Jones Industrial Average DOW climbed 96 points (+0.3%) to 28551, the S&P 500 SPX added 2 points (+0.1%) to 3224, and the Nasdaq Composite rose 20 points (+0.2%) to 8945.
In US economic data, durable-goods orders declined 2.0% on month in November (+1.5% expected), while new-home sales rose to an annualized rate of 719,000 units (732,000 units estimated) from 710,000 units in October. The drop in manufacturing activity published by the Federal Reserve Bank of Richmond weighed on the US dollar and, in reverse, gold prices moved upward.
This year stocks on Wall Street have had one of their strongest and most prolonged bullish trends on the back of pending US & China trade deal. Another factor including in the rise of the equity market was the growth in US jobs and strong macroeconomic data.
GOLD markets are moving sideways with the equity markets over worries that the stock market could turn lower at the start of next year after a mostly bullish 2019. Investors are preparing for the 2020 trade in the view that it is an excellent time to purchase yellow metal to hedge their bets after the drop in equity prices.
On the trade deal front, US President Donald Trump said on Tuesday that he and Chinese President Xi Jinping have agreed to have a ceremony to sign the first phase of the trade deal. The two nations revealed the details of a phase-one deal this month, which included the cancellation of planned tariffs on Chinese products by the US in return for a large number of American farm purchases by Chinese companies. This has been a central issue for more than a year-long dispute between both countries. However, the phase-one deal is the start of settling things out between the US & China, which will be followed by at least two more stages.
Gold prices have risen by more than 16% on the back of 17 month-long trade war between the two largest economies of the world. However, some analysts believe that the upside of the market is not infinite and that in the first quarter of next year, a correction could happen to make gold an excellent candidate to hedge in.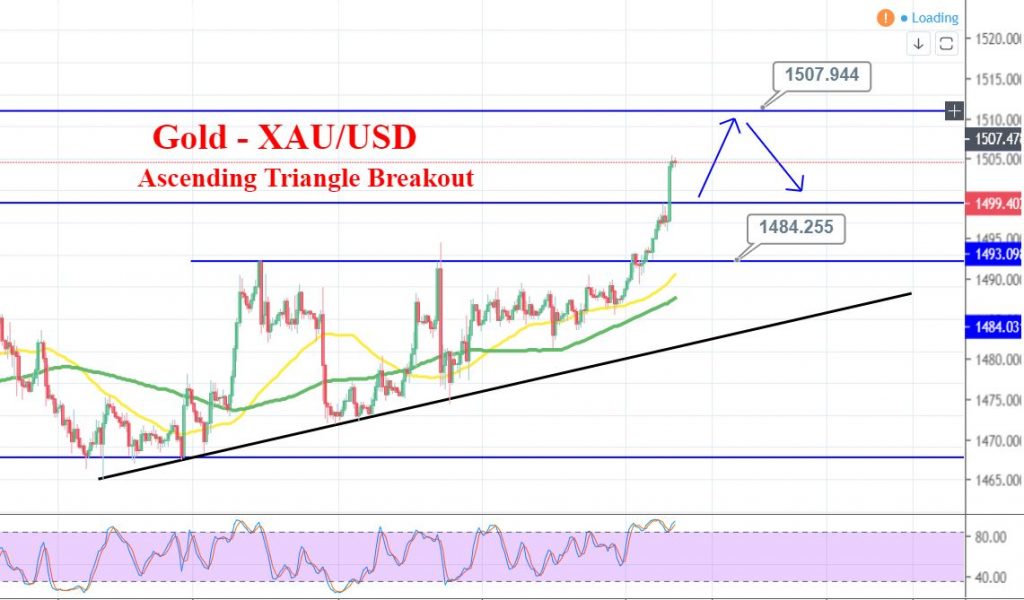 Daily Technical Levels
Support Resistance
1493.24 1506.14
1483.31 1410.57
1474.34 1515.04
Pivot Point: 1500.67
The precious metal continued to bullish as expected. Gold is now trading bullish around 1,504, and it may continue to trade higher until 1,510 and 1,514. Below this, we can expect to see a bearish reversal in the market. On the lower side, gold may face immediate support around 1,500 and 1,491 levels. For the movement, a slight bearish retracement can be seen below 1,505 with a target of 1,497 and 1,494.
Good luck!