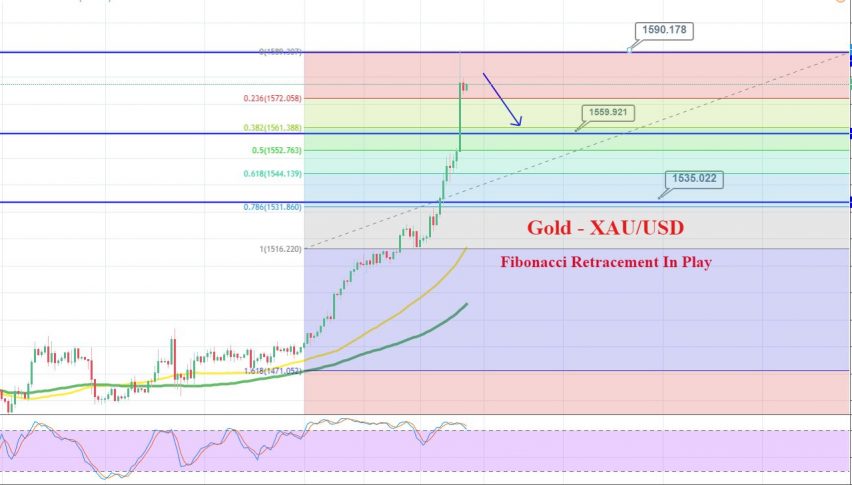 Daily Brief, Jan 6: Gold on Fire – US-Iran Tensions Escalate
Posted Monday, January 6, 2020 by
Arslan Butt
• 2 min read
Good morning, traders.
Welcome back to another exciting week. The market is exceptionally volatile due to US & Iran tensions. The precious metal gold prices closed at $1551.440 after placing a high of $1553.530 and a low of $1527.890. Overall the trend for gold remained strongly bullish that day. On Friday, gold prices surged to a fourth month highest level above $1553 amid escalated tensions between the US and Iran.
On Sunday, US military strikes in Iraq & Syria killed almost 25 Iran-backed Iraqi militia fighters. In response to this attack, the angry Iraqi Shiite militiamen and their supporters broke into the US embassy in Baghdad on Tuesday.
Donald Trump threatened Iran that it would now face the consequences of not protecting the US embassy. The tensions got worse when Trump administration killed prominent Iranian General Qassem Soleimani in a targeted drone airstrike in Baghdad on early Friday.
The Defense Department said that Soleimani was making plans to attack American diplomats and service members in Iraq. They also said that Soleimani approved the attacks on the US embassy in Baghdad. On Friday, Iran's supreme leader Ayatollah Ali Khamenei said that a harsh retaliation was waiting for the United States.
The US airstrikes in Iraq from the orders of Donald Trump and the announcement of revenge from Iran's leader has raised the demand for safe-haven assets in financial markets. That is why GOLD prices rose to 4-month high level on Friday. The US 10-Year yields fell sharply after the escalating tensions between the US and the Middle East.
On the other hand, on Friday, the Manufacturing Purchasing Manager's Index (PMI) from the Institute for Supply Management (ISM) was released at 8:00 GMT, which showed that the manufacturing sector of the United States declined in the month of December. The actual figure came in as 47.2 against the expected 49.0 and weighed on the US dollar.
Weaker than expected ISM Manufacturing PMI from the US gave a boost to the upward movement of Yellow Metal prices on Friday.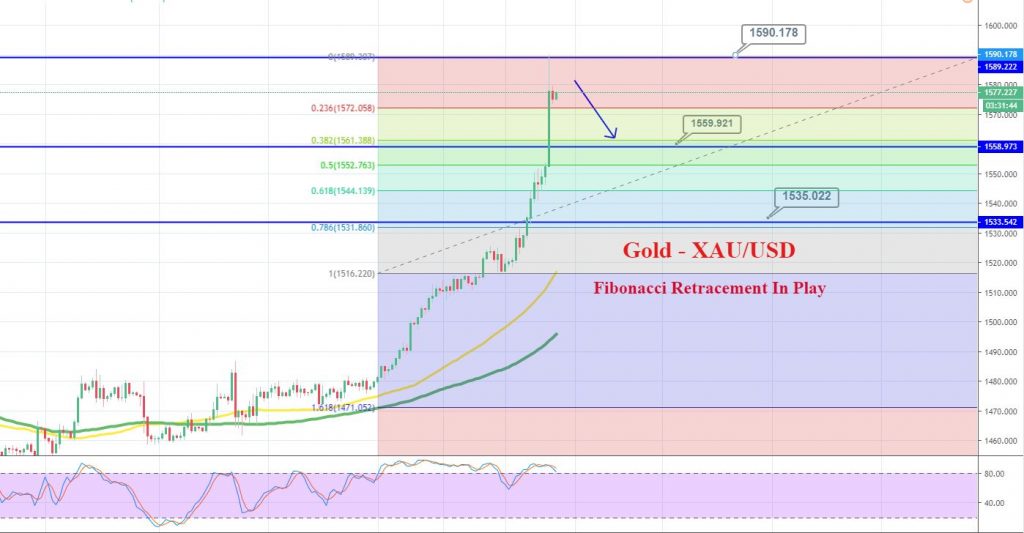 Gold – XAU/USD – Technical Levels
Support Resistance
1523.97 1566.71
1496.04 1581.52
1453.31 1624.25
Key Trading Level: 1538.78
Gold is on fire in the wake of US-Iran war sentiments along with ongoing US-China trade issues. The precious metal has already violated the double top resistance around 1,553 area. On the higher side, it's facing opposition near 1,583. But the thing is, gold has opened with a huge gap of more than 150 pips during the start of the day.
Typically, the market reverses to cover these sorts of gaps with in the same day or a day after that. If this happens, gold prices may drop until 1,567 first and then to 1,553, maybe in the coming days.