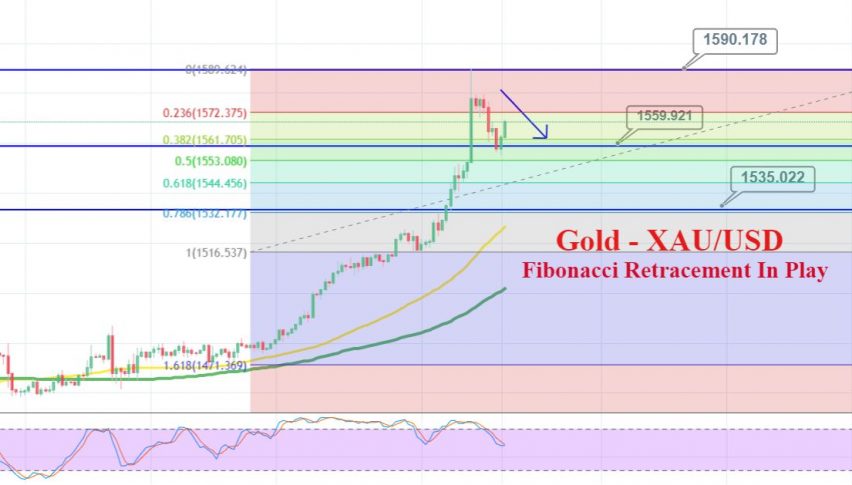 Daily Brief, Jan 7: Gold Retraces to Fill the Bearish Gap – Who's Up for Next Trade?
Posted Tuesday, January 7, 2020 by
Arslan Butt
• 2 min read
Good morning, traders.
GOLD prices closed at $1565.630 after placing a high of $1582.130 and a low of $1560.810. Overall the movement of gold remained strongly bearish that day.
On Monday, gold rose to its highest level in nearly seven years on the back of increased tensions between the Middle East and the United States. The increased safe-haven appeal gave a boost to the yellow-metal prices.
On Sunday, Iraq's parliament voted to expel US troops from the country in order to extract the country from an escalating US-Iran proxy war.
After the targeted killing of Iran's most powerful military general, Qassem Soleimani, tensions in the Middle East have risen dramatically. In response, Baghdad had to react immediately so they held an emergency session in parliament to vote on whether the US military should be allowed continue remaining in Iraq.
Abdul Mahdi said that the troop withdrawal of the US military was the only way to protect American forces on Iraqi soil. The US President Donald Trump threatened severe sanctions against Iraq if US troops left from there. He added that an extraordinary and expensive airbase was built by the US there which cost billions of dollars. Trump said that unless Iraq pays back for that airbase, US troops will not leave.
Later on Sunday, Iran announced that it would no longer abide by the enrichment limits of the 2015 nuclear deal with the world powers. According to the provision, Iran was forbidden from having enough material to build an atomic weapon.
In response to this statement by Iran, US President Donald Trump said that his administration might consider releasing intelligence which led to the killing of Soleimani. He also said that the US would target 52 Iranian cultural sites if Iran retaliates against the US airstrike.
This raised concerns in financial markets, and safe-haven assets jumped to their highest level on the back of a possible war between the US & Iran.

On the other hand, the US Federal Reserve acknowledged on Sunday that the current rate was appropriate for their December financial policy meeting in 2019 and ruled out the possibility of further easing. They said that lower interest rates reduce the opportunity cost of holding non-yielding bullion.
However, in late session on Monday, gold, after giving a response to escalated tensions between the US & Middle-East and reaching its 7-year highest point, started to fall and gave a bearish candle at the end of the day.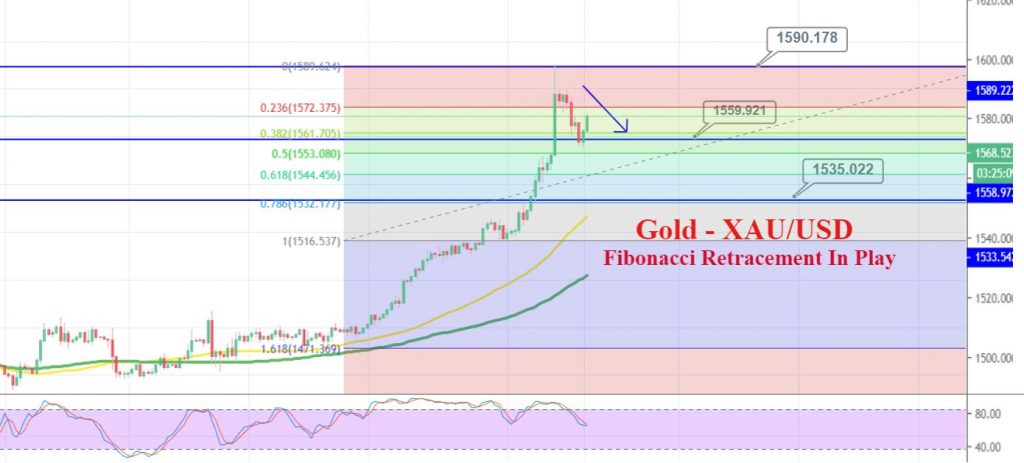 Daily Technical Levels
Support Resistance
1558.35 1577.75
1550.95 1589.75
1538.95 1597.15
Pivot Point: 1570.35
Gold traded inline with the previous forecast and tested 1,554 level instead of 1,553. However, most of the bullish gap is already filled, and with this bulls may look to enter the market. We can expect gold to trade bullish above 1,553 and bearish below 1,570 today.
Good luck!