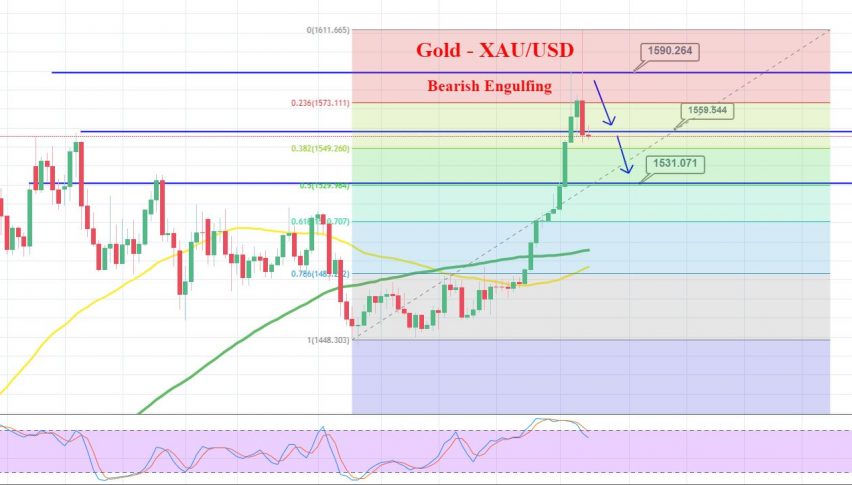 Daily Brief, Jan 9: Gold Reverses Earlier Gains as Trump Plays on Back Foot
Posted Thursday, January 9, 2020 by
Arslan Butt
• 2 min read
Good morning, traders.
GOLD prices closed at $1556.360 after placing a high of $1611.380 and a low of $1552.220. Overall the movement of gold prices throughout the day remained bearish. After rising above the $1600 level on Wednesday, gold prices began retreating towards the end of the session. Gold rose for the first time in nearly seven years above $1600 per ounce on the back of rising conflicts between the United States and the Middle East.
On Wednesday in the early morning, Iran fired missiles at the Iraqi military bases hosting US troops. The rockets attacked at the Ain al-Asad base in Anbar and a base in Erbil. Iran said that these attacks were made in retaliation against the targeted killing of Iranian General Qassem Soleimani by the US military.
After these attacks by Iran, fears for a new war in Middle East rose, and the demand for safe-haven assets jumped in financial markets. Gold surged above $1610 level on the fears of rising conflicts and possible war between the US & Iran.
The 10-year US Treasury bond yield fell to its lowest in more than a month at 1.705% on Wednesday amid the escalated tension after Iran airstrike.
However, in the late session on Wednesday, US President Donald Trump said that there were no American casualties in the Iranian airstrikes. He said that it appeared as Iran will stand down now, which was a good thing for both countries as well as for the world.
He added that the US would immediately impose additional financial and economic sanctions on Iran. He said that these sanctions would remain until Iran changed its behavior. He also said that Iran should abandon its nuclear ambitions, and it should also end its support for terrorism.
The US President backed away from further military action against Iran and announced to impose a new diplomatic effort of imposing economic & financial sanctions in response to Iranian airstrikes. The minimal casualties and no loss of American life in Iranian airstrikes were considered as the end of military actions from both sides.
According to US officials, the intentions of Iran to attack US facilities in Iraq were already known to the US. They said that early warnings from sources and intelligence were received several hours before the airstrikes. This gave military commanders time to get US troops into safe positions at bases, and hence, they remained protective, and attacks were ended with minimal casualties.
After the tit-for-tat situation between US & Iran, the investors started to bet on de-escalation in Middle-East & US tensions and begun to sell safe-haven assets in late session on Wednesday. Gold prices retreated below $1560 per ounce on the back of US decision to not go for further military action against Iran.
The US Dollar Index on Wednesday rose almost 0.26% and caused the yellow metal prices to fall near $1550 level.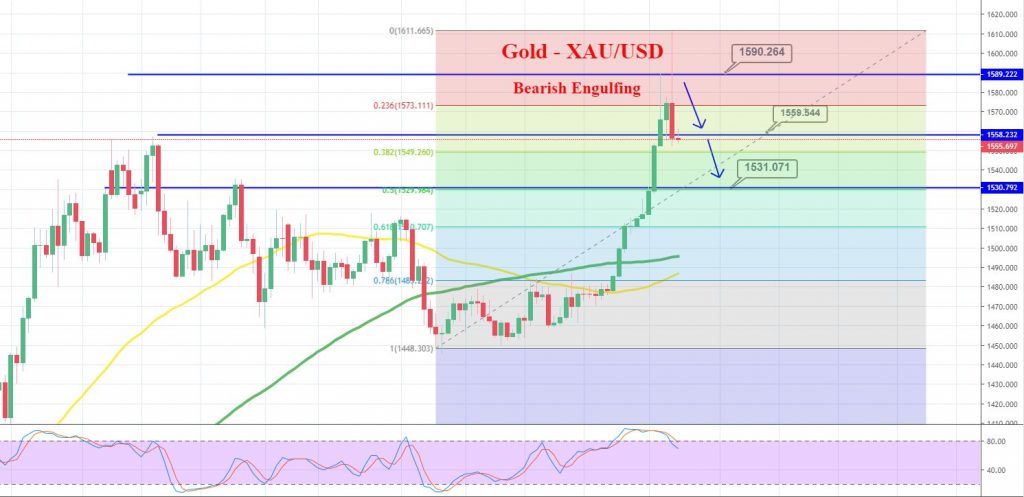 Gold – XAU/USD – Technical Levels
Support Resistance
1540.62 1583.73
1524.92 1611.13
1481.81 1654.24
Key Trading Level: 1568.02
Gold has filled its gap at 1,552 level, which was caused due to overnight killing of Iranian General Solemani. Trump calmed the situation by saying that both nations are looking to deescalate tensions, which caused a full reversal of gold's bullish bias. We need to keep an eye on 1,552 levels as it may support gold prices for the day. Above this level, gold has room to trade higher until 1,569. Conversely, the bearish breakout of 1,552 can lead to gold prices higher towards 1,543 and 1,538. Let's keep an eye on 1,552 today. Good luck!