Asian Markets Open the Week Very Soft
Asian markets appear to be copping the brunt of the coronavirus fears as everything across the board remains deeply in the red.
US equity futures have opened the week limit down, which is effectively when markets move more than 5%. That stops trade for a period of time in hopes of resetting. Australian equity futures are in the same sort of range and there is plenty of red around.
The AUD/USD on the other hand is still sitting above the 0.6600 which is quite amazing given what we are seeing take place with risk assets. That said, the USD is also down sharply with the DXY trading at 95.50 to start the week.
It wasn't all that long ago that price was trying to break through the 100.00 barrier on the US Dollar Index so that tells us just how much things have fallen away already to this point.
On Friday, the US jobs number came out better than expected, but still, the looming impact of the coronavirus is what. markets are apparently trying to price in.
One of the other big casualties has been the price of WTI. It has opened down a staggering amount to start the week. Price is looking to test $30 which is a crazy move in a short period of time.
The move into bonds has also seen yields compress and then there is the GOLD trade. Currently, price is back at the highs of $1700 and looking strong.
My only thoughts here are that we often see this type of price action to start the week.
The panic gets ramped over over the weekend and Asia cops the brunt. Before the calmer heads begin to prevail and by the close of US trade, markets have bounced sharply.
Will that happen today? It's hard to say. But we must always remember, the majority will always be on the wrong side.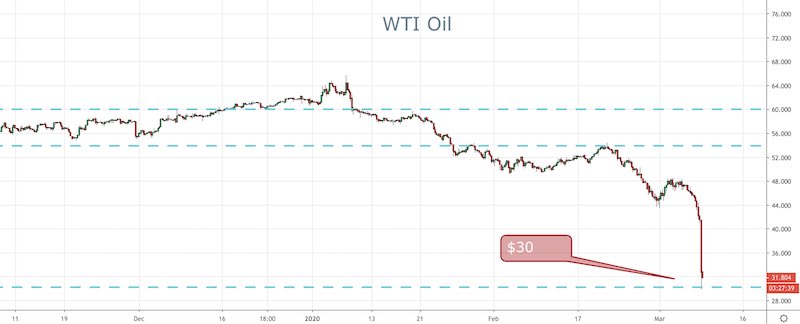 Safe havens such as Gold and the JPY have been taking advantage of the financial troubles with the ban king system and lower FED rate odds
9 hours ago