Daily Brief, March 12 – Gold Dips, Despite Sharp Sell-off in Equity Markets 
Posted Thursday, March 12, 2020 by
Arslan Butt
• 2 min read
Good morning, fellas.
During the early Asian session, the safe haven metal was flashing red and dropped to $1,634 despite the sharp losses in the equities markets after the United States President Donald Trump released his plan to control coronavirus (COVID-19). At the time of writing, gold is currently trading at $1,636.30 and consolidates in the range between 1,631.00 – 1,650.00.
Gold prices were down 0.40% to $1,635.70 by 9:37 PM ET (2:37 GMT) after closing at $1,642.30 the day before. Trump said that the US would ban all travel from Europe to the US for the next 30 days effective Friday at midnight. He also says that travel bans will not apply to the UK. Additionally, he said that the US would take emergency action to provide financial relief for workers who are ill, hospitalized, or caring for others due to coronavirus. He added that his government will provide capital and liquidity to small firms which are affected by the coronavirus, and provide low-interest loans as well.
Despite this, Donald Trump failed to reduce the fears about intensifying coronavirus slowdown in the global economy because investors were expecting more robust stimulus measures from Trump.
On the other hand, Australia PM performed on his promise of a multi-billion dollar worth of fiscal stimulus, whereas the Aussie Treasurer Frydenberg gave details of cash disperselso.
Global policymakers have struggled too much so far to control the deadly virus with heavy rate cuts from the key central banks joining fiscal stimulus from the respective governments. But the efforts have not been considered efficient due to the lack of major positive news.
Whereas taking hints from the broad moves to counter COVID-19, the holdings in the gold Exchange Traded Funds (ETF) rose by 55 tons in the previous three days, or 1.8 million ounces, close to a third of the year-to-date inflows, as per the latest report.
It should be noted that the latest missile hit in Iraq, which killed two persons of the US and one UK person, also fuels the risk-off sentiment in the market. Moreover, Washington State announced an increase in cases and rose the death toll to 29, whereas Italy released directions for doctors and nurses relating to whom to treat due to a lack of medical professionals in the wake of the outbreak.
As a result, the US 10-year treasury yields dropped by 2-basis points to 0.80%, whereas stocks in Asia also registered losses. Looking forward, the UK PM Boris Johnson is ready for an emergency meeting in this regard, whereas the ECB has a scheduled meeting that will grab traders'attention.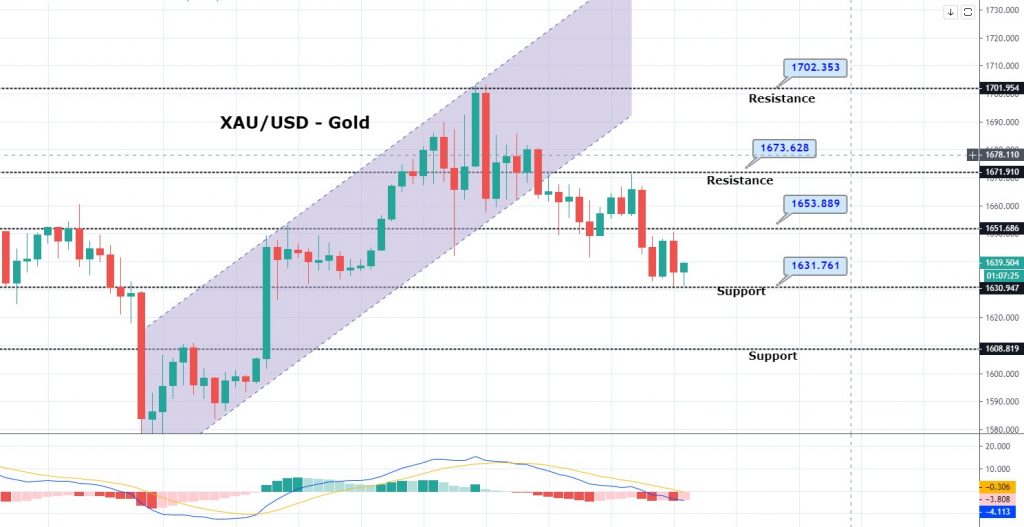 Daily Support and Resistance
S1 1569.87
S2 1608.19
S3 1621.61
Pivot Point 1646.52
R1 1659.94
R2 1684.84
R3 1723.17
GOLD prices have dropped lower to trade at 1,635 level, and it's currently facing strong resistance around 1,647 level. Closing of candles below this area has opened further room for selling until 1,622. Today, we can experience a slight bullish reversal, but it's very much likely to stay below 1,647 level, and there we can expect some selling in gold. Below 1,622, the next support will be at 1,608.
Safe havens such as Gold and the JPY have been taking advantage of the financial troubles with the ban king system and lower FED rate odds
9 hours ago