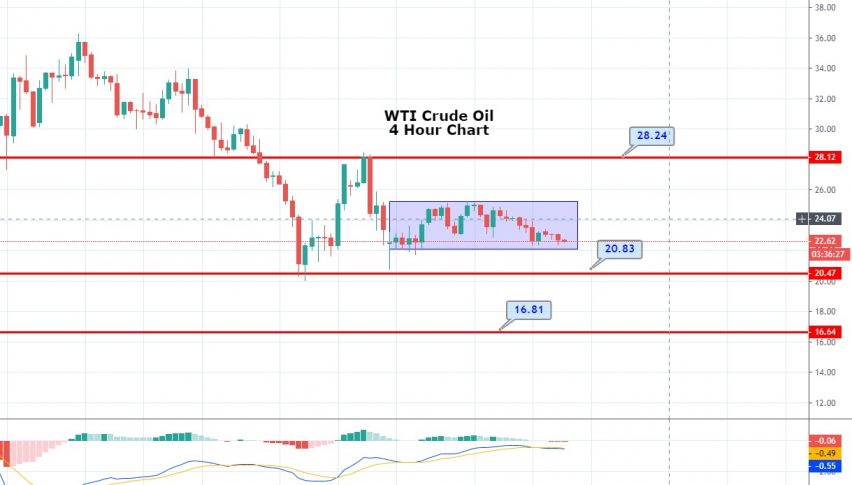 Choppy Session in Crude Oil Continues – COVID-19 Lowers Demand
Posted Friday, March 27, 2020 by
Arslan Butt
• 2 min read
WTI crude oil prices recovered after falling overnight because governments all over the world promised a massive injection of funds and also other measures to help the economies from the recession fears in the wake of intensifying coronavirus outbreak. At the moment, WTI crude oil prices are currently trading at 22.79 and consolidate in the range between 22.60 and 23.41.
WTI Crude Oil demands around the world may drop by 20% because 3 billion people are stuck in lockdown, the head of the International Energy Agency said as he called on major producers like Saudi Arabia to help stabilize oil markets.
The Labor Department said the number of Americans filing claims for unemployment benefits rose to a record of more than 3 million last week, with initial claims coming in at a seasonally adjusted 3.28 million in the week ending March 21, eclipsing the previous record of 695,000 set in 1982.
Even before the release of the unemployment claims data, WTI crude oil prices were already trading under pressure this week because more countries planned lockdown to stop the spread of the virus. India, the second-most populous country and the third-largest oil consumer in the world, began a 21-day lockdown on Wednesday.
On the other hand, the number of cases in the United States crossed China's figures of more than 81,000 virus cases and reached on the top of the list. Additionally, the UK reported the highest single-day rise in the death toll by 103 to 578 yesterday.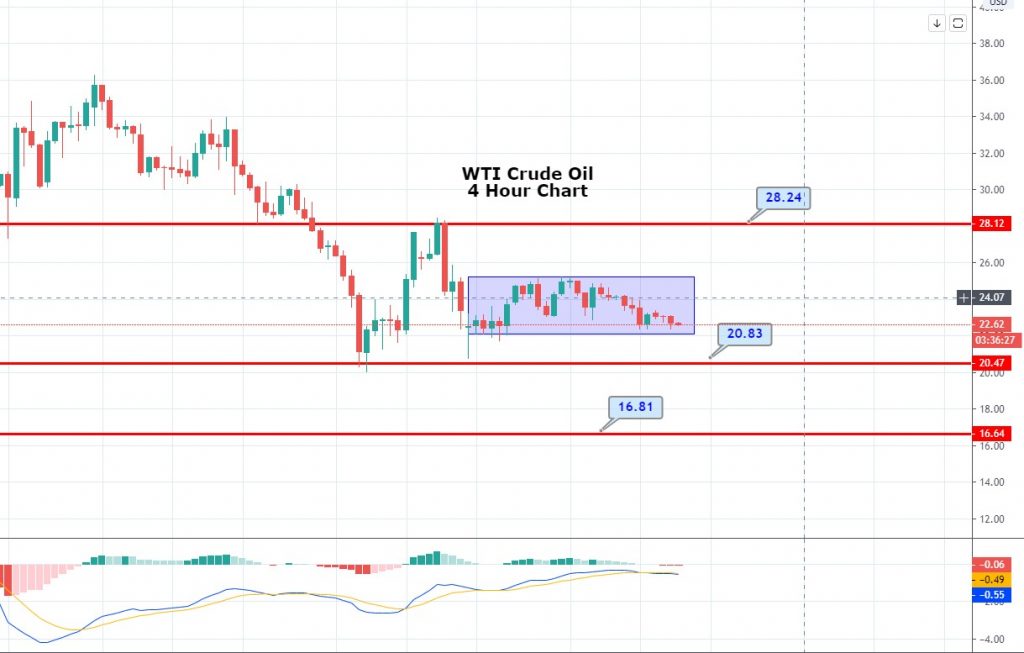 Daily Support and Resistance
S1 20.45
S2 22.2
S3 23.03
Pivot Point 23.96
R1 24.79
R2 25.72
R3 27.48
On Friday, WTI is facing resistance around 25.92, crossing below the pivot point level of 24.79. Closing of candles below this level is exposing oil prices until 22.79 and the double bottom support level at 27.92. Violation of this double top level may lead WTI crude oil prices towards 21.8. The idea today is to stay bearish below 24.79 with a target of 21.70 and a stop loss of over 25.25.
Good luck!