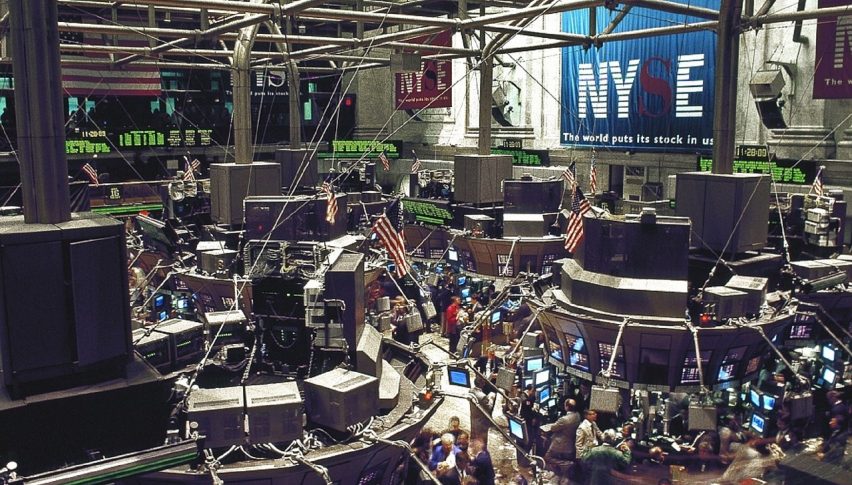 List of US Companies Releasing Earnings (EPS) Today
Posted Monday, April 27, 2020 by
Arslan Butt
• 8 min read
Global stocks opened the week amid positive developments in the fight against the coronavirus and signs of boosting stimulus measures by the Bank of Japan. The dollar retreated.
Asian stock prices rose, US futures turned the first trade into a loss and traded more and pushed the European agreements forward. Trade volume remained subdued amid risk measures.
Among currencies, the Australian dollar performed better, while the yen strengthened. Treasury yields also increased. Coronavirus deaths were the slowest in more than a month in Spain, Italy, and France, with the lowest deaths in the United States and New York since the end of March.
| | | |
| --- | --- | --- |
| Companies | EPS Forecast | Revenue Forecast |
| 1PM Industries (OPMZ) | — | — |
| 1st Constitution Bancorp (FCCY) | 0.42 | 15.72M |
| AKITA Drilling A (AKTa) | -0.06 | 55M |
| AKITA Drilling B (AKTb) | -0.06 | 55M |
| ASA Intl (ASAI) | — | — |
| AVX (AVX) | 0.2 | 348M |
| Access Intelligence (ACCI) | — | — |
| Acerinox (0OIQ) | 0.1 | 1.16B |
| Acerinox ADR (ANIOY) | 0.05 | 1.26B |
| Adams Diversified Equity Closed (ADX) | — | — |
| Adidas (0OLD) | 1.22 | 4.82B |
| Adidas ADR (ADDYY) | 0.67 | 5.3B |
| Affiliated Managers (AMG) | 3.13 | 501.66M |
| Agenus (AGEN) | -0.35 | 17.9M |
| Aisin Seiki Co (ASEKY) | -0.52 | 7.98B |
| Albioma (0MGN) | — | — |
| Alexandria RE (ARE) | 0.71 | 314.79M |
| Allegiant (ALGT) | 1.5 | 436.75M |
| AllianzGI Convert Income II Closed (NCZ) | — | — |
| AllianzGI Convertible &ome Closed (NCV) | — | — |
| Alpine Income (PINE) | 0.07 | 3.59M |
| Alps Electric (APELY) | 0.36 | 1.78B |
| Altisource Portfolio Solutions (ASPS) | 0.21 | 131.17M |
| Alumina Limited PK (AWCMY) | — | — |
| American National Insurance (ANAT) | — | — |
| Amkor (AMKR) | 0.16 | 1.11B |
| Amryt Pharma (AMYT) | — | — |
| Amsterdam Commodities (0DLI) | — | — |
| Anhui Conch Cement Co (AHCHY) | 0.71 | — |
| Apergy (APY) | 0.06 | 248.8M |
| Apex Global Brands Inc (APEX) | 0.06 | 6.86M |
| Aquantia (AQ) | -0.03 | 24.15M |
| Arcelik ADR (ACKAY) | -0.03 | 1.17B |
| Arjo (0HQ8) | 0.43 | 2.29B |
| Armstrong World Industries (AWI) | 1.11 | 252.58M |
| Atco (ACOy) | 0.96 | 1.29B |
| Atco (ACOx) | 0.96 | 1.29B |
| Atico Mining Corporation (ATCMF) | 0.01 | — |
| Auburn (AUBN) | — | — |
| AudioCodes (AUDC) | 0.22 | 51.2M |
| AudioEye (AEYE) | -0.26 | 3.36M |
| AutoNation (AN) | 0.78 | 4.76B |
| Avalon Advanced Materials (AVL) | — | — |
| Avnet (AVT) | 0.31 | 4.02B |
| Axalta Coating Systems (AXTA) | 0.3 | 1.03B |
| Axis Bank ADR (AXBKY) | 0.43 | 1.29B |
| BCB Bancorp (BCBP) | 0.22 | 21.3M |
| BLOM Bank DRC (BLBDq) | — | — |
| BMTC Group (GBT) | 0.37 | 177.1M |
| BNCCorp (BNCC) | — | — |
| Baidu (BIDU) | 3.45 | 22.01B |
| Bang&Olufsen (0MRM) | -0.01 | 678M |
| Bank Audi DRC (AUSRq) | — | — |
| Bank Rakyat (BKRKY) | 0.27 | 2.06B |
| Banner (BANR) | 0.78 | 136.2M |
| Bar Harbor Bankshares (BHB) | — | — |
| Basic Energy Services (BAS) | -1.11 | 129.5M |
| Batero Gold Corp (BAT) | — | — |
| Bayer (0P6S) | 2.52 | 12.58B |
| Bayer AG PK (BAYRY) | 0.68 | 13.67B |
| Bemis (BMS) | 0.73 | 1.02B |
| Benchmark Electronics (BHE) | 0.19 | 528.33M |
| Berkshire Hills Bancorp (BHLB) | 0.58 | 105.67M |
| Binckbank (0N6Y) | — | — |
| BioPharmX (BPMX) | -0.08 | — |
| BioTelemetry (BEAT) | 0.43 | 113.11M |
| Bridgewater Bancshares (BWB) | 0.24 | 20.55M |
| Brinks (BCO) | 0.82 | 929.99M |
| Brown&Brown (BRO) | 0.46 | 679.05M |
| Bumi Resources ADR (PBMRY) | — | — |
| Business First (BFST) | 0.4 | 22.68M |
| CB Financial Services Inc (CBFV) | 0.47 | 13.3M |
| CIRCOR (CIR) | 0.48 | 195.88M |
| CMS Energy (CMS) | 0.8 | 2.08B |
| CNX Midstream (CNXM) | 0.5 | 89.7M |
| CNX Resources (CNX) | 0.14 | 386.64M |
| CVR Energy (CVI) | -0.49 | 1.08B |
| CVR Partners LP (UAN) | -0.17 | 80.53M |
| Callaway Golf (ELY) | 0.4 | 488.7M |
| Canadian National Railway (CNR) | 1.09 | 3.5B |
| Canadian National Railway (CNI) | 0.77 | 3,489M |
| Canadian National Railway (CNR) | 1.09 | 3.5B |
| Canadian Utilities (CU) | 0.66 | 1.06B |
| Canadian Utilities (CUx) | 0.66 | 1.06B |
| Capital Bancorp (CBNK) | 0.27 | 24.2M |
| Capital Properties (CPTP) | — | — |
| Capstar Financial (CSTR) | 0.26 | 22.08M |
| Carbo Ceramics (CRR) | -0.51 | 32.8M |
| Carolina Financial (CARO) | 0.7 | 52.69M |
| Carolina Trust Bank (CART) | — | — |
| Carpenter Technology (CRS) | 0.78 | 553.03M |
| Carso ADR (GPOVY) | — | 1B |
| Carter Bank (CARE) | 0.18 | 32.22M |
| Carter's (CRI) | 0.24 | 674.88M |
| Cathay (CATY) | 0.67 | 146.6M |
| Celanese (CE) | 2.27 | 1.54B |
| Central Japan Railway Co (CJPRY) | 0.22 | 3.89B |
| Changyoucom (CYOU) | 0.8 | 133.46M |
| Check Point Software (CHKP) | 1.38 | 481.09M |
| Chemung (CHMG) | 0.8 | 19.69M |
| Chineseinvestors.Com (CIIX) | — | — |
| Cincinnati Financial (CINF) | 1.05 | 1.44B |
| Citic ADR (CTPCY) | — | — |
| Citizens (CIZN) | — | — |
| Citizens First (CZFC) | — | — |
| Citizens&Northern (CZNC) | 0.35 | 19.16M |
| City Holding (CHCO) | 1.13 | 55.65M |
| Civeo (CVEO) | -0.09 | 134.7M |
| Clear Channel (CCO) | -0.2 | 546.75M |
| Clearwater Paper (CLW) | 0.09 | 439.41M |
| Cleveland-Cliffs (CLF) | -0.18 | 370.31M |
| Cloud Peak Energy (CLDPQ) | -0.17 | — |
| Coca-Cola Amatil ADR (CCLAY) | — | — |
| Codorus Valley (CVLY) | — | — |
| Cognex (CGNX) | 0.08 | 157.23M |
| Cohu (COHU) | -0.02 | 132.15M |
| Colony Bankcorp (CBAN) | — | — |
| Columbia Financial (CLBK) | 0.13 | 50.40M |
| Comfort Systems (FIX) | 0.46 | 647.3M |
| CommerceWest Bank (CWBK) | — | — |
| Community West Bancshares (CWBC) | — | — |
| Consolidated-Tomoka (CTO) | -0.06 | 12.75M |
| Continental Precious Minerals (CZQh) | — | — |
| Copper Mountain Mining (CMMC) | -0.01 | 70.8M |
| CoreLogic (CLGX) | 0.71 | 438.94M |
| Cortland Bancorp (CLDB) | — | — |
| Corvus Gold Inc (CORVF) | -0.02 | — |
| Corvus Gold Inc (KOR) | -0.02 | — |
| Covenant (CVTI) | -0.1 | 181.2M |
| Crane (CR) | 1.26 | 820.66M |
| Cresco Labs (CL) | -0.08 | 59.71M |
| Cresco Labs (CRLBF) | -0.02 | 44.13M |
| Cxj Group Co (ECXJ) | — | — |
| Cypress (CY) | 0.24 | 534.24M |
| DRDGOLD ADR (DRD) | — | — |
| Daiwa ADR (DSEEY) | 0.11 | 1.73B |
| Delmar Bancorp (DBCP) | — | — |
| Deoleo (0M0Q) | — | — |
| Destination Maternity (DESTQ) | — | — |
| Destiny Media Technologies Inc (DSNY) | — | — |
| Diamond Hill (DHIL) | — | — |
| Digihost Technology (DGHI) | — | — |
| Dillistone (DSG) | — | — |
| Dorman (DORM) | 0.65 | 236.1M |
| Dover Motorsports (DVD) | — | — |
| Dril-Quip (DRQ) | 0.01 | 100M |
| ELF Beauty (ELF) | 0.05 | 67.06M |
| EOS Imaging (0QAR) | — | — |
| ESSA Bancorp (ESSA) | 0.29 | 13.87M |
| ETV New York MIT (EVY) | — | — |
| Eagle Financial Services (EFSI) | — | — |
| Ellsworth Convertible Growth (ECF) | — | — |
| Eltek (ELTK) | — | — |
| Entegra Financial (ENFC) | 0.56 | 12.37M |
| Enterprise (EBTC) | — | — |
| Exxaro Resources Ltd PK (EXXAY) | — | — |
| F5 Networks (FFIV) | 1.99 | 565.98M |
| FAT Brands (FAT) | — | — |
| FB Financial (FBK) | 0.53 | 91.42M |
| FFD Financial Corp (FFDF) | — | — |
| FSK YeES DRC (FEESq) | — | — |
| Faes Farma (0K9H) | — | — |
| FalconStor (FALC) | — | — |
| Farmers National (FMNB) | 0.25 | 30.47M |
| Fidelity (LION) | 0.41 | 41.00M |
| Financiero Inbursa ADR (GPFOY) | 0.14 | 448.91M |
| FirsTime Design (FTDL) | — | — |
| First Bancorp Indiana (FBPI) | — | — |
| First Bancshares (FBSI) | — | — |
| First Bank (FRBA) | 0.23 | 16.44M |
| First Capital (FCAP) | — | — |
| First Citizens BancShares (FCNCA) | — | — |
| First Financial Northwest (FFNW) | 0.2 | 10.83M |
| First NBC Bank (FNBCQ) | — | — |
| First Nat Bank Alaska (FBAK) | — | — |
| First Quantum Minerals (FQVLF) | -0.08 | 1.25B |
| First Quantum Minerals (0P6E) | -0.07 | 1.15B |
| First Quantum Minerals (FM) | -0.12 | 1,255M |
| First Quantum Minerals (FM) | -0.12 | 1,255M |
| First Savings (FSFG) | 1.36 | — |
| First US Bancshares (FUSB) | — | — |
| Forrester (FORR) | 0.12 | 108.2M |
| Forum Energy (FET) | -0.1 | 203.53M |
| Franklin Financial Network Inc (FSB) | 0.62 | 32.6M |
| Freedom (FRHC) | — | — |
| Freedom Bank Virginia (FDVA) | 0.06 | — |
| Full Metal Minerals (FMM) | — | — |
| GNC (GNC) | -0.06 | 472.9M |
| Gaia Inc (GAIA) | -0.18 | 14.93M |
| Galleon Gold Corp (GGO) | — | — |
| Galp Energia (0B67) | 0.09 | 2.45B |
| Glen Burnie (GLBZ) | — | — |
| GoldMining (GOLD) | -0.01 | — |
| Grana y Montero (GRAM) | — | — |
| Gravity Co (GRVY) | — | — |
| Great American Bancorp (GTPS) | — | — |
| Group 1 Automotive (GPI) | 1.39 | 2.58B |
| Grupo Simec ADR (SIM) | 0.25 | — |
| Grupo Televisa ADR (TV) | -0.17 | 989.46M |
| H&E Equipment (HEES) | 0.34 | 305.25M |
| HFF (HF) | 0.43 | 147.2M |
| Hachijuni Bank (HACBY) | — | — |
| HarborOne Banc (HONE) | 0.08 | 26.52M |
| Harmonic (HLIT) | -0.05 | 85.02M |
| Harmony Gold Mining (HMY) | — | — |
| HealthStream (HSTM) | 0.12 | 63.09M |
| Heartland Banccorp (HLAN) | 1.39 | 11.96M |
| Heartland Financial (HTLF) | 0.78 | 139.23M |
| Heidrick&Struggles (HSII) | 0.57 | 168.56M |
| Hembla (0R80) | — | — |
| Hess Midstream Partners (HESM) | 0.37 | 262.2M |
| Highbridge Fund (HTCF) | — | — |
| Hitachi Metals ADR (HMTLY) | -1.22 | 1.95B |
| Home Federal Louisiana (HFBL) | — | — |
| Home Loan Financial (HLFN) | — | — |
| HomeStreet (HMST) | 0.37 | 66.63M |
| HomeTrust (HTBI) | 0.37 | 33.2M |
| Horizon Discovery (HZDH) | -0.01 | 34.30M |
| Hudson's Bay Company (HBC) | -0.24 | 2.46B |
| ICADE (0K4O) | — | — |
| ICG (LBOW) | — | — |
| Ikonics (IKNX) | — | — |
| Impinj (PI) | -0.06 | 38.6M |
| Independence Contract Drilling (ICD) | -2.77 | 38.28M |
| Independent Bank Group (IBTX) | 1.08 | 141.28M |
| Infinera (INFN) | -0.18 | 318.58M |
| Ingersoll Rand (IR) | 0.27 | 1.27B |
| Innoviva (INVA) | 0.33 | 55.7M |
| International Speedway (ISCA) | 0.64 | 159M |
| Intevac (IVAC) | -0.13 | 18.35M |
| Iota Com (IOTC) | — | — |
| J & J Snack Foods (JJSF) | 0.93 | 265.55M |
| JMP (JMP) | 0.06 | 27.93M |
| Jungfraubahn (0QNG) | — | — |
| K12 (LRN) | 0.2 | 253.83M |
| KBR (KBR) | 0.37 | 1.47B |
| Kaiser (KALU) | 1.73 | 382.59M |
| Kansas City Life Insurance (KCLI) | — | — |
| KappAhl (0PS6) | — | — |
| Keurig Dr Pepper (KDP) | 0.27 | 2.55B |
| Keurig Dr Pepper (0Z62) | 0.27 | 2.55B |
| Kinder Morgan Canada (KML) | 0.14 | 107.98M |
| Knoll (KNL) | 0.35 | 342.65M |
| Koss (KOSS) | — | — |
| Kuehne & Nagel (0QMW) | 1.67 | 6.01B |
| Kuka AG (0JOE) | — | — |
| Kure Tech (KURh) | — | — |
| Kværner (0Q2S) | 0.02 | 1.68B |
| Kyocera ADR (KYOCY) | 0.52 | 3.82B |
| Lakeland Bancorp (LBAI) | 0.3 | 55.98M |
| Lakeland Financial (LKFN) | 0.63 | 48.49M |
| Lantronix (LTRX) | 0.04 | 18.03M |
| Le Chateau (CTU) | — | — |
| Lear (LEA) | 1.96 | 4.46B |
| Legal & General (LGEN) | — | — |
| Legal & General Group Plc (LGGNY) | — | — |
| Lexicon (LXRX) | -0.69 | 7.72M |
| Lict Corporation (LICT) | — | — |
| Lincoln Electrics (LECO) | 1.01 | 712.05M |
| Lingerie Fighting (BOTY) | — | — |
| Location Based Techs (LBAS) | — | — |
| Lubys (LUB) | — | — |
| Luxfer (LXFR) | 0.25 | 99.15M |
| M B T (MBTF) | 0.18 | 15.76M |
| MTY Food (MTY) | 0.75 | 95M |
| Mack-Cali (CLI) | -0.26 | 123.5M |
| Marcus (MCS) | 0.1 | 149.3M |
| Maxcom Telecom ADR (MXMTY) | — | — |
| McClatchy (MNI) | -1.21 | 159.40M |
| Medidata (MDSO) | 0.45 | 196.25M |
| Meredith (MDP) | 1.12 | 718.84M |
| Meritage Hospitality (MHGU) | — | — |
| Mesabi Trust (MSB) | — | — |
| MiMedx (MDXG) | — | — |
| Microvision (MVIS) | -0.04 | 3.28M |
| Mid Penn (MPB) | 0.41 | 20.19M |
| MidWestOne (MOFG) | 0.71 | 46.94M |
| Monotype (TYPE) | 0.23 | 53.05M |
| Multicell Techs Inc (MCET) | — | — |
| MutualFirst (MFSF) | 0.56 | 21.3M |
| NBT Bancorp (NBTB) | 0.54 | 112.08M |
| NIC (EGOV) | 0.19 | 92.46M |
| NMC Health (NMC) | — | 1,188M |
| NXP (NXPI) | 1.42 | 2.05B |
| Naikun Wind Energy Group Inc. (NKW) | — | — |
| Nam Tai Property (NTP) | — | — |
| Nasstar (NASA) | — | — |
| National Access Cannabis (META) | -0.02 | 14.80M |
| National American University (NAUH) | — | — |
| National Bankshares (NKSH) | 0.6 | 11.7M |
| National Oilwell Varco (NOV) | 0.09 | 1.94B |
| National Presto Industries (NPK) | — | — |
| Neptune Dash (DASH) | — | — |
| NetScientific (NSCI) | — | — |
| New Zealand Energy Corp (NZ) | — | — |
| Newcrest Mining (NCMGF) | 0.4 | — |
| Newcrest Mining Ltd PK (NCMGY) | 0.4 | — |
| Nitches (NICH) | — | — |
| Nitto Denko Corp (NDEKY) | 0.19 | 1.55B |
| Noranda IF (NIF_u) | — | 7.80M |
| Northfield Bancorp (NFBK) | 0.17 | 30.65M |
| Northwest Bancshares (NWBI) | 0.19 | 115.42M |
| Norwood (NWFL) | — | — |
| Nustar (NS) | 0.42 | 421.13M |
| OMNOVA (OMN) | 0.1 | 172.8M |
| OSI Systems (OSIS) | 1.2 | 304.31M |
| Oaktree (OAK) | 1.27 | 529M |
| OceanaGold (OGC) | -0.23 | 177.26M |
| OceanaGold DRC (OGDCF) | -0.16 | 125.6M |
| Oceaneering (OII) | -0.2 | 541.41M |
| Ohio Valley Banc (OVBC) | — | — |
| Oil States (OIS) | -0.21 | 227.85M |
| Old Line (OLBK) | 0.52 | 27.48M |
| Old Point (OPOF) | — | — |
| Omnicell (OMCL) | 0.53 | 219.4M |
| One Gas Inc (OGS) | 1.79 | 620.78M |
| OneMain Holdings (OMF) | 1.12 | 939.45M |
| Oppenheimer (OPY) | — | — |
| Orchids Paper (TISUQ) | — | — |
| Orgenesis (ORGS) | -0.2 | 12M |
| Oritani (ORIT) | 0.27 | 25.69M |
| PCM (PCMI) | — | — |
| PCSB Financial (PCSB) | 0.14 | 11.56M |
| PIMCO Municipal Income Fund II (PML) | — | — |
| PPG Industries (PPG) | 1.21 | 3.45B |
| Pacific City Financial (PCB) | 0.34 | 19.53M |
| Pacific Mercantile (PMBC) | 0.11 | 13.62M |
| Packaging America (PKG) | 1.22 | 1.66B |
| Panalpina Welttransport (0QPT) | 1.02 | 1.52B |
| Park National (PRK) | 1.47 | 100.93M |
| Pathfinder Bancorp (PBHC) | — | — |
| Patriot Scientific (PTSC) | — | — |
| Patriot Transportation (PATI) | — | — |
| Paul Mueller (MUEL) | — | — |
| Peapack-Gladstone (PGC) | 0.55 | 45.96M |
| Pebblebrook Hotel (PEB) | 0.19 | 302.92M |
| Pendrell (PCOA) | — | — |
| Penns Woods (PWOD) | — | — |
| People Corporation (PEO) | 0.08 | 53.3M |
| Peoples Educational (PEDH) | — | — |
| Pervasip Corp (PVSP) | — | — |
| Petrotal (PTAL) | — | 26.46M |
| Petsec Energy ADR (PSJEY) | — | — |
| Pharma Mar (0RC6) | — | — |
| Pharmaxis ADR (PXSLY) | — | — |
| Pier 1 Imports (PIR) | -2.83 | 395.5M |
| Pivotal Software (PVTL) | -0.05 | 200.88M |
| Postmedia Network Canada A (PNCa) | — | — |
| Postmedia Network Canada B (PNCb) | — | — |
| PotlatchDeltic (PCH) | 0.11 | 196.81M |
| Principal Financial (PFG) | 1.13 | 3.82B |
| Prism Tech (PRZM) | — | — |
| Private Bancorp of America (PBAM) | 0.36 | 12.4M |
| Promotora De Informaciones (PRISY) | — | — |
| Promotora Informaciones (0R7W) | — | — |
| Provident Bancorp Inc (PVBC) | 0.16 | — |
| Prudential (PRU) | — | — |
| Prudential Public ADR (PUK) | — | — |
| QTS REIT (QTS) | 0.05 | 124.73M |
| Quadient (0NQ5) | — | 297M |
| RDI Reit (RDI) | — | — |
| Reckitt Benckiser (RB) | — | 2.95B |
| Reckitt Benckiser ADR (RBGLY) | — | 3.61B |
| Reitmans Canada (RET) | — | — |
| Reitmans Canada A (RETa) | — | — |
| Reliance Industries Ltd (RELIq) | 0.46 | 18.21B |
| Reliant Bancorp (RBNC) | 0.31 | 19.35M |
| Relx (REL) | — | — |
| Relx ADR (RELX) | — | — |
| ReoStar Energy (REOS) | — | — |
| Republic First Bancorp (FRBK) | -0.04 | 26.33M |
| Ribbon Com (RBBN) | 0.02 | 120.8M |
| Richards Packaging Income Fund (RPI_u) | — | — |
| Rochester Resources (RCT) | — | — |
| SEACOR (CKH) | 0.45 | 205.77M |
| SOGOU (SOGO) | -0.01 | 227.67M |
| SSAB A (0KII) | 0.15 | 17.83B |
| SSAB ADR (SSAAY) | 0.01 | 1.8B |
| SSAB B (0MHZ) | 0.15 | 17.83B |
| Salisbury (SAL) | 0.93 | 10.93M |
| Sanmina (SANM) | 0.62 | 1.69B |
| Secure Energy Svcs (SES) | 0.02 | 748.52M |
| Severn (SVBI) | — | — |
| ShiftPixy (PIXY) | -0.3 | 11.3M |
| Shore Bancshares (SHBI) | 0.28 | 15.4M |
| Simpson Manufacturing (SSD) | 0.62 | 274.81M |
| Sony ADR (SNE) | 0.33 | 17.85B |
| Sound Financial (SFBC) | — | — |
| Southern Missouri (SMBC) | 0.77 | 23.04M |
| Southern National Virginia (SONA) | 0.32 | 23.23M |
| Spring Bank Pharma (SBPH) | -0.26 | — |
| Stage Stores (SSI) | — | — |
| Standard AVB (STND) | — | — |
| Sterling Bancorp (STL) | 0.3 | 248.47M |
| Summit Financial (SMMF) | 0.43 | 24.08M |
| SunCoke Energy (SXC) | 0.07 | 312.6M |
| SunCoke Energy Partners LP (SXCP) | 0.42 | — |
| Swedish Match (0GO4) | 6.77 | 3.87B |
| TCF Financial (TCF) | 0.5 | 536.85M |
| TFS Financial (TFSL) | 0.06 | 69.01M |
| Tanzanian Royalty Exploration (TNX) | — | — |
| Tanzanian Royalty Exploration (TRX) | — | — |
| Tanzanian Royalty Exploration (TNX) | — | — |
| Target Healthcare REIT Ltd (THRLT) | — | — |
| Taylor Devices (TAYD) | — | — |
| Ted Baker (TED) | 13.03 | 300.75M |
| Telstra Corporation ADR (TLSYY) | — | — |
| Territorial (TBNK) | 0.45 | 15.18M |
| Tetra Bio Pharma (TBP) | — | — |
| The First Bancshares (FBMS) | 0.65 | 41.26M |
| The Medicines (MDCO) | -1.08 | 3.9M |
| Tile Shop (TTSH) | 0.05 | 91.2M |
| Timkensteel Corp (TMST) | -0.24 | 266.15M |
| Tompkins (TMP) | 1.15 | 71.71M |
| Town Sportss (CLUB) | -0.09 | 117.77M |
| Towne Bank (TOWN) | 0.39 | 140.23M |
| Trans World (TWMC) | — | — |
| Transcanna (TCAN) | — | — |
| Travelzoo (TZOO) | 0.23 | 32.3M |
| TriCo (TCBK) | 0.62 | 77.11M |
| Trinity Place Holdings Inc (TPHS) | — | — |
| UCB (0NZT) | — | — |
| Unifi (UFI) | 0.04 | 167.3M |
| United Bancorp (UBCP) | 0.3 | 5.50M |
| United Bancshares (UBOH) | — | — |
| United Bankshares (UBSI) | 0.5 | 171.71M |
| United Community Financial (UCFC) | 0.21 | 28.9M |
| United Financial Bancorp (UBNK) | 0.24 | 56.35M |
| United Microelectronics (UMC) | 0.03 | 1.38B |
| United States Lime&Minerals (USLM) | — | — |
| Universal Health RI (UHT) | — | — |
| Universal Health Services (UHS) | 2.66 | 2.94B |
| Universal Insurance (UVE) | 0.84 | 318.16M |
| Uxin (UXIN) | -0.47 | 1.15B |
| VSB Bancorp (VSBN) | — | — |
| Viad (VVI) | -0.37 | 332.3M |
| Vince (VNCE) | 0.02 | 89.1M |
| Virco (VIRC) | -0.33 | 22.8M |
| Vista Gold (VGZ) | -0.03 | — |
| Vista Oil Gas (VIST) | -0.09 | — |
| Vivus (VVUS) | -0.7 | 19.9M |
| WSFS (WSFS) | 0.74 | 151.24M |
| Wabco (WBC) | 1.13 | 772M |
| Wall Financial Corporation (WFC) | — | — |
| Washington Prime (WPG) | — | 163.8M |
| Washington Trust (WASH) | 0.8 | 48.79M |
| Watchstone Group (WTGW) | — | — |
| Waterstone (WSBF) | 0.29 | 42.8M |
| Wayne Savings (WAYN) | — | — |
| Wealth Minerals (WML) | — | — |
| WesBanco (WSBC) | 0.58 | 150.52M |
| Western Copper Gold (WRN) | -0.01 | — |
| Western Copper Gold (WRN) | -0.01 | — |
| Western Energy Svcs (WRG) | -0.07 | 55.4M |
| Westmoreland Coal (WLBAQ) | -1.13 | — |
| William Hill (WMH) | — | — |
| Woori Financial (WF) | 1.58 | 1.44B |
| Yamazaki Baking ADR (YMZBY) | 1.49 | 2.44B |
| Yield Growth (BOSQF) | — | — |
| Yield Growth (BOSS) | — | — |
| Zardoya Otis (0NR7) | — | — |
| Zynex (ZYXI) | 0.06 | 14.14M |
| iQIYI (IQ) | -3.4 | 7.27B |
Safe havens such as Gold and the JPY have been taking advantage of the financial troubles with the ban king system and lower FED rate odds
2 weeks ago