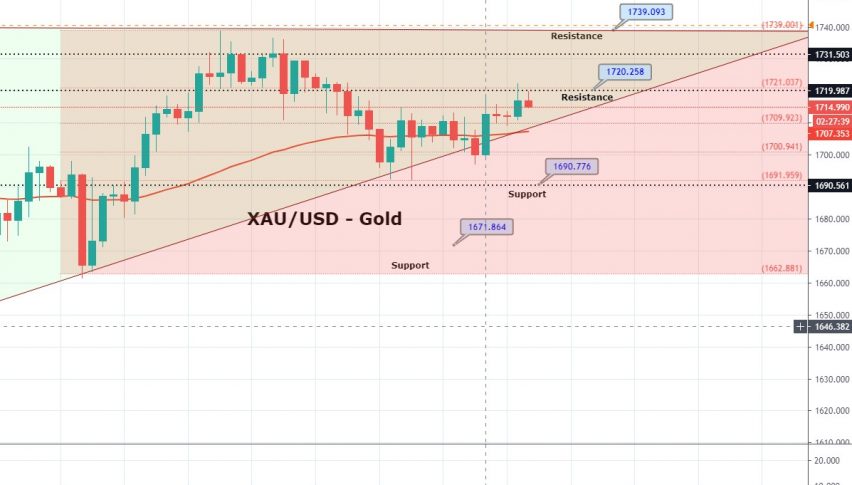 Yellow Metal Prices Soar Over $1,700 – Dovish FOMC Plays  
Posted Thursday, April 30, 2020 by
Arslan Butt
• 2 min read
The safe haven metal prices extended the previous session's declines and dropped below $1,700 level, mainly due to risk-on market sentiment. The latest recovery in the risk sentiment could be attributed to the relatively successful clinical experiments for a drug manufactured to treat those infected by the virus.
The decision by Federal Open Market Committee (FOMC) and Federal Reserve interest rate decision to leave rates unchanged also keeps gold prices under pressure. However, the yellow metal prices ticked higher and then have back gains within a $9 range. GOLD is trading slightly bullish at $1,719 on the day and consolidates between a low of $1,698.16 and a high of $1,713.14.
The FOMC on Wednesday declared that it will hold the benchmark interest rate unchanged within the target range of 0% – 0.25%, as widely expected. Additionally, the Fed also announced in the statement that rates will stay at the bottom unless the economy comes out from the fear of recession.
On the other hand, the strengthened expectations of Gilead Sciences' Remdesivir being used as an effective treatment against coronavirus is fueling the risk-on sentiment in the market. The National Institutes of Health (NIH), an agency of the US Department of Health and Human Services, announced that its succesful clinical trial showed that Remdesivir quickens the recovery from COVID-19 cases.
As a result, the market was boosted by the upbeat mood, and Wall Street's main indexes were rising between 2.7% and 3.35% at the time of the press.
It seems like gold is going to end this month on a bearish track and continue to struggle to keep above $1,700's level as the equities are still flashing positive. On the other hand, most nations, including the US, are showing a willingness to ease social distancing measures.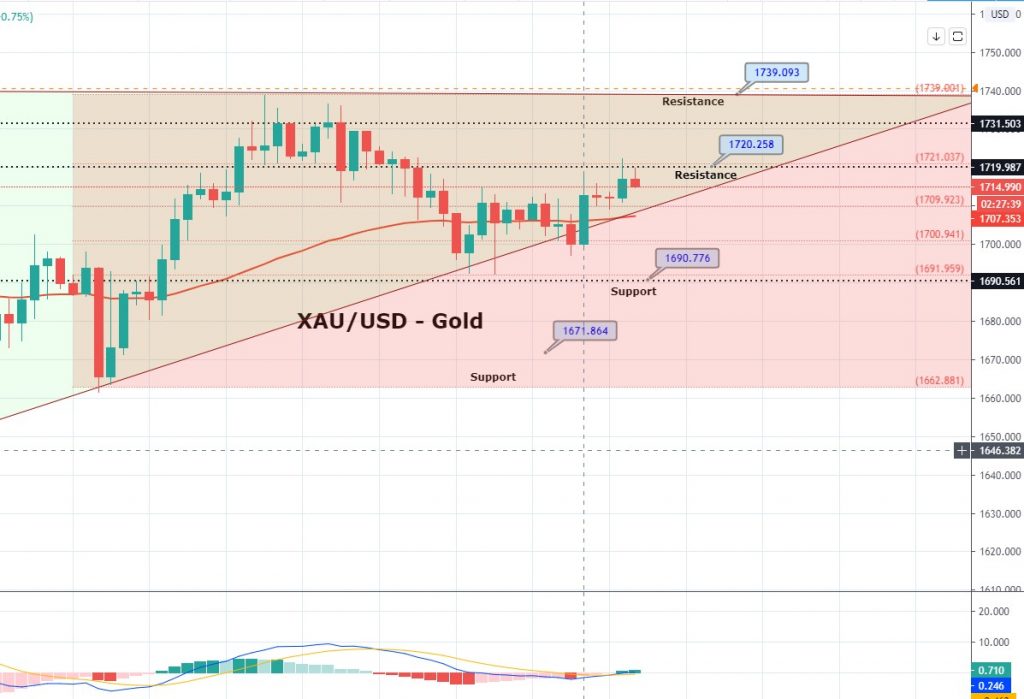 XAU/USD – Daily Technical Levels
Support Resistance
1715.28 1719.12
1713.36 1721.04
1709.52 1724.88
Pivot Point 1717.2
Gold has completed 50% Fibonacci retracement at 1,715, which now extends solid pressure on gold. A bullish breakout of 1,715 level can drive further buying until 1,722 and 1.730. Conversely, gold can trade bearish upon the breakout of 1,708 level today. The immediate support stays around 1,690; the US Jobless claims data will help determine trends. Good luck!
Safe havens such as Gold and the JPY have been taking advantage of the financial troubles with the ban king system and lower FED rate odds
1 day ago