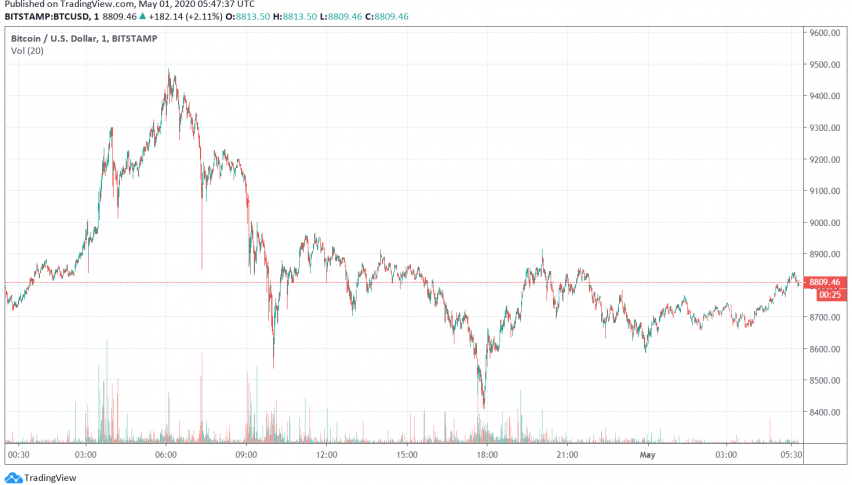 Bitcoin, Cryptocurrencies' Market Cap See Sharp Surge
During the previous session, Bitcoin prices surged by over 18%, helping the entire cryptocurrency market increase its market cap by more than $35 billion. At the time of writing, BITCOIN has eased lower and is trading at a little above $8,800 after touching the highest level seen since early March.
Analysts have attributed to the sudden bullishness in the crypto market to continued dovishness among leading central banks worldwide as they announce stimulus measures to guard against the economic fallout of the coronavirus pandemic. In addition, the value of Bitcoin is on the rise in anticipation of the upcoming Bitcoin halving, which is due to take place this month.
Rewards for mining the leading cryptocurrency will be cut from 12.5 per block mined to 6.25 new Bitcoin in May 2020, to compensate for inflationary changes which happen every four years. With the supply of Bitcoin expected to reduce, the cryptocurrency has turned dearer among traders.
Meanwhile, the improvement in the risk appetite of global financial markets also appears to have had a positive impact on cryptocurrencies lately. With stock markets and riskier assets turning bullish in recent days, traders have turned towards cryptos as well as hopes rise for economies to resume activity soon after several weeks of shutdown due to the pandemic.