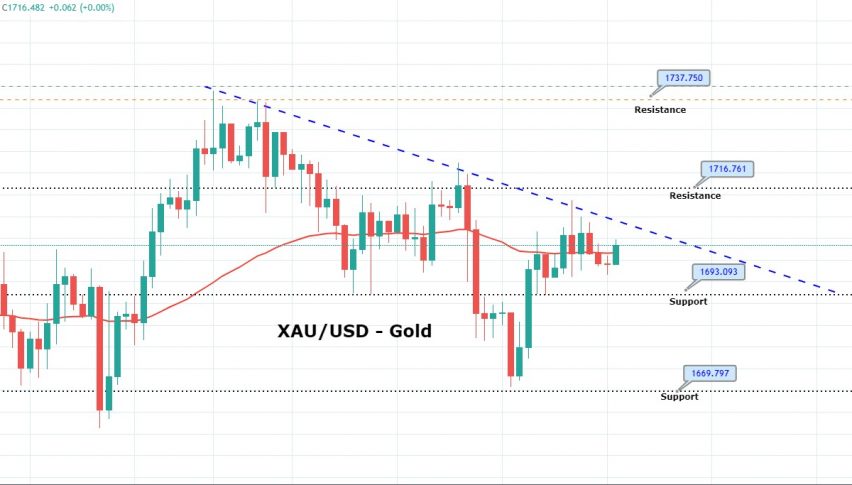 Daily Brief, May 5: Everything You Need to Know About Gold Today
Posted Tuesday, May 5, 2020 by
Arslan Butt
• 2 min read
Gold prices closed at 1700.67 after placing a high of 1714.26 and a low of 1691.87. Overall the movement of GOLD remained bullish throughout the day, but it ended at the same level it started its day with. Gold rose on Monday on the rising threats of a new trade war between the United States and China over the COVID-19 pandemic global spread. A 0.4% rise in prices could be seen on Monday due to emerging safe-haven appeal in the market.
The US, after blaming China for mishandling the outbreak of coronavirus, did not stop there but also threatened to punish the dragon nation with a new round of tariffs. On Monday, Trump also said that he would kill the previously made phase-one deal with China if it fails to fulfill its promise of buying US goods. According to the deal signed by the two biggest economies, China promised to buy $200 billion worth of US goods over a period of 2 years.
After the coronavirus pandemic, not only the Chinese economy but all economies of the globe are suffering from a slowdown. So there are possibilities that Beijing might not be able to keep its promise to buy US goods. However, US President Donald Trump has said that "they have to buy" otherwise he will dismiss the phase-one deal.
This news created fears among traders for a new trade war between China & the US. Hence traders took their money out of risky assets and went into safe-haven assets like gold on Monday.
Another factor driving the rise in gold prices at the starting day of the week was Trump's announcement in which he blamed China for the spread of virus outbreak across the world. Trump aggressively said that the trade relations with China were now his second priority after the coronavirus outbreak.
Trump even said that the US would file a case against China for the intentional mishandling of the virus outbreak. His point being that China immediately banned Wuhan people from going into China, but they did not stop the people from going to the USA & all over the world from Wuhan. It was like they wanted the virus to be spread in different parts of the world.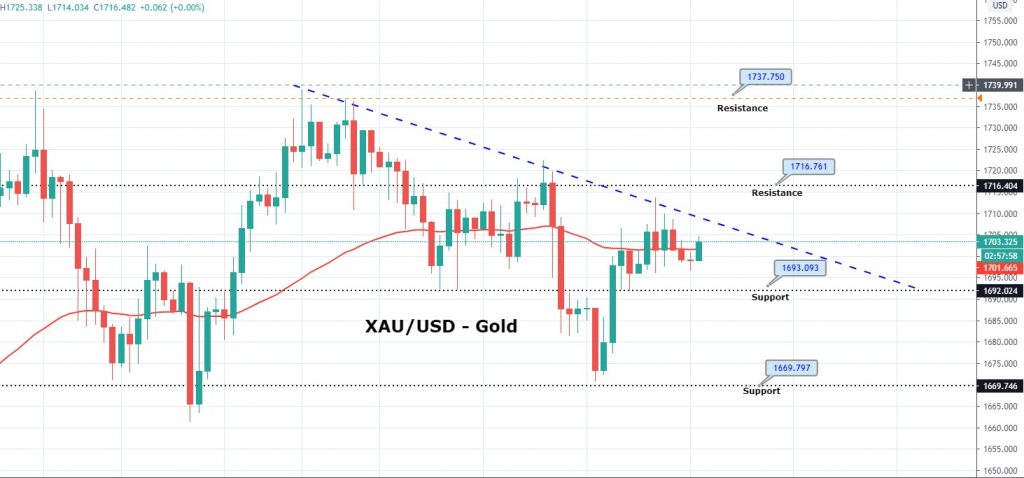 Daily Technical Levels
Support Resistance
1715.28 1719.12
1713.36 1721.04
1709.52 1724.88
Pivot Point 1717.2
The technical side of gold mostly remains sideways, as the pair consolidates within 1,710 to 1,682. Closing of candle below 1,682 levels may drive further selling until the next support level of 1,669 and 1,664 today. Above the 1,710 level, we may see gold prices going further higher until 1,720.
Good luck!
Safe havens such as Gold and the JPY have been taking advantage of the financial troubles with the ban king system and lower FED rate odds
2 hours ago