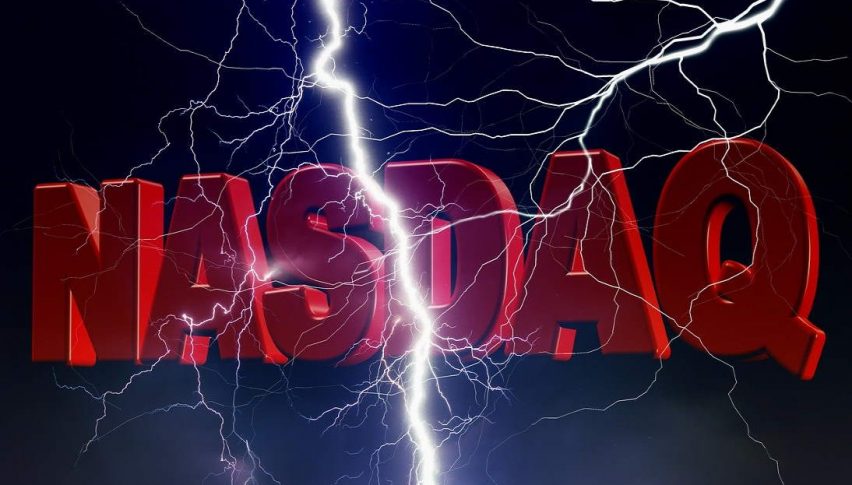 Up Day For U.S. Stocks, NASDAQ Paces Gainers
Exploding unemployment figures have done little to stymie today's rally in the U.S. indices. Through the halfway point of the trading day, the DJIA DOW (+350), S&P 500 SPX (+45), and NASDAQ (+145) are all in the green. Tech stocks are once again setting the pace and looking strong. As of today, June E-mini NASDAQ futures have regained 78% of their COVID-19 losses.
Over the past several weeks, nasty employment reports have done nothing to the intraday price action of U.S. stocks. Plummeting employment is already baked into the cake ― this morning's jobs reports were no different. Here's the short and sweet of it:
Event                                                             Actual                Projected          Previous
Initial Jobless Claims (May 1)                       3.169M                3.000M             3.846M
Non-Farm Productivity (Q1)                        -2.5%                      -5.5%                 1.2%
These figures are better than expected, but still brutal. Of course, there's always a silver lining; Non-Farm Productivity (Q1) beat estimates by 3.0%. It's not much, but at least productivity is holding up better-than-expected.
The COVID-19 pandemic has reinforced the role of technology in society. Through the provision of cutting-edge communications, entertainment, and business products, companies of the NASDAQ have been the big winners of 2020. Today has brought more positivity to the sector and values continue to rise.
NASDAQ Futures Jump, All-Time Highs Within Sight
The Thursday session has brought more bids to June E-mini NASDAQ futures. Prices have rallied above 9100.00 and are holding firm in this area.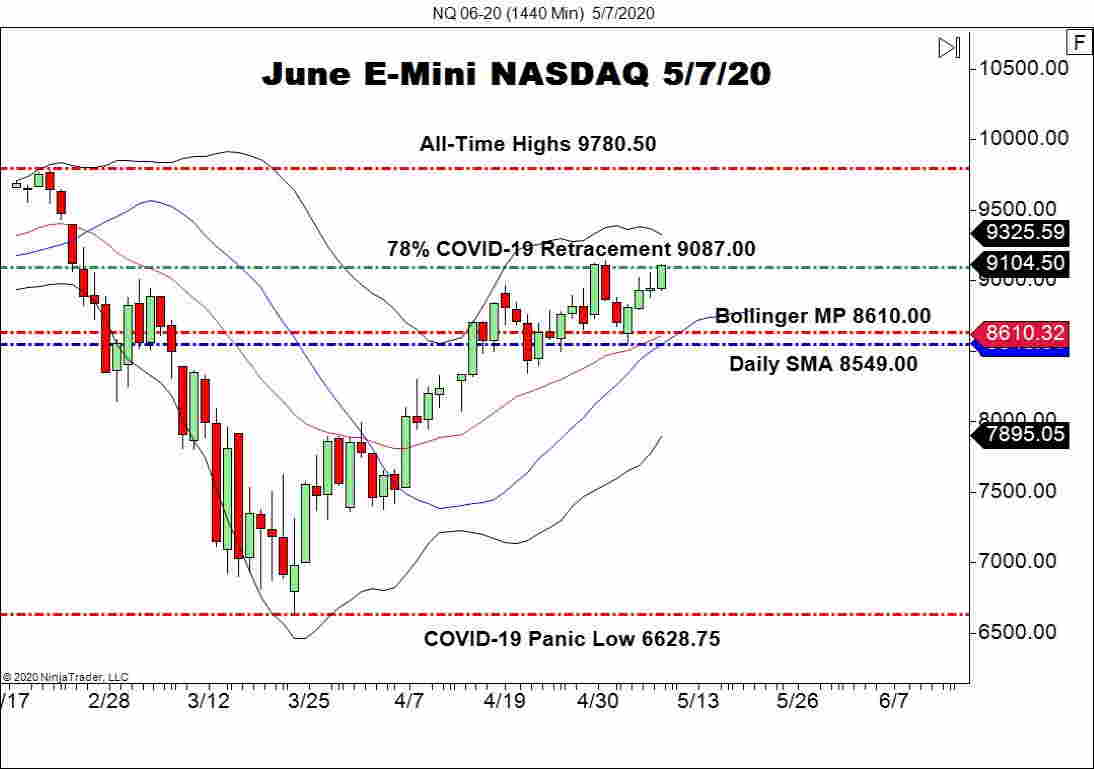 Overview: Friday's session is going to be an interesting one. During the Wall Street pre-open, Non-Farm Payrolls (April) and the U.S. Unemployment Rate (April) will be released to the public. Unemployment is expected to swell to 14.0%, the largest measure ever. While these numbers will be eye-popping, they are already priced-in to the markets. However, if they come surprisingly low, we may see a rush of bids hit risk assets.
Moving forward, the key level to watch for the June E-mini NASDAQ is topside resistance at the 78% COVID-19 retracement (9087.00). If this level is taken out, an early-summer return to all-time highs will become probable.