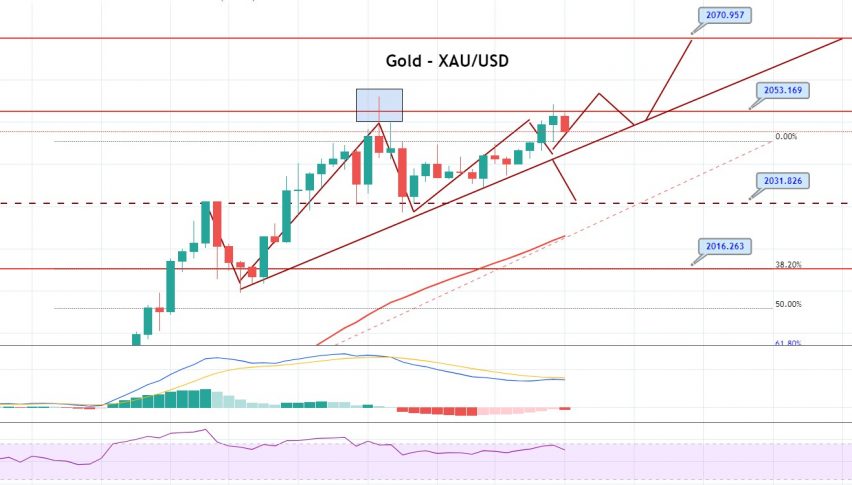 Daily Brief, Aug 06 – Everything You Need to Know About Gold! 
Posted Thursday, August 6, 2020 by
Arslan Butt
• 3 min read
Good morning traders, 
 GOLD is on fire and it doesn't seem to be losing its bullish momentum. The yellow metal closed at 2,037.49 after placing a high of 2,055.57 and a low of 2,009.38. Overall, the movement of gold remained bullish throughout the day. Gold continued its bullish streak for the 4th consecutive day, rising to a record high of 2,055 per ounce. Overall, gold has risen by $ 500 this year, and of this, $ 200 was covered in just the last two weeks.
The speed at which gold has broken above the $ 2,000 an ounce mark raised fears that a correction was on its way, but many analysts have predicted further gains, as the coronavirus urges investors to buy into the safe-haven metal.
On the data front, the ADP Non-Farm Employment Change for July decreased to 167K, against the expected 1,200K, weighing on the US dollar. At 17:30 GMT, the US Trade Balance came in, in line with the projected -50.7 Billion. At 18:45 GMT, the Final Services PMI rose to 50.0, compared to the expected 49.6, lending support to the US dollar. The ISM Non-Manufacturing PMI rose to 58.1 in July, in contrast to the estimated 55.0, also supporting the US dollar.
Despite better-than-expected US macroeconomic data, gold surged on Wednesday, posting gains. The US economic recovery from the coronavirus crisis has been compounded by the rebound in the employment rate, by a combined 7.3M jobs in May and June. More than 21 million jobs were lost between March and April, and US President Donald Trump needs to advertise a big economic recovery in order to boost his re-election hopes in November.
On Wednesday, President Trump said that big job numbers would be coming in on Friday. However, on Wednesday, private payroll data by the ADP reported that it was just 167,000.
Trump is betting on being re-elected, as he believes that the economy will bounce back stronger with him than with Biden. Looking at the ADP & ISM readings, the Friday job numbers are most likely to be on the softer side, compared to the consensus estimate of 1.6M new jobs.
On the US-China front, Australian Prime Minister Scott Morrison has said that his government holds a less dramatic view of the US-China strategic tensions than one of his predecessors, who warned of a potential "hot war" before the US presidential elections in November, adding that conflict was no longer inconceivable.
However, Beijing's envoy to Washington said on Wednesday that China did not want to see a Cold War breaking out between China and the US. He also added that the two countries needed to work towards repairing their relations, which were currently under unprecedented strain.
Some days previously, the former Australian Prime Minister and Chinese scholar Kevin Rudd, wrote in the foreign affairs journal, that the risk of armed conflict between the United States and China in the next three months was especially high.
Meanwhile, on Wednesday, a huge explosion, caused by 2,750 tons of ammonium nitrate that was stored unsafely in a warehouse, devastated the harbor area of Beirut. Ammonium nitrate is used as a fertilizer in agriculture, and also as an explosive. However, news of this explosion spread very quickly in the media, after many people released videos of the disaster. Some of Wednesday's gains in gold could also be attributed to this blast.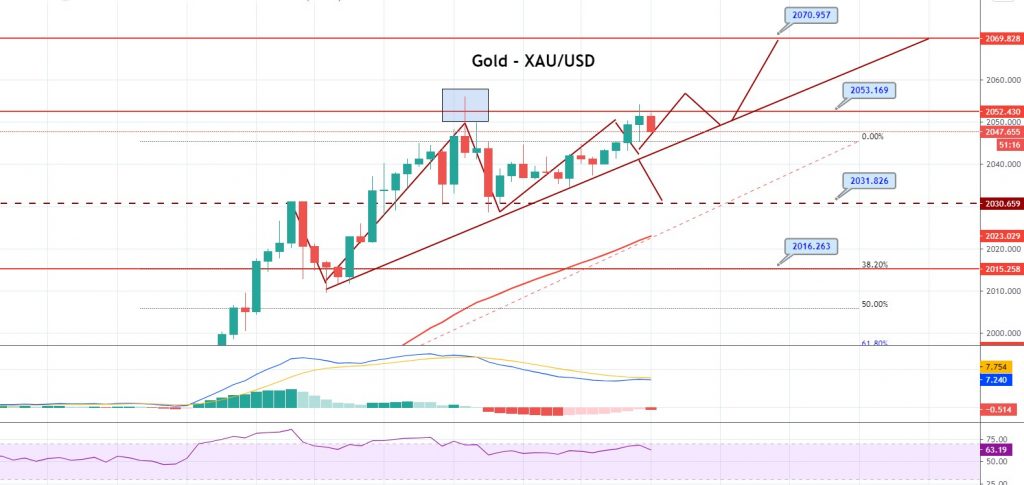 Daily Technical Levels
Support Resistance
2,016.80 1,058.80
1,995.15 2,079.15
1,974.80 2,100.80
Pivot point: 2,037.15
Prices for the precious metal, GOLD , continue their bullish trend at around 2,044, and the bullish bias still seems dominant. On the lower side, the XAU/USD is likely to find support at around 2,035, and a bearish breakout at this mark could open up further room for selling until the 2,012 mark. Meanwhile, the bullish breakout of 2,050 could push gold prices to 2,090. On the way, small hurdles could be encountered at around 2,069. A bullish bias seems dominant today. Good luck!