AUD/USD Tests Upward Trendline Resistance – Is it a Good Time to Sell?
Posted Friday, August 21, 2020 by
Arslan Butt
• 2 min read
The AUD/USD pair closed at 0.71917, after placing a high of 0.70204 and a low of 0.71355. Overall, the AUD/USD pair remained bullish throughout the day. The pair fell below the 0.71400 level in the early trading session on Thursday, following the previous day's bearish move, but in late American sessions, after the release of US economic data, the pair started to rise, closing the day with a bullish stance.
The risk-off market sentiment on Thursday kept the AUD/USD pair under pressure, as the Aussie, which is perceived as risky, was down. The ongoing geopolitical tensions between the US and China, along with the renewed tensions between the US and Iran, gave the risk-off market sentiment a boost, weighing on the Aussie, hence the AUD/USD pair's fall to its lowest level in 4-days.
The US-China tensions remained on the cards too, in response to Wednesday's move by Washington, regarding the termination of three bilateral agreements with Hong Kong; China also suspended a mutual legal assistance agreement with Washington.
The US President has appealed to the United Nations to restore all of the UN sanctions on Iran for violating the 2015 nuclear deal, and the US also warned China and Russia not to interfere in the Tehran matter, as they will get the blame for any consequences.
In the early session, these tensions kept weighing on the risk sentiment and the Aussie, which is seen as risky, and this pulled the AUD/USD pair onto the lower side.
However, the pair started to move towards the opposite side in the late American session, after the release of US Unemployment Claims last week. At 17:30 GMT, the Philly Fed Manufacturing Index from the US dropped to 17.2, against the expected 21.0, weighing on the US dollar. The Unemployment Claims from the US rose, reaching 1.106M, against the projected 930K, which also put pressure on the US dollar.
The US dollar index fell from the 93 range to 92.8, and the US Treasury Bond Yield also dropped on Thursday, keeping the US dollar under pressure and adding strength to the AUD/USD pair.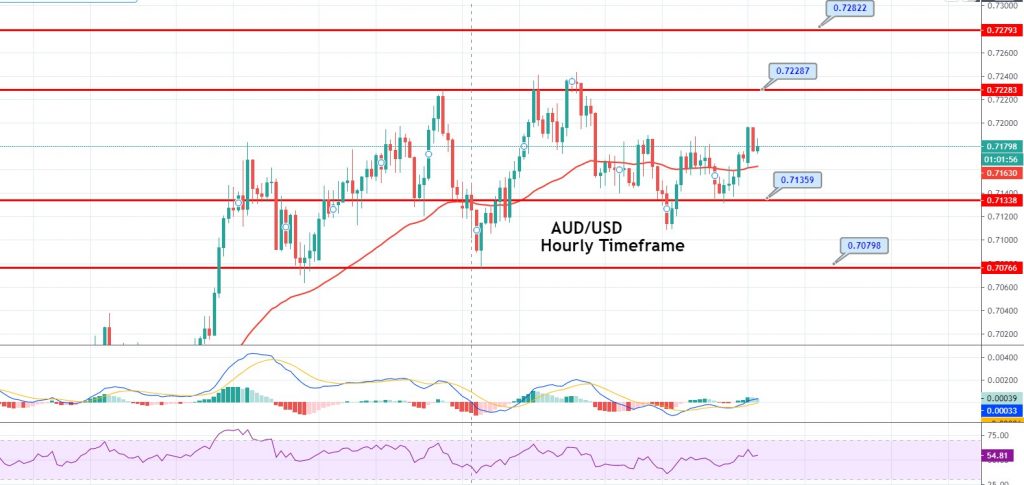 Daily Technical Levels
Support Resistance
0.7150 0.7219
0.71080.7246
0.7082n0.7287
Pivot point: 0.7177
The AUD/USD currency pair is trading at the 0.7199 level, holding above the support level of 0.7194. Above this level, the pair could remain bullish until the 0.7215 level. Continuation of an upward trend and violation of a 0.7215 resistance could open further buying room, to the 0.7235 level. Conversely, below 0.7195, the AUD/USD pair could slip to the 0.7165 level. A bullish bias seems dominant. Good luck!