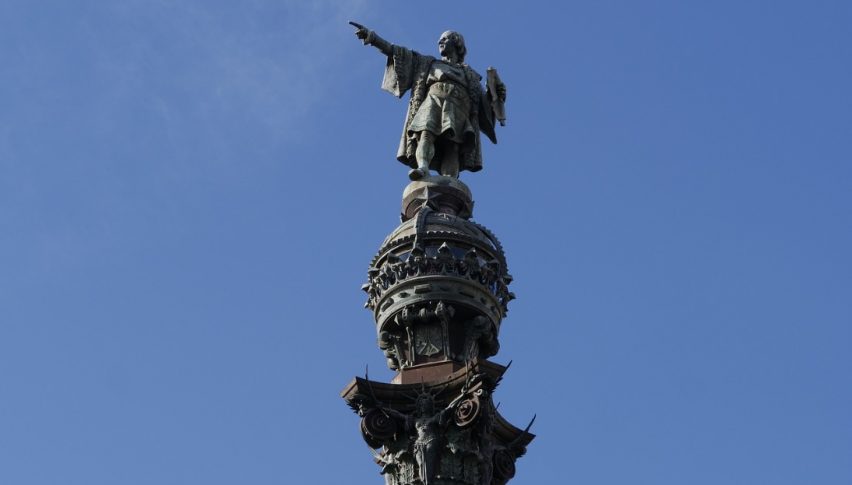 Trading The Empty Columbus Day U.S. Economic Calendar
Today marks the observance of Columbus Day, a U.S. federal and state holiday. In the U.S., banks, the postal service, and select businesses are closed. However, aside from the bond markets, all other trading venues remain open. 
Like most other American holiday sessions, Columbus Day brought a vacant economic calendar. No U.S. events were scheduled for today; with the exception of stimulus squabbling between Congressional Republicans and Democrats, there isn't much on the financial docket.
However, Tuesday features the release of several key U.S. reports. Here's a quick look at the highlights:
Event                                                                                  Previous               Projected
NFIB Business Optimism Index (Sept.)                             100.2                    99.6
CPI (MoM, Sept.)                                                                    0.4%                    0.2%
CPI (YoY, Sept.)                                                                       1.3%                     1.4%
Core CPI (MoM, Sept.)                                                           0.4%                    0.2%
Core CPI (YoY, Sept.)                                                              1.7%                     NA
For tomorrow's session, CPI is the headline to watch. Kickstarting inflation has been a focus of FED policy throughout 2020. Given the implementation of QE unlimited, it will be interesting to see if CPI surprises analysts and comes in higher-than-expected. If so, the USD will be poised to post short-term gains.
Although it's Columbus Day, there have been a few decent moves in equities and commodities. Let's take a look at the gold market and see if investors are already betting on a forthcoming spike in U.S. inflation.
A Slow Columbus Day For December Gold Futures
For the time being, December gold futures are in a holding pattern in the vicinity of 1925.0. It appears that traders are taking a break from bullion as volumes are lighter than normal, currently just north of 137,000 contracts.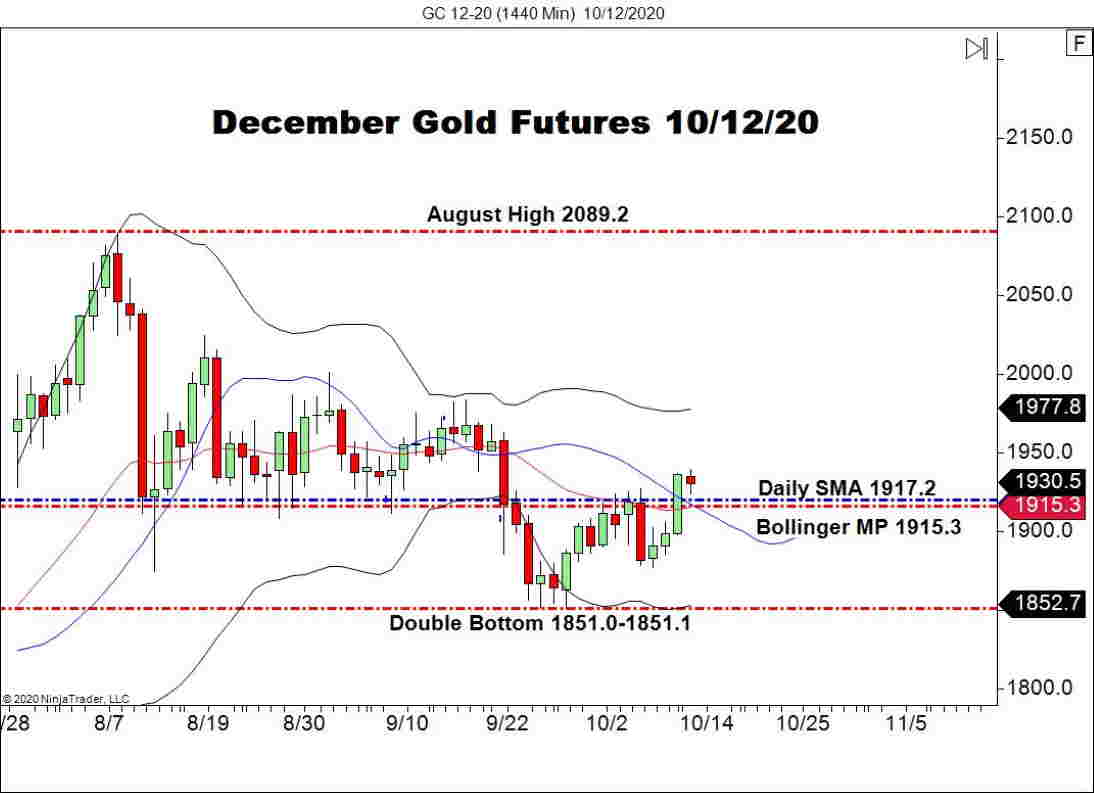 Here are two levels worth watching going into tomorrow's open:
Support(1): Daily SMA, 1917.2

Support(2): Bollinger MP, 1915.3
Bottom Line: If we see December gold retrace after today's Columbus Day settlement, an opportunity to go long may set up from downside support. Until Tuesday's close, I'll have buy orders in the queue from 1917.9. With an initial stop loss at 1913.9, this trade produces 40 ticks on a standard 1:1 risk vs reward ratio.