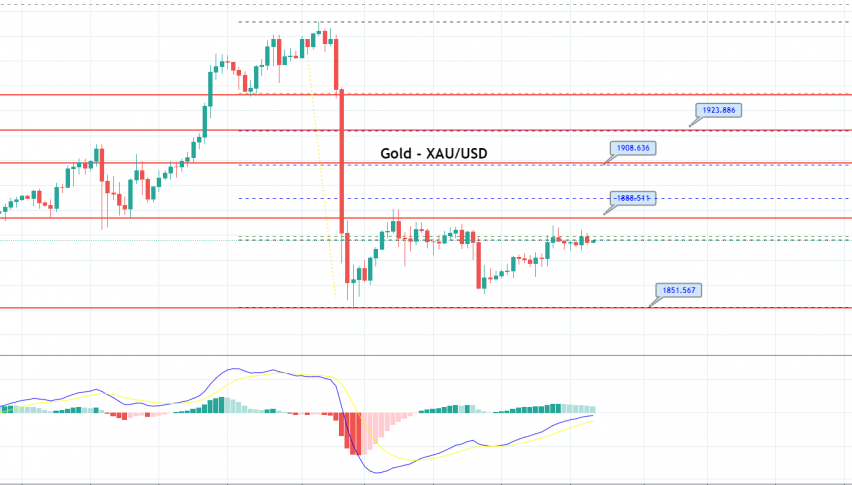 Daily Brief, Nov 13 – Everything You Need to Know about Gold on Friday!
Posted Friday, November 13, 2020 by
Arslan Butt
• 3 min read
Happy Friday traders,
Prices for the precious metal, GOLD, closed at 1,876.72, after placing a high of 1,883.77, and a low of 1,862.71. The direction of the GOLD prices reversed on Thursday, recovering almost all of the losses of the previous day. The sudden rise in GOLD prices was caused by the increasing number of coronavirus cases in the US, which raised the safe-haven demand. Another reason behind the recent surge in GOLD prices was the expectations that the Federal Reserve will inject fresh funds into the markets to ensure that they don't freeze up again, like they did in March.
On Wednesday, the United States reported about 140,453 new cases on a single day. The day was reported as the ninth straight day in the US with over 100,000 new cornonavirus infections. According to Johns Hopkins University, about 10.4 million Americans have contracted the coronavirus so far, and nearly 242,000 have died from the virus.
On the data front, at 18:30 GMT, the Consumer Price Index for October were released, showing a decline to 0.0%, against the estimated 0.1%, and weighing on the US dollar, which in turn helped GOLD to post gains. The Core CPI for October also declined, falling to 0.0% from the predicted 0.2%, also putting pressure on the greenback  and supporting the upward momentum of GOLD . However, the Unemployment Claims from last week dropped to 709K, against the expected 730K, boosting the US dollar and capping further increases in GOLD prices.
Meanwhile, on Thursday, Federal Reserve Chairman Jerome Powell warned that the US economy was likely to need further support from Congress and the central bank, even if a coronavirus vaccine became available by the end of the year.
Powell added that despite extensive avilability of the vaccine, there will still be millions of people who have lost their jobs to the pandemic, who will still struggle to find work, as the economy battles to recover from deeper long-term damage. Powell said that the main point of concern was that even after the unemployment rate goes down and vaccines became available, there will probably be a substantial group of workers who will need support through the post-pandemic economy, as the entire situation will be different from what is was before the pandemic in some fundamentals ways. The need to support the economy, even after the vaccine becomes available, kept the gold prices supported on Thursday.
Powell said the economy that would emerge from the coronavirus pandemic was likely to depend more on technology-centric work, automation and remote jobs, that could leave workers in the retail sector, factories, the leisure and hospitality sector and other hard-hit industries with fewer prospects.