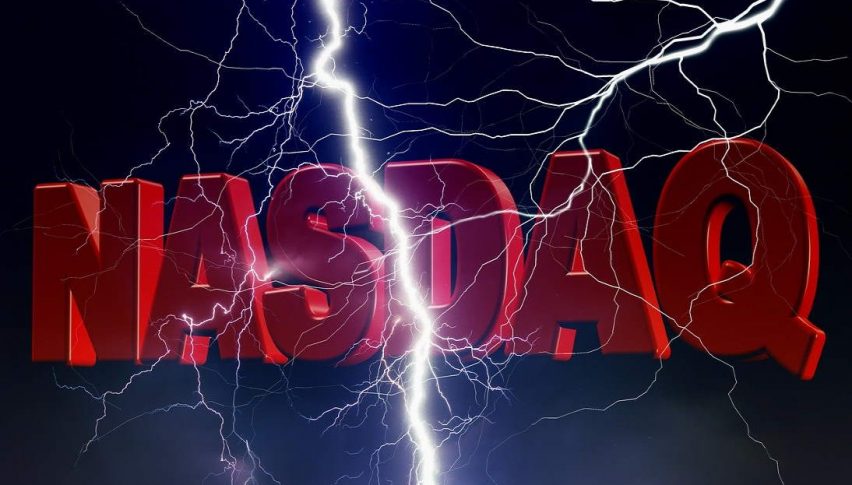 NASDAQ Falls Toward Corrective Territory
It's another challenging day on Wall Street as big tech is showing signs of buyer fatigue. At the midway point of the U.S. session, the DJIA DOW (-326), S&P 500 SPX (-49), and NASDAQ (-273) are all in the red. As we roll toward Friday's close, the NASDAQ is in danger of posting a third-straight red weekly candle.
On the economic news front, not much unexpected came during the premarket hours. Here's a look at the highlights:
Event                                                      Actual                  Projected                Previous
Challenger Job Cuts                                34.631                     NA                          79.552
Continuing Jobless Claims                    4.295M                  4.300M                    4.419M
Initial Jobless Claims                                745K                       750K                        730K
Nonfarm Productivity (Q4 2020)           -4.2%                       -4.7%                        4.6%
For a change, the U.S. labour market didn't grab the Thursday morning headlines. The key story for today is the drop in Nonfarm Productivity for Q4 2020. The figure came in at -4.2%, the lowest number since 1981. However, this was to be expected and actually beat consensus projections. So, today's stock market weakness isn't due to the economic figures.
One issue that may be impacting the markets is the trend of U.S. states lifting mask mandates and fully reopening for business. The latest states to do so are Texas, Mississippi, and South Dakota. This move isn't popular with the Biden administration as concerns persist over the spread of COVID-19. For now, the markets may be pricing in the potential for new federal restrictions regarding travel or commerce.
For the second day in a row, the NASDAQ is down big. This is the first time since October that we have seen significant weakness in the tech sector.
NASDAQ Extends Weekly Losses
At the moment, the March E-mini NASDAQ is in the midst of a three-week losing streak. For the past several years three-week losing streaks have been rare for the NASDAQ; September 2020 marks the last such instance.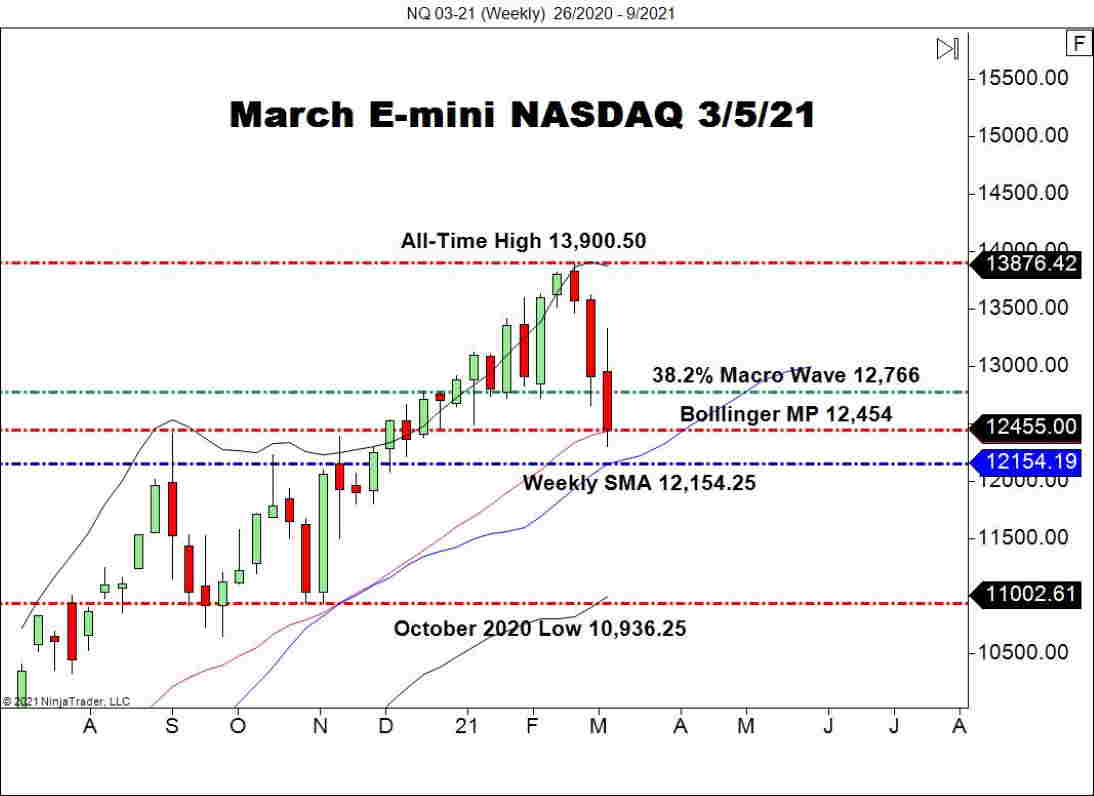 Overview: As you can see from the chart above, the last time the March E-mini NASDAQ tested the weekly Bollinger MP and SMA was in November 2020. Traders stepped in and bought the dip as election uncertainty began to reside. In fact, traders have bought every dip in the U.S. indices since last March. Will this time be any different? Unlikely. If we see a hard test of the Weekly SMA a buying opportunity may set up for next week. Stay tuned for details on how to get in on the action.