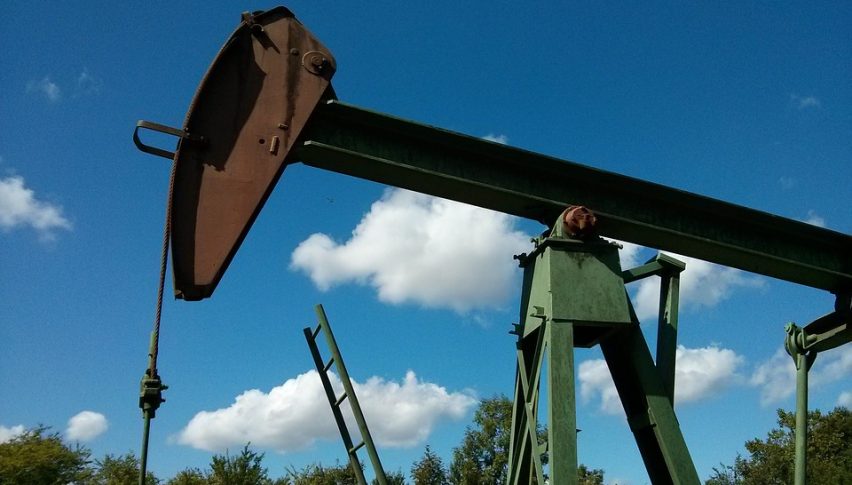 WTI Crude Oil Hanging Tough Near $65.00
For the third time in as many days, April WTI crude oil futures are in the red. However, prices are hanging tough in bullish territory just beneath the $65.00 level. With the API stocks report out later this afternoon, the weekly inventory cycle is set to take center stage. Will this week's U.S. oil inventories increase once again? According to the industry consensus, it looks like stocks-on-hand are positioned to extend March's uptrend.
Last week was a big one for U.S. oil inventories. Both the EIA and API reports came in above 12 million, a massive week-over-week build. For this week, experts are projecting the EIA figure to come in somewhere near 2.964 million. The API is a private statistic, so no consensus estimates are reported. Nonetheless, it will be a surprise if we don't see at least a marginal rise in API crude oil stocks.
If you're trading CME WTI futures or USOIL, be sure to keep a close eye on the April/May WTI volume split. As of now, the split is about 6/5 in favor of April; this is sure to change in the coming sessions as rollover commences. Barring exceptionally aggressive action, we're likely to see a 50/50 volume split tomorrow, with May becoming the new front month by Friday. When coupled with Wednesday's Fed Announcements, it may be particularly difficult to trade WTI crude oil over the next 36 hours. Be ready for choppy price action and whipsaw conditions amid the super-charged news cycle.
WTI Crude Oil Holds Its Ground Near $65.00
For now, a bullish bias continues to be warranted for WTI crude oil. Prices have yet to retrace 10% from 2021's high ($67.98). This is a key point ― despite the three-day losing streak, WTI has yet to enter a technical correction.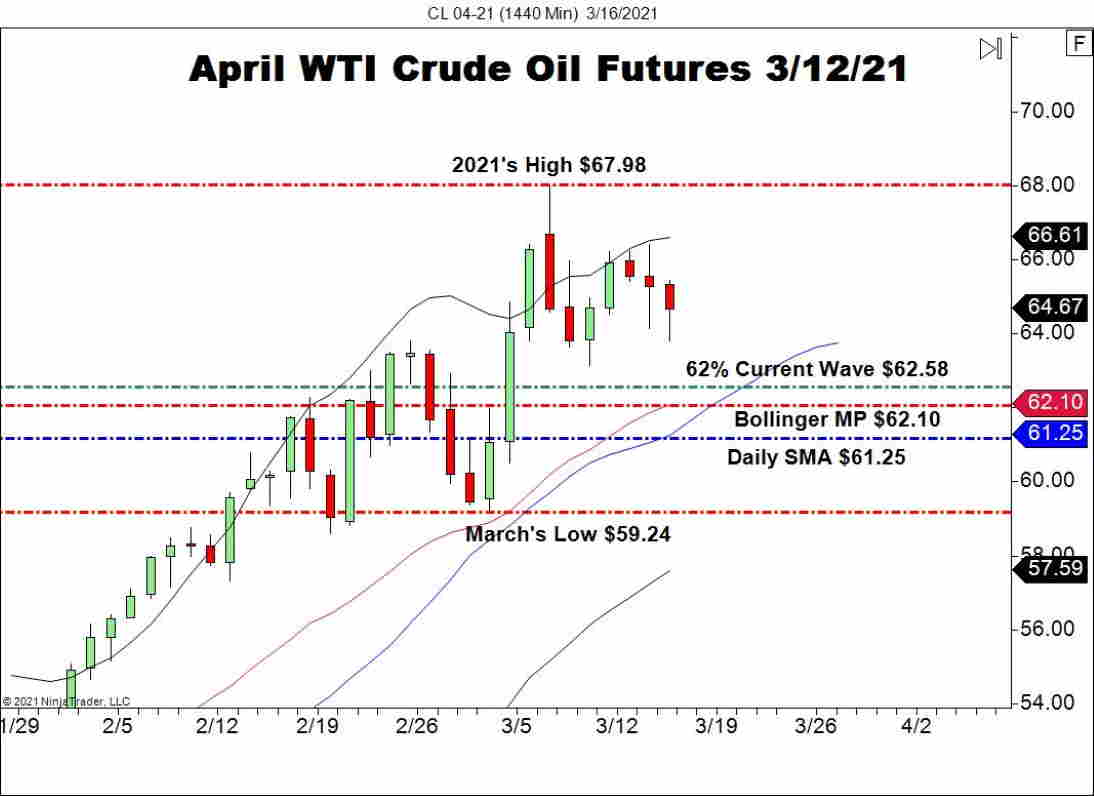 Overview: As with most markets, Wednesday's Fed meeting is going to be the key market driver for WTI crude oil. If it looks like Powell and the FOMC are committed to dovish policy, then the USD will be poised to drop and WTI rally. At this point in the year, it is going to take a major policy shift to derail WTI crude oil futures before they hit $75.00.