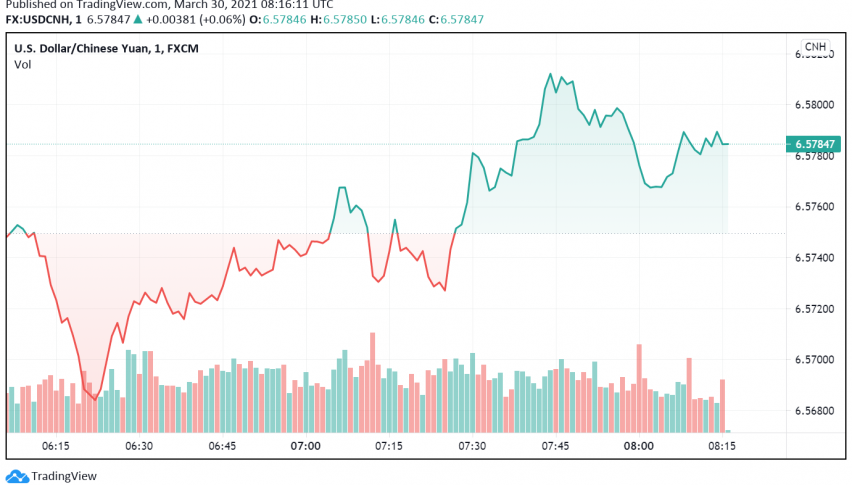 Chinese Yuan Trades at Four-Month Low Against the US Dollar
Posted Tuesday, March 30, 2021 by
Arslan Butt
• 1 min read
The Chinese yuan has fallen to trade at the lowest levels seen since four months against the US dollar on the prospects of rapid economic recovery in the US boosting US Treasury yields and strengthening the reserve currency. At the time of writing, USD/CNH is trading at around 6.57.
The Chinese currency is all set to post its worst monthly performance since August 2019 as the dollar makes gains against most leading currencies. In addition to expectations of the US economy posting a faster rebound than its peers, investors are also moving towards the safety of the greenback as a result of the collapse of hedge fund Archegos Capital, which has raised alarm in global financial markets.
Before Tuesday's market open, the PBOC set the official midpoint rate of the Chinese yuan at 6.5641 against the US dollar, the lowest level in four months and 0.34% below the previous fixing which stood at 6.5416. Corporate clients also hesitated from converting their receipts valued in the dollar into the local currency, keeping the USD supported and driving further weakness in the yuan.
Despite the current weakness, the Chinese yuan is likely to enjoy some support from FTSE Russell allowing Chinese sovereign bonds to be included within its flagship bond index – a move that will heighten investor confidence in the currency. In addition, China's economy is also expected to rebound sharply this year from the pandemic-inflicted downturn, which in turn could drive foreign capital inflows higher and improve the strength of the yuan further.