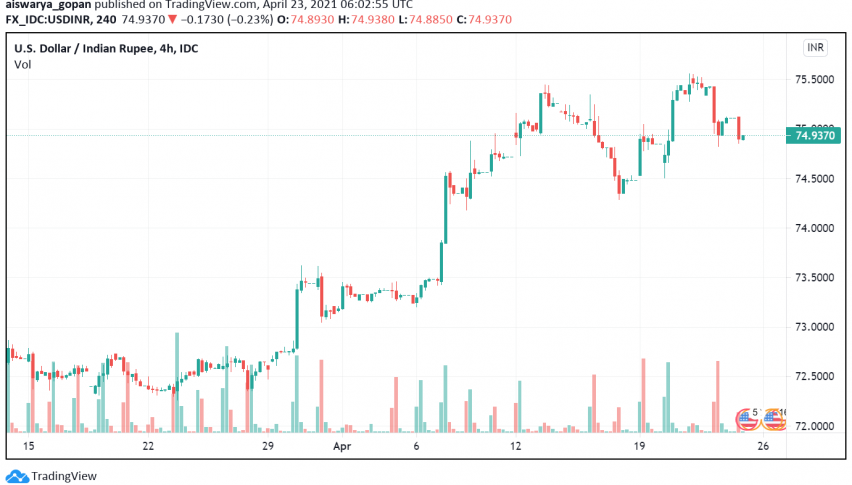 USD/INR to Trade Bullish in the Near-Term as India's COVID-19 Cases Surge
Early on Friday, the USD/INR is trading somewhat steady around the 75 level, with the Indian rupee receiving no respite at the country posts another record high of daily coronavirus cases. At the time of writing, USD/INR is trading at around 74.93.
India is currently in the grips of a deadly second wave of the pandemic and as the caseload continues to reach new highs everyday, its healthcare infrastructure is reeling under the pressure. Most affected are the urban regions, where hospitals are reporting severe shortage of oxygen, ventilators, patient beds and even critical medicines, while the COVID-19 vaccine rollout is also faltering.
Even though the Indian government has shown no interest to impose lockdowns due to the inability to handle the economic fallout, several states have imposed tight restrictions and curfews to tackle the spread of the pandemic, which are exerting downward pressure on the Indian rupee.
Economists have also revised their outlook for the Indian economy lower, with the second wave hurting the nation's equity markets as well as investor confidence in the emerging market. The USD/INR is likely to remain bullish in the near-term until business activity resumes to levels seen at the beginning of this year, indicating a rebound in the economy.
The USD/INR was closed at $74.790 after placing a high of $74.815 and a low of $74.567. USD/INR extended its gains for the second
2 years ago