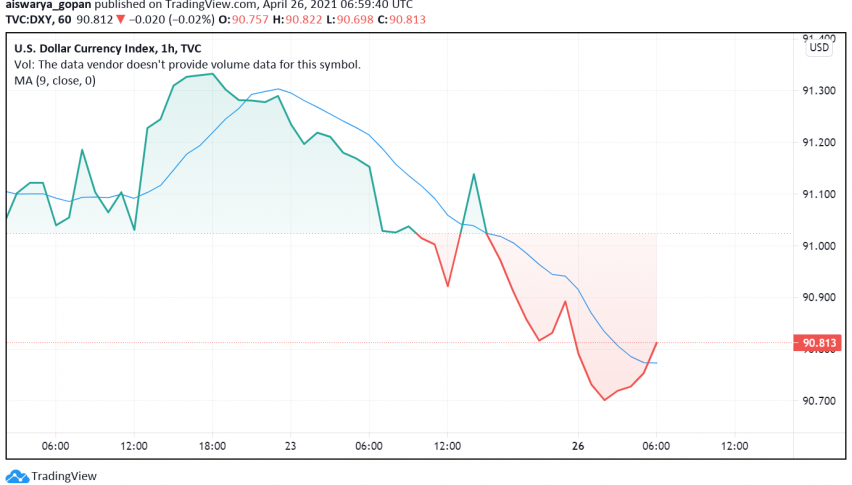 US Dollar Trades Weak as Markets Expect No Change in Fed's Dovish Stance
The US dollar is opening the week on a bearish note in anticipation of Fed Chair Jerome Powell is unlikely to begin tapering off bond purchases anytime soon despite the US economy showing strong signs of recovery from the coronavirus crisis. The bearish bets are on the rise ahead of the FOMC meeting due later this week, with markets widely expecting no change in the Fed's dovish stance.
At the time of writing, the US dollar index DXY is trading around 90.81. While expectations for a rapid economic recovery in the US had previously lent support to the greenback, other economies are catching up and working their way towards a rebound as well, which is likely to heighten the risk sentiment among traders and exert downward pressure on the safe haven appeal of the US currency.
Even though recent economic data shows signs of significant improvement in the US's economy and labor market, Powell is unlikely to turn hawkish anytime soon as he has repeatedly insisted that the central bank needs to be convinced of a total rebound before they start tightening the monetary policy. The Fed maintains that inflation and employment need to return to pre-pandemic levels before they can consider withdrawing stimulus or hiking interest rates even as it admits that the US economy will recover at a rapid pace.
Meanwhile, the Euro is trading close to the highest levels seen since two months against the US dollar. EUR/USD has turned bullish over hopes for a strong jump in German business sentiment, which could lift the overall outlook for the Eurozone economy.