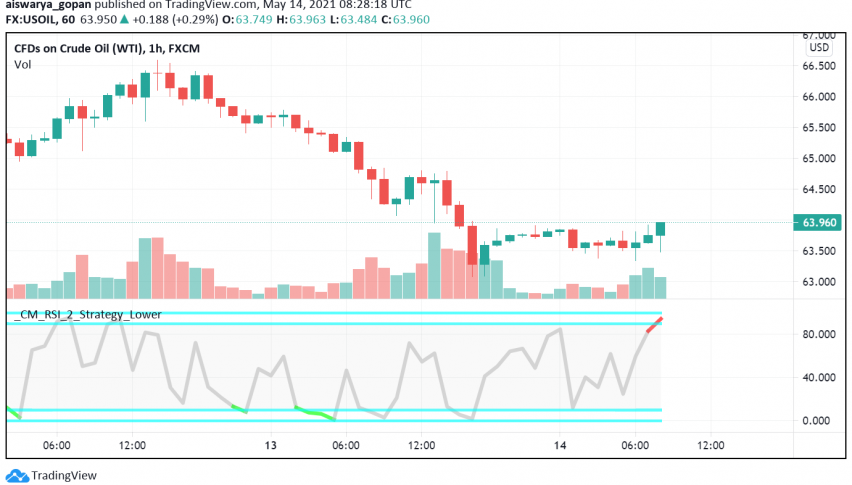 WTI Crude Oil Loses Ground as India's COVID-19 Crisis Shows no Signs of Abating
WTI crude oil is trading bullish into Friday as traders worried about the impact of India's ongoing coronavirus crisis on oil demand even as oil supply received a boost from Colonial Pipeline resuming operations following the cyberattack. At the time of writing, WTI crude oil is trading at around $63.96 per barrel.
India is one of the top crude oil importers worldwide and with the emerging nation struggling to contain a more deadly second wave of the pandemic, its requirements of the commodity have taken a severe hit. Despite the Indian government not having announced a nationwide lockdown, regional and isolated restrictions have hurt economic activity and soured the sentiment by delaying its economic recovery, which is likely to have a drastic effect on oil demand recovery in the coming months.
WTI crude oil is also trading under pressure amid a cautious mood in global financial markets amid rising uncertainty about inflation overheating in the US and whether the Fed will step in to counter it. The reflation trade concerns are keeping the US dollar supported, keeping oil prices higher for holders of other currencies.
Meanwhile, in the US, Colonial Pipeline announced during the previous session that it had successfully restarted all of its pipelines after a ransomware attacks compromised its fuel pipeline last week. This news is likely to support crude oil prices as it could help drive up fuel consumption which had been hampered in some parts of the US.
The sentiment in oil markets has been further impacted by ongoing geopolitical tensions, especially as traders adopt a wait and watch approach to gauge how the Middle East reacts to the latest attacks in Israel and Gaza.