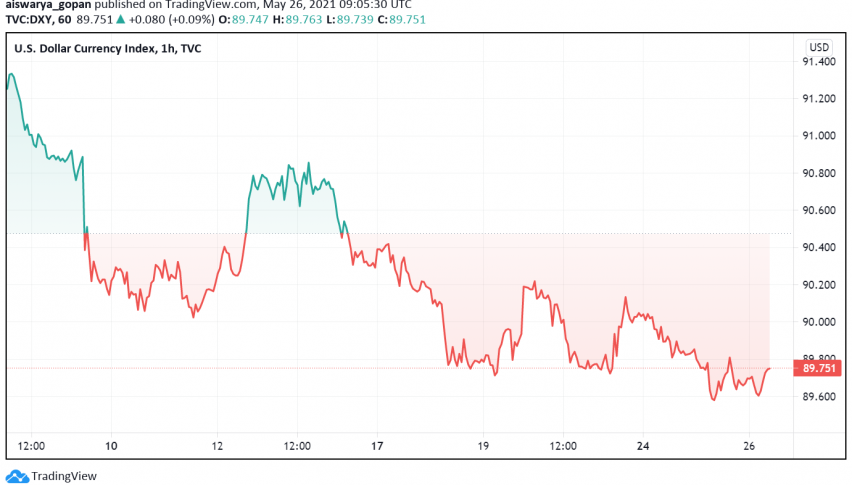 Fed Officials' Recent Comments Continue to Keep US Dollar Under Pressure
The US dollar is trading close to the lowest levels seen since the beginning of this year early on Wednesday, as markets focus on the Fed continuing to intervene anytime soon and step off on its monetary easing efforts. At the time of writing, the US dollar index DXY is trading around 89.75.
During the previous session, we heard several Fed officials maintain the same line of thought as Chairman Powell on the central bank's plans to remain dovish and support the economy until inflation and employment make a full recovery. With the next meeting only a few weeks away, the continued insistence among policymakers to extend their dovish outlook is exerting significant pressure on US Treasury yields and the greenback, worrying investors that low rates will drive them towards other currencies and economies instead.
Meanwhile, the US dollar has also been trading under pressure in recent sessions as the economic outlook improves for several of its peers, most notably the Euro. EUR/USD continues to hold above 1.22 amid optimism that the Eurozone economy is posting a rapid recovery. There is also an increased focus on the Chinese yuan which surged close to the highest level in three years against the dollar before easing lower.
Towards the end of this week, the US dollar could experience some volatility on the release of core consumer prices and PMI readings from the US. Any readings that come in stronger than forecasts could once again heighten fears of inflation spiking amid investors.