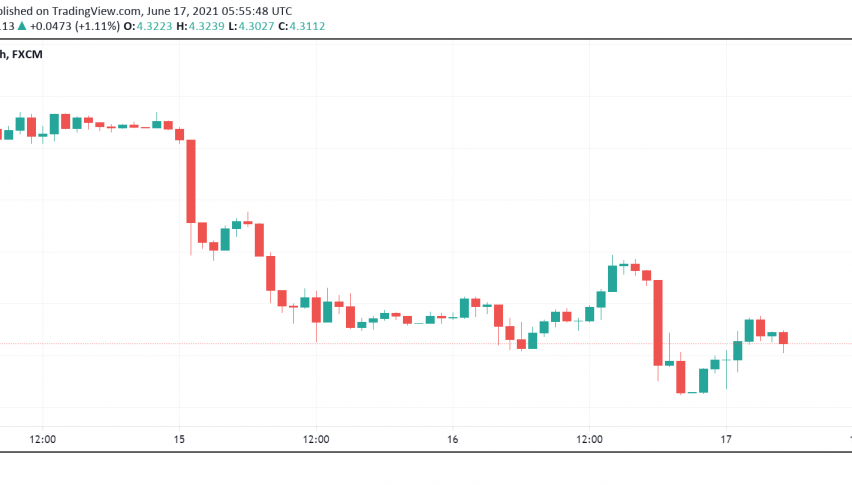 Copper Slides Lower as Dollar Strengthens, China Taps Into Reserves
Copper extends its decline into Thursday on the back of a stronger US dollar which makes the metal more expensive for holders of other currencies to purchase, after experiencing a steep decline over the past few days. At the time of writing, COPPER is trading at around $4.31.
The popular industrial metal has been trading under pressure over the past several weeks over rising concerns about Chinese authorities stepping in with price control measures to offset the sharp increase in commodities' costs. The decline picked up pace after China announced its decision to release state reserves of copper, in addition to aluminum and zinc, instead of importing from international markets in a bid to maintain the prices of these key commodities. This is likely to drive down demand for copper, at least in the near-term, as China is one of the leading consumers of the metal.

Chile – the leading producer of copper, is looking into possibly hiking the amount of tax copper mines have to pay, and the uncertainty around the proposed royalty bill could exert some pressure on the supply side. The bill is looking to impose tax brackets based on the metal's price instead of the existing sliding tax on profit, which could hamper future investments in the sector and impact supply in the near future.
On the supply side, copper is likely to find some support from the lack of significant investment over the past decade in production of this industrial metal. At a time when climate change is a dominant theme and economies worldwide are looking at ways to harness green energy, the demand for the metal is only going to increase further; however, with the supply remaining tight, the long-term outlook for copper is still flashing green, in line with our previous forecast.