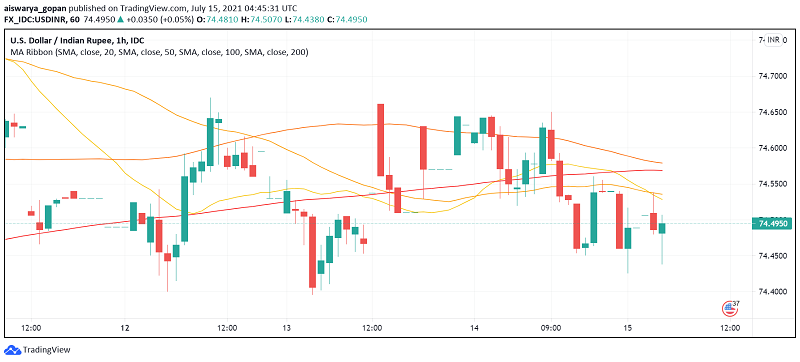 How is USD/INR Likely to Fare as India Brings the COVID-19 Crisis Under Control?
USD/INR is holding somewhat steady, undergoing a bit of a consolidation under the key 74.50 level before rising above it earlier in the session only to slip lower again. At the time of writing, USD/INR is trading around 74.49.
One of the leading forecasters in India, Credit Agricole CIB, expects the Indian rupee to stabilize in the near-term after having experienced considerable volatility over the past few months ever since the emerging economy experienced the second wave of the COVID-19 pandemic. The INR started 2021 on a strong footing, turning out to the best performing currency across Asia through Q1, but slid sharply when India saw infections surging since April, driving a far more deadly outbreak.
While India has managed to bring the pandemic under control and the vaccine rollout is also picking up speed, the nation's economic recovery continues to face several downside risks in the coming months. Disruptions in the global supply chain driving up raw material costs is expected to hamper industries across the nation while the strengthening of crude oil prices can also hurt the economy as India is a top importer of oil.
These factors, in addition to rising expectations for early tightening of monetary policy by the Fed, can keep the USD/INR currency pair supported in the coming sessions, as we have forecast previously. More upside could be expected in the pair in case the latest COVID-19 outbreak worldwide strains global economic recovery further, as this could lend support to the US dollar as a safe haven currency.
However, USD/INR could experience some bearishness in case foreign investors return to India as its economy recovers rapidly from the ongoing coronavirus-fueled crisis. In addition, the Indian central bank RBI is also expected to introduce measures to contain inflation, which could further support the Indian rupee and exert downward pressure on the pair.
The FED kept interest rates on hold yesterday, but the USD rallied on more hikes to come and higher-for-longer policy
4 months ago
The FED is expected to hold interest rates unchanged at 5.25% today, but the rhetoric will be more important
4 months ago