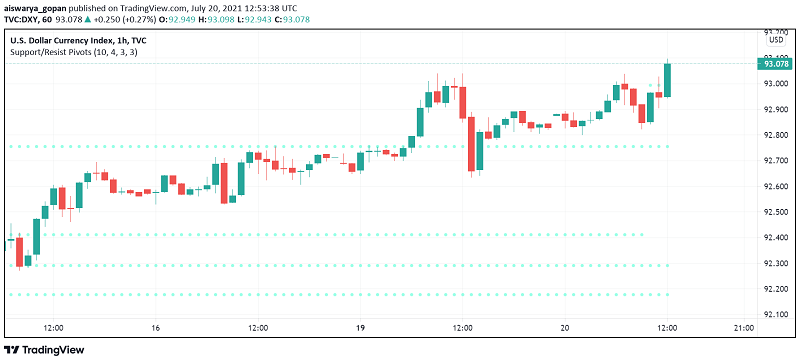 US Dollar Gains as Surge of Delta Variant Cases Marrs Economic Recovery Prospects
The safe haven appeal of the US dollar is on the rise in early trading into Tuesday amid escalating worries that the coronavirus crisis is far from over, especially with several countries reporting a daily rise in fresh cases. At the time of writing, the US dollar index DXY is trading around 93.07.
The risk-off sentiment in the markets not only drove safe haven currencies like the dollar and the Japanese yen to the highest levels seen in several months but also weighed heavily on the riskier currencies. The most impacted were commodity currency AUD which dropped below the $0.74 level, and the GBP which has fallen below the $1.37 level, and the common currency EUR which slid below the $1.18 mark against the greenback.
Meanwhile, the benchmark 10-year US Treasury yields slid down below 1.20% for the first time since February, driving more strength in the JPY against the USD. At the time of writing, USD/JPY is trading around 109.53 after hitting a low of 109.07 in the previous session.
The highly contagious delta variant has become the dominant strain of COVID-19 wreaking havoc across the world, and cases are on the rise across the US as well. The US was one of the leading countries in terms of vaccine distribution and investors were looking forward to a strong rebound in economic activity through the busy summer months across the nation.
Worries about global economic recovery being further delayed heightened after the UK's 'Freedom Day' also took off to a shaky start amid a surge in fresh COVID-19 cases, including its own Health Minister Sajid Javid. Australia too has imposed lockdowns once again in a bid to contain the spread of the delta variant, a factor that could hurt one of the fastest economic rebounds worldwide.