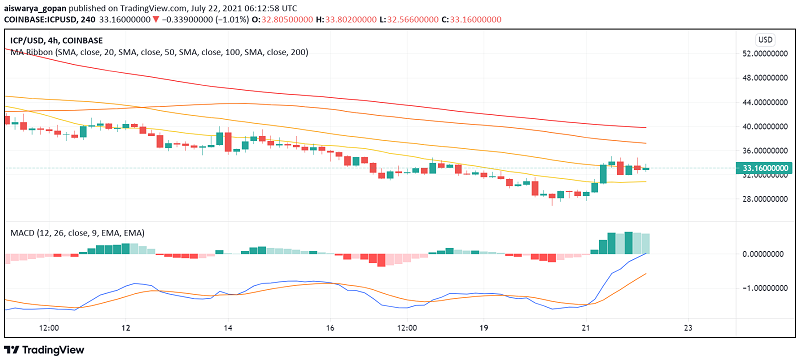 Internet Computer Protocol (ICP) Gains Big as Crypto Market Sentiment Improves
One of the newest players in the crypto market, Internet Computer Protocol (ICP) is off to a strong start in early trading on Thursday, rising by over 10% since the previous session. At the time of writing, ICP/USD is trading around $33.
The boost has likely been powered by recent bullish moves in crypto king Bitcoin, which bounced back above the key $30,000 level and soared to above $32,000 before easing slightly lower. The smaller altcoins are among the most to benefit from the sentiment as their low rates make them less risky for investors to try their luck in.
Internet Computer is also making gains after cryptocurrency platform StormGain announced its decision to list ICP as an option for its users to trade. The company, which has been ranked as the top interest rate provider for crypto traders by Coinmarketcap, will offer trading of the ICP coin at 0% commission, a move that could spike interest in this cryptocurrency and support its prices in the coming sessions.
Key Levels to Watch
Things look very interesting in the 4-hour chart of ICP/USD at the moment, with the smaller timeframe moving averages and the MACD indicator suggesting a bullish bias. On the other hand, the larger MAs and the momentum indicator are pointing towards selling interest as well.
The price sits just below the pivot point at $34 but comfortably away from the immediate support at $28. Further buying interest can take the Internet Computer Protocol coin's value higher to test resistance at $38 before breaking above the key $40 level. However, increased selling pressure can cause a tumble towards the support level and further lower under the key $25 level, with the next support sitting at $24.
Cryptocurrencies were showing strong bullish pressure in the first two months of 2023, but the bullish momentum has faded
2 weeks ago