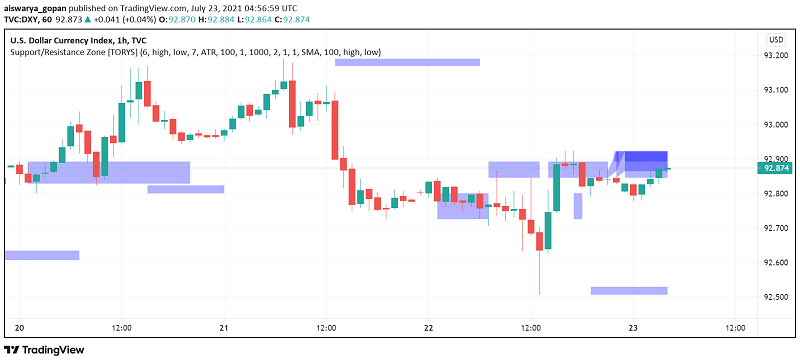 US Dollar Eases, Gives Back Almost All Gains of the Week as Sentiment Improves
The US dollar has eased lower after experiencing significant volatility over the past several sessions, with moves dictated by the market sentiment over concerns about the impact of the delta variant's spread on global economic recovery. At the time of writing, the US dollar index DXY is trading around 92.87.
So far this week, the DXY is set to post a small weekly gain of 0.1% after holding steady through most of the previous session. After surging ahead during the initial part of the week as the mood in the markets turned risk-off, the reserve currency eased lower later in the week as Wall Street reported strong earnings and drove investors back towards trading riskier assets.
Against the Euro, the US dollar is set to post a weekly gain of 0.2% after the ECB came out sounding dovish, in line with market expectations. Despite the Eurozone economies posting a recovery from the COVID-19 induced downturn, the latest wave of infections have sparked uncertainties ahead and forced the central bank to announce plans to keep interest rates low for a longer period of time.
Analysts expect the US dollar to remain strong in the coming weeks, especially against the backdrop of a surge in fresh COVID-19 cases around the world. The US has been successful in vaccinating a significant portion of its population and could be relatively less affected by the spread of the delta variant than its other peers.
Meanwhile, GBP/USD is set to post a weekly gain of around 0.1% after weakening by as much as 1.3%, as traders cheer the reopening of the UK economy despite the spike in cases. Commodity currency AUD, however, looks set to end the week in the red, falling by 0.2% so far and registering the fourth consecutive week of bearishness.